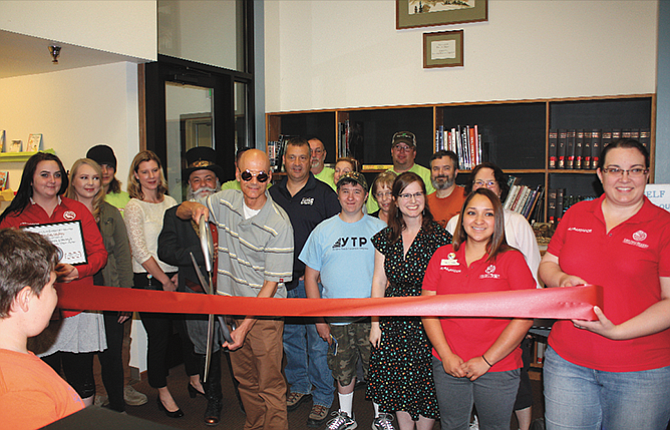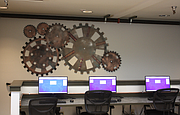 The Athenaeum — the fancy and unusual name for the innovative new Teen Programming and Digital Media Room at The Dalles-Wasco County Library — is now open for business.
At noon on Thursday, approximately 80 people attended a grand opening for the new facility, geared to provide young community members with a place of their own to study, create, and learn.
"Teens need a space to try and fail and try again, a place that is respectful and safe," said Katie Anderson, youth services consultant for the Oregon State Library. Anderson came up from Salem to join the grand opening celebration.
Among the innovative, high-tech tools at the new facility are a laser-cutter, 3D printer, drone video camera, software and new Adobe computers.
"Our goal is to help young people be excited about learning and foster an environment with access to tools to help them explore and grow, and enable us to inspire and equip future generations," said Jeff Wavrunek, library director. "This will be great for the community. It's fantastic."
Megan Hoak, the library's teen services coordinator, led the push to transform a 1,020-square foot section of what had been the audio-book section and an old computer lab on the library's second floor into the futuristic learning lab. The project is geared to serve students in grades six through 12, and the new capabilities include programming materials and digital media for sound recording, animation equipment, digital artwork and creating special visual effects.
"We can't wait to see what wonderful things our teens learn here," Hoak said.
She explained that the name "Athenaeum," which the library's 10-member Teen Library Advisory Board selected, is defined as a place to learn about literature, art and science.
"That is very appropriate," said Hoak. "These kids have left an indelible mark on the library."
She pointed out that the library's teen volunteers were given tremendous latitude to build the new space the way they wanted it, and everyone involved – staff included — wanted that area to be noticeably different from the rest of the library.
"We want them to feel this is their space; it's not school or home or work," Hoak said.
Last year, the library was awarded a $40,000 grant from the Oregon Cultural Trust to "repurpose" the library space to serve its teen patrons. The grant paid for virtually all of the construction costs, and Google pledged funds to outfit the media lab with a wide variety of technical equipment.
"Google has been really supportive of us," said Wavrunek.
Wavrunek said the library needed to pay about $3,000 to reconfigure a portion of the library's sprinkler system, which was necessary to accommodate the revamped second-floor area.
Adams Construction was the general contractor on the project. Other contractors on the digital media room included Bryan LaRoque of Industrial Woodworking; Bob's Glass; Oliver Floor Covering; Doug Jenkins Electric; and Rage Graphix & Design.