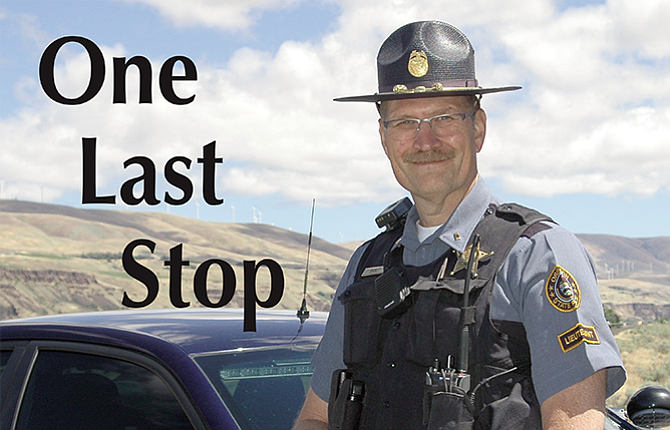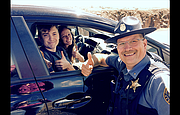 On June 13, his last day of work before retiring from the Oregon State Police after 31 years, Lt. Pat Shortt decided to hit the road to patrol one more time.
"I started this job working on the road and I wanted to end it on the road," he said. He wanted to make one last stop, and after cruising along on Hwy 97 in Sherman County, he clocked a car going 74 mph.
"I'm gonna tell them, 'Hey, congratulations, this is the last stop of a 31-year career,'" he said as he put on his Smokey Bear hat and got ready to contact the driver.
The stop encompassed everything that's been important to him in his career — working with people, treating them right, and remembering that most people are good.
He issued the young woman a warning. She started crying when he told her she was his last stop ever. She said, "Oh my gosh! That's awesome!" then congratulated him.
Driver Sarah Sandusky was still wiping away tears when a reporter approached. Her fiancé Charley Newhouse said it was also notable because it was her birthday. Sandusky said of Shortt, "I think he started [with the state police] the year after I was born. We're both picking the right day to celebrate."
Shortt got permission from Sandusky and Newhouse to be in a "last stop" photo with him. "He seemed really nice," Sandusky said after he returned to his patrol car. "That's exactly who I wanted to pull me over."
Indeed, Shortt places the highest premium on treating people right. He thinks about the troopers before him, who, through their own professionalism, kept him safe.
Shortt won't tell gory stories — the bad stuff has stuck with him to this day, but it's not what he wants to share — but he likes the uplifting ones.
Like the time in Chiloquin when he arrested a man who kept asking him who he worked for. Shortt kept answering, and finally he asked the man why he was curious, and the man answered, "'Depending on who you said, I was gonna take you on. You smokies, you always treated me with respect.'"
The takeaway for Shortt is that previous troopers behaved professionally with the man, and Shortt was the beneficiary. "Man am I glad; this guy was massive."
A PEOPLE PERSON
Shortt is a "people person" and for him, the job is all about people. He said 95 percent of them are good, but unfortunately the other five percent sometimes takes all the focus.
His final stop happily fell in the 95 percent category.
He recounted telling Sandusky and Newhouse, "'You know what? I'm glad it was you guys.' And that's what I've said, it's the people. That was a good one to end with."
He acknowledged, "It helps that she got a warning. It's her birthday, my last day. What are the odds of that? That's what has struck me my whole career — the odds."
He's often thought if people just left their houses five seconds earlier or later, for instance, they wouldn't have gotten in horrible car crashes. It's made him realize "the fragility of things."
Shortt's ideas about law enforcement professionalism formed well before he became a trooper. He remembers getting pulled over once in his youth, and his takeaway about the officer was, "'Wow, what a jerk.'"
It was a lesson in how not to do things. His approach would be much different: "You're out there doing your job, but you're doing it in a respectful, professional way."
He said of state police, "sometimes we're wound a little bit tight, but that appeals to me. I try to keep the humanity in it too, you know what I mean? Because it's about people."
HAT RULES
During his stop, Shortt had to keep a grip on his hat, the wide-brimmed campaign hat that distinguishes troopers but is also liable to take flight on gust of wind.
He never could understand why other troopers hated the hat. Recounting his 15 weeks in recruit school to become a trooper, he said, "I worked hard for that hat. I always thought it set us apart." There is a rule in the windswept Gorge, however, that troopers do not need to put on their hat to make a citizen contact if its windy enough to have whitecaps on the river.
Shortt, 53, started working as a summer cadet for the state police in 1983, and did it through college. His original thought was to work in the state parks as a historian, but as he spent time with troopers, "I was like, man, this is what I want to do."
He was a year shy of getting his degree in history when the Portland Police Bureau offered him a job. He declined, finished college, and joined the state police instead, a decision he never regretted.
In all, he worked a total of one year as a cadet and 30 years as a trooper. His official retirement date is July 1, but he had vacation time he had to use up.
He started in Klamath Falls in 1987, transferred to Salem in 1995, became a sergeant there, and transferred to The Dalles in 1997. He became lieutenant in 2012.
CHANGES
He recounts those years as a cadet, where he was issued a car and uniform, but no gun or vest. "I think about that and it's crazy how much it's changed."
Looking back on 31 years of adaptations, he said technology has turned patrol cars into mobile offices, enabling troopers to be out on the road more. He also feels the state police has become more professional, more white-collar.
"It used to be about scrapping it up sometimes and who could do that the best and take people to jail," he said. "Now it's much more problem-solving."
Traffic enforcement, for example, is aimed at preventing crashes. "That's what it's all about. The things that kill people, that's what the [problem solving] focus is on. It's working smart."
Troopers are expected to know the fine points of search and seizure, and myriad other rules. "You have to have a really strong academic background," he said.
Other changes are more on a society-wide level. He's seen a "surge in lack of respect on some people's part toward law enforcement."
"I've seen a lack of civility in the way people talk to each other," he said. "Sometimes I think it's hip to be resistant to authority. I don't know if that's the healthiest thing for society."
He counts himself lucky to work in a small community, though. "I have so many people come up and thank me for my service. I never used to get that. I think 9-11 helped change that. I know it did."
WHAT HE'LL MISS
What he won't miss about work are the complaints. "I don't blame people, they see things through a certain lens." Investigating complaints is part of maintaining the integrity of the agency, he said.
He also won't miss "those crisis emails: 'We've gotta have this done. We've got to have this inventory done immediately.'"
But he will miss not being able to pick up the phone to learn what's going on when sirens start, and he'll always worry about his troops every time he hears those sirens.
He'll also miss the close working relationships with other local police agencies, something that isn't always the case in other areas. "I consider them my friends," he said of his counterparts at the city and county law agencies. "I think sometimes people don't realize how lucky we are to have the people we have watching over us. They're a special breed."
He'll also miss "being able to get out on the road," he said. "I'll miss the calls. I think you do it because there's something in you that you want to go toward those calls instead of away from them."
But the thing he'll miss most — although as he gassed up his unmarked patrol car one last time, he said, "Man, I'll miss pumping my own gas" — are the people, naturally.
He described the five-county The Dalles Area Command that he oversaw as being "like a family because you have the different personalities like a family. The troopers are like my kids, I worry about them."
He said, "I couldn't have lucked out and gotten better sergeants. Kaipo [Raiser] and Les [Kipper], they are just standup guys. To be a successful lieutenant without standup sergeants, it'd be tough.
"I leave knowing I've got great sergeants that are fully capable of carrying on and great troops that wear the uniform well. It's a good feeling," he said.
In a nice capper to his career, The Dalles Area Command recently received the worksite of the year award from the state police. Shortt also served since 2001 in the state police Honor Guard, and was its commander when he retired.
A CALLING
He considers his profession a calling. "Looking back on it, I feel super privileged to be able to do what I was called to do. Not everybody gets to do that."
He's also grateful that his work enabled him to get involved with the community – with the schools, mental health services and justice system — and to "hopefully make it better." He plans to stay in the community and remain active, though he doesn't have any immediate plans except to enjoy retirement. "I still care about my community and I'll still want to work with the community."
"I'm proud of what I've done," he said of his work in the agency and community. "I hope I've left it a little better than I started."
What he's proudest of, though, is that "I'm still married to my wife of 28 years; love her to death," he said of wife Jan, a special education teacher at Chenowith Elementary.
"The other thing I'm proudest of is my boys," he said. Derek is a history teacher in California and Connor is a senior at Pacific University.
He always told his sons, "'I don't care what you do, I just want you to be a man of integrity, a man of honor.' And they are."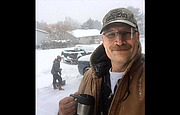 EARLY YEARS
Shortt was already a trooper when he began dating Jan. The first meal she cooked for him was a candlelight dinner. As soon as they sat down, he was called away to a fatal crash.
Jan took her first ride-along with him after they'd been married about a year. He was called to a shots-fired incident, and when they arrived he told her to hunker down on the floorboard of the patrol car. She crouched there for 30 minutes.
After that, "she would not ride with me for a lot of years," he said. In fact, it was only six years ago, over 20 years later, that she finally did another ride-along with him.
He said state police wives have to put up with things other wives just don't. Just this past winter, while he was on duty, he asked Jan to shovel their steep driveway so he could park his new patrol car there. It's a common helping-hand thing that state police spouses are used to doing when their husbands are on duty.
So she did, but a bare skiff of snowfall accumulated again, and when he parked and stepped out of his car, he lost traction and so did his patrol car, which rolled downhill and clipped his truck. He heard the plastic bumper of his patrol car — which had just 400 miles on it — crack.
He sheepishly notified his superior: "You know that new car you gave me? I broke it."
He was razzed about having Jan shovel the driveway.
So, as a joke, when the second snowstorm hit, he shoveled the driveway, but convinced Jan to go in the driveway with a shovel while he posed in the foreground for a selfie, smiling and holding a cup of coffee. He sent the photo to a friend, saying, "Hey, I want you to know, I'm getting the driveway shoveled."
Then the friend posted the pic to Shortt's Facebook page. "And oh my god, the hate mail!" Shortt recounted. But to state police wives, he said, it was no big deal. They all knew the drill about shoveling driveways, because when the weather is bad, their husband is out working the road.
He said, "The support of our families is so critical, and what they do for us is something that doesn't get enough recognition."
A FINAL WISH
At Shortt's last stop, he'd headed back to the patrol car while a reporter briefly talked to Sandusky. After a few comments, when asked if she had anything else to add, she had a message for Shortt: "Happy retirement!"