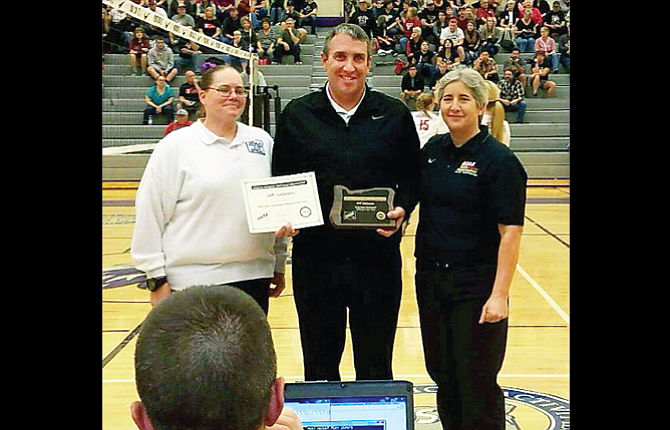 Jeff Justesen has officiated high school basketball games for 27 years and volleyball matches for 24, so he is part of the fabric of The Dalles, Dufur, Maupin and Moro and the surrounding communities across the Greater Columbia River Gorge.
He finally got his due as he received the Oregon Athletic Officials Association Official of the Year Award for his contributions during the volleyball season.
Justesen said that the most humbling part of the award is that it begins with a nomination from his peers, so for him to have peers think well enough of him to go out of their way to submit his name is reward enough, let alone having the review committee select him.

"There are so many people putting in time and effort to officiate that anyone is worthy of the award," Justesen said. "I honestly don't feel that this season was any more spectacular than some in the past, so I kind of look at it as a body of work over the years. Being selected is certainly something I will look back on and remember for the rest of my life."
Over the course of his volleyball officiating career, Justesen has attended a dozen state tournaments, 5A, 2A and 1A, and worked nine championship games as both the R1 and the R2.
Off the court, Justesen served as the vice president and trainer of the Mid-Columbia Volleyball Officials Association for more than 12 years, and he also spreads the word to recruit new officials as an aspect of promoting the sport and mentoring a younger group to carry on the tradition.
"Jeff has a calm, patient approach, which enables him to be a very effective and efficient trainer," said veteran volleyball official Amanda Payne, a 2013 OAOA Official of the Year recipient. "Jeff's comprehensive understanding of the rules of the game, and analytical thought processes, enhance his positive training attributes. He has the ability to create hypothetical scenarios in the classroom setting, which help officials, of all levels, obtain a deeper understanding of the rules and how to apply them in the right situation. His commitment to the association and the sport is unwavering."

From her high school days at The Dalles as an All-American, Neticia Fanene fondly remembers Justesen and how he not only cares about calling a good match, but that he takes interest in the athletes, the parents, the coaches and everyone involved in the sport.
So, his reach spans much further than the court.
"He is always honest, fair, consistent and has a very calm demeanor, which are all traits of an exceptional official," Fanene said. "We always enjoy having Jeff officiate our matches. It makes the game run so much smoother when you have an official that really cares about the game and enjoys working the match. We appreciate his involvement and work on the volleyball court."
Much like the athletes, Justesen takes pride in continuing to improve his skills as an official, because, in the end, they are only as good as their last match or game.
As a key member in a small association, Justesen says it is important to expect more from themselves and each other, This way the athletes have an enjoyable experience, knowing that precise calls and professionalism lead the way.
"He is both well-respected and well-known by coaches, officials, players, and parents across the state in multiple sports," said South Wasco County coach Donna Barton.
Officials are required to attend training and clinics that weren't always available in the 90s and early 2000s, and there are also camps available during the offseason to give officials an opportunity to work on things and improve.

While basketball and football games require physical endurance to keep up with the styles of play, volleyball requires a different sort of application of preparedness.
"The focus required in volleyball, especially as the R1 (up official), takes some time to get tuned into," Justesen said. "There are literally hundreds, and perhaps into the thousands, of touches in a match where the official makes a judgement as to whether the contact was legal or illegal. Watching and working matches are the only ways to get that preparation."
With Justesen's award and that of Payne's, the Mid-Columbia Officials are well-respected and being noticed for how well they handle fast-paced games three or four nights a week in different locations.
Justesen added that it is a good know that when any Mid-Columbia official walks into a gym or onto a field, the players, coaches and spectators all know that they are getting a quality individual who does a top-notch job in their sport.

"Our associations, in all sports, have outstanding reputations around the state among coaches and other officials," Justesen said. "To have people within our associations honor each other just by nominating for an award, speaks volumes to the quality of people we have serving as officials in those associations."