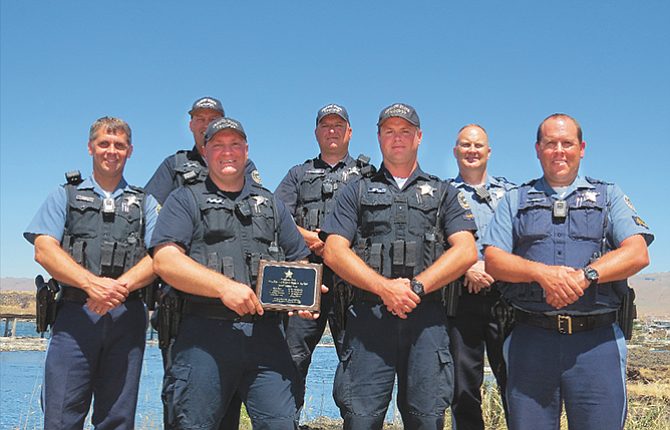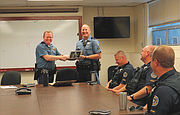 The local Oregon State Police office has received a second state award for superior performance in 2016, this time by troopers with the Fish & Wildlife Division.
"You have done an awesome job and you are still doing an awesome job," said Capt. Jeff Samuels, who came to The Dalles Area Command office from Salem headquarters to present a plaque June 23 to Sgt. Les Kipper, who headed the team last year, and his troopers.
Capt. Rob Edwards who arrived from OSP's East Region office in Bend, told the team, which was not given advance notice about the presentation, that their work ethic was "phenomenal."
Edwards said The Dalles troopers have been actively involved in several large-scale investigations into the poaching of big game. Some of these cases involve numerous suspects, multiple jurisdictions and large numbers of animals that have been killed illegally.
Trooper Brent Ocheskey, one of the team members, ended an investigation into the killing of bighorn sheep off Interstate 84 with an April 3, 2016, arrest of two suspects near Arlington.
He was assisted by local patrol trooper Michael Holloran, who followed up on a witness report and found and detained the suspects until Fish & Wildlife investigators arrived. Ocheskey procured evidence to build the case for prosecution.
"You guys, in my opinion, are the most diverse team in the state," said Edwards. "Your work ethic does not go unnoticed and it's greatly appreciated."
Also traveling to the Gorge from Salem to be part of the ceremony was Lt. Tim Schwartz. Joining the group was Lt. Pat Shortt, former commander of The Dalles unit who recently retired.
In May, the local OSP office received the Work Site of the Year award from the agency's Department Awards Committee.
Shortt nominated his troops for the special distinction due to teamwork in 2016 that he felt was outstanding.
"I believe The Dalles Area Command is unique not only because of the types of activities we were involved in, but because those activities were always the result of many troopers working together without ego to achieve a common goal," wrote Shortt in his nomination letter.
The Dalles beat out nine other command centers across the state for that award.