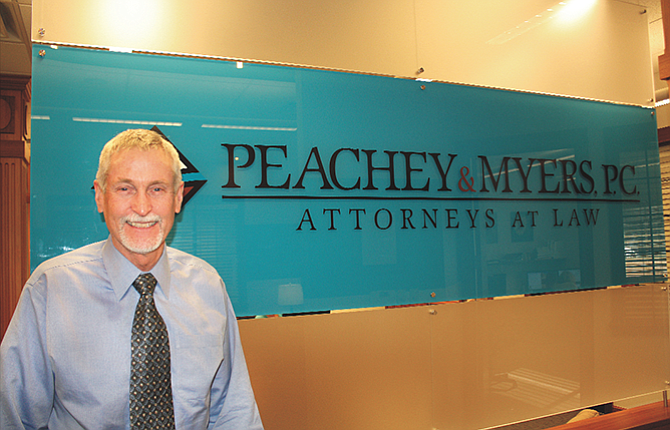 The Dalles Municipal Court Judge Tom Peachey will soon be stepping down.
"It is with a heavy heart and some sadness that I submit my resignation as The Dalles Municipal Court judge effective April 1," Peachey wrote in a Feb. 24 letter addressed to Mayor Steve Lawrence; Julie Krueger, city manager of The Dalles; and Gene Parker, city attorney.
"A growing law practice and recent election to the Oregon State Bar Board of Governors has made it impossible for me to fulfill my duties as your judge."
Peachey has served as municipal court judge for six years — he started in February 2011 — and said it has been a "treasured honor and highlight of my professional career."
"I've thoroughly enjoyed it," he said.
Those who followed Peachey's time serving the court said they were very sorry to see him depart.
"Judge Tom Peachey has served our community with honor and distinction," said Timothy McGlothlin, a member of The Dalles City Council. "He integrated new thoughts and ideas into his court and always treated people with great respect. His belief was that with the right kind of help, a person could change their behavior for the better. Judge Peachey firmly applied the law and held individuals accountable, yet he found a balance that made individuals feel as if someone cared."

In a vote by lawyers from around the northeastern region of Oregon, Peachey was recently elected to serve on the board of governors for the next four years. In that capacity, he is prohibited from serving as judge.
While a member of the board of governors, Peachey will assist with directing policy and discipline of lawyers in the state.
"We adopt rules, policies and procedures," he explained. "It's about protecting the public, that is its mission. I'll serve on committees and attend meetings and events."
Besides serving as judge, Peachey — who earned his law degree from Willamette University in 1978 — is a partner with the law firm of Peachey & Myers, P.C., which is located at 401 E. Third Street in The Dalles.
To fill the vacancy in municipal court, the city has put out a "request for qualifications" (RFQs). The Dalles City Council will review the RFQs, choose which candidates they want to interview, and later vote on a replacement judge.
Peachey was chosen to serve on the municipal court following the January 2011 death of longtime Judge Ronald Somers.
"The city council went through the process, and put the position out for bids," Peachey explained. "I think there were six lawyers who applied, and I was selected out of that group."
According to Peachey, the court was in need of modernization when he began serving as judge in 2011.
"I inherited a court where there were two signs behind the judge: 'Please Remove Hats' and 'No Smoking,'" he recalled. "There were no computers and no data base at the time. We brought more technology into the courtroom."
Another innovation during Peachey's tenure as judge is the "Mental Health Court," which was established to handle defendants with mental health challenges.
The initiative built a solid record of reducing recidivism rates, and Peachey is still encouraging other municipal courts around the region to adopt similar programs.
Peachey fondly recalled an incident in his first week as a municipal court judge.
"I walked in the courtroom and saw someone who looked like Charles Manson's older brother; the scariest person I'd ever seen.
"He was there on some misdemeanor charge, and at the end of the day I told one of my staff that I needed one of those Groucho Marx disguises with glasses and a big mustache," he joked.
"I said I need one of those so if I see one of these people, I can put on a disguise."
Peachey, who will continue his work as judge until the beginning of April, said he has been very grateful for the opportunity to serve the municipal court.
"As I often have told those who appeared before me, life is a series of opportunities and when presented, you have to take advantage of them as best you can," Peachey explained. "It is my hope that I have taken advantage of this opportunity and that it made a difference that will be lasting."