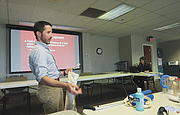 David Deurwaarder signed up for Mid-Columbia Medical Center's "Joint Camp" to learn what to expect before, during and after a total knee replacement.
"The purpose of the class is to de-mystify what is going to happen," said Kim Hartley, a registered nurse and coordinator of the program.
By the time the 90-minute session was done, the Deurwaarders, including David's wife Penny and daughter Stephanie, had been briefed on every aspect of the procedure, including the fact that he would be up and moving — albeit somewhat slowly — by the next day, and possibly even going home.
"This program is pretty structured and we come at you pretty hard," said Hartley. "You are not sick, you are a healthy person having a treatment here so we're going to get you up and moving. And when you go home — that's when the real work begins."
Deurwaarder, who resides in Wamic and is newly retired, was reassured by Hartley that MCMC uses evidence-based, patient-centered standards in its joint care cases.
"We put standards in place that lower the infection rate and produce better outcomes," she said.
MCMC is one of less than a dozen hospitals in the state, and the only one in the gorge, to have its hip and knee replacement programs accredited by the Joint Commission.
To earn the "Gold Seal of Approval," the hospital had to show evaluators that it had complied with rigorous standards of disease-specific care and complete patient care.
"The accreditation shows that we have met high standards in the care of our patients," said Hartley.
She told Deurwaarder that MCMC nurses were required to undertake continuing education to stay on top of industry standards.
Then Hartley gave the future patient some advice.
"Be ready to move — do your exercises faithfully and do as much as possible to get yourself in shape — if you smoke, don't. If you drink, don't. Don't sit back and relax — keep moving," she said.
Joyce Powell-Morin, a registered nurse in charge of spiritual care at MCMC, was the next to speak.
"I want you to think about preparing your mind, body and spirit because this is a big deal," she said. "It's like getting ready for a big race. The more prepared you are, the better you will be for it.
"Major surgery will humble you —you will need help. We want to be sure we encourage you and give you some tips."
She said joint care patients often deal with depression during recovery, which was why it was important for them to have "care partners," including family, close friends and medical support staff.
Knee surgery veteran shares info
Donna Caldwell, 63, had already gone under the knife to have her right knee replaced while living in Illinois, so she recognized the bone-on-bone impact from cartilage loss in her left one nine years later.
"It was painful, I couldn't get up and put my foot down on the ground without pain," she said. "A girlfriend texted to ask what my pain level was on a scale of one (best) to 10 (worst) and I texted back '30.'"
An examination and x-rays ordered in 2016 by Dr. Mark Cullen, a local orthopedic surgeon, confirmed her fears. Caldwell needed another surgery.
"I knew what he was going to say by the symptoms I was having," she said.
Although she had already been through the procedure once, Caldwell went to "Joint Boot Camp" to see if she could pick up some tips that would make her post-op experience better.
"The class is very informative," she said. "They get you prepared by letting you know what's really going to happen."
Once the surgery was over, Caldwell said the nurses at MCMC had her up and walking by the next day.
An ice machine system cooled the surgery site, relieving pain, and a machine move her knee up and down.
"Just to take a shower and get dressed can totally exhaust you right out of surgery," she said.
"But the more you move your knee, the more range of motion you are going to get," she added.
She had home therapy for a couple of weeks, until she was getting around well enough to go to Water's Edge.
"It was really just excellent care and they were very attentive and understanding about what I was going through," she said "The people I encountered, it was more than their job."
The Mid-Columbia Senior Center loaned Caldwell a walker, toilet seat riser and cane, which she said made life more doable during rehabilitation.
She said it is hard for seniors on limited income to cover surgery costs but MCMC works with them to set up a reasonable payment plan.
"Once you get through a couple of months after surgery, your quality of life improves," she said. "I received really, really excellent care, they are very attentive and understanding about what you are going through."
"You are going to have some days when you are going to be discouraged and you are going to need someone to tease you, to cheer you on," said Powell-Morin.
She said everyone in the Deurwaarder family should expect to be exhausted, so it was wise to limit visitors.
"And make sure there are naps," she said.
Powell-Morin said patients were advised not only to get plenty of rest but to eat healthy.
"All those things really make a difference in your healing," she said.
Next up for a presentation was Jessie Ziegler, a registered surgical nurse.
She told Deurwaarder that, to ward off infection, he would be given an antibiotic nasal spray five days before the operation on his left knee and an antibiotic body wash to use from the neck down the day of the procedure.
He would be interviewed about medications, those he was already taking and those he would be prescribed for pain, to make sure there were no conflicts.
"We just want to make sure we're on the same page and we haven't missed anything," said Ziegler.
When he checked in, Deurwaarder would be checked carefully for open wounds or scratches, which could be gateways for infection.
"We are a stickler about those things," she said.
Deurwaarder was sporting a scratch from the family Labradoodle, which led Ziegler to threaten good naturedly, "We can put you in bubble wrap until the day of your surgery…"
She said David's leg, from the toes to the thigh, would be swabbed with disinfectant, another protection against infection.
"So, when you wake up, your toes might be a little bit orange. Don't worry, we haven't turned you into an Oompa Loompa," said Ziegler.
She told Penny and Stephanie that they would be given a pager while David was in surgery so they could run errands or get out of the hospital for a while, and receive an alert when it was time to return.
Ziegler said surgery was likely to be 90 minutes to two hours in length.
"It just depends on if youre bone is going to cooperate or if you are going to give Dr. (Mark) Cullen a challenge," she said.
She said Deurwaarder would spend time in intensive care so his vital signs, and pain level, could be monitored. He would then be moved to his hospital room on the fourth floor, which might be shared with another total joint care patient.
Connie Jubitz, assistant director of nursing education, then took the floor to discuss post-operative care and preparing to go home.
She said an acute care team would make Deurwaarder comfortable and arrange for massage therapy upon request.
"We'll be bringing you to the fourth floor in the bed you're going to be staying in, so that's a nice thing," she said. "You will be positioned for comfort and to protect the joint; we want to keep your leg nice and straight."
There would be no set hours for visiting, so Penny and Stephanie could hang out and even order meals through room service, said Jubitz.
"We just ask that you consider your neighbor and keep the noise down as much as you can," she said.
She told Penny and Stephanie that they would have access to a kitchen, activities room, chapel, dining room, music/video library, healing garden and labyrinth.
After surgery, Jubitz said Deurwaarder's vital signs would be checked every hour, as would his fluid levels, incision and circulation.
"So, I'm not going to get a lot of sleep," he quipped.
Jubitz said care was "clustered" at night to minimize the number of disruptions. Deurwaarder would be asked frequently to rate his pain on a scale of one to 10 and given appropriate medication to ease discomfort.
"This is a painful procedure and you can expect to have some pain," she said. "We can't get rid of all the pain, but the nurses will work with you to manage it."
She said antiobiotics would be administered to Deurwaarder to prevent infections. He would also receive a blood thinner to prevent clotting and wear compression devices on his legs for the same reason.
Deep breathing exercises could prevent pneumonia, said Jubitz.
Deurwaarder would not be allowed to walk alone in the hospital to ensure his safety.
She said all patients receive a daily newsletter providing them with information about diet, activities and pain management.
Jubitz said it would be 10 days or so before the staples in the incision came out and Deurwaarder needed to watch for signs of infection, including redness and discolored or foul-smelling drainage.
"No baths or hot tubs until the staples come out," she said.
Once he went home, Jubitz said Deurwaarder would not be cleared to drive until he was no longer under the influence of pain medications.
The family would be given a home safety checklist to ensure that David didn't trip over a rug or encounter other obstacles that could cause him to lose his balance.
"A fall could seriously injure or cause future problems with your new joint," said Jubitz.
She closed her portion of the presentation by saying: "We'll welcome you at the hospital when your time comes and things will be great!"
Physical therapist Arturo Carrillo told Deurwaarder that his job was to "maximize a window of about six weeks for range of motion."
"So, we're going to be playing a little game. We want to make sure you are functioning and controlling your pain as well," he said.
Nothing could be under the knee when Deurwaarder was lying down at home and he would be taught how to stand, sit and lay down to aid in his recovery, said Carrillo.
"Do you guys have stairs at home?" he asked.
"Just a couple on the porch," replied Stephanie.
"We'll definitely be working on that — we want him going up with the good (knee) and down with the bad," said Carillo.
Getting in and out of the car would require Deurwaarder to sit first and then swing his legs in.
"I recommend the front passenger seat," said Carillo.
Home health would help Deurwaarder get into a physical therapy routine. When he was able to be more mobile, he would take on more stringent exercises in a clinical setting, said Carillo.
Meghan Wells, a social worker, arranged for patients to get home care when needed, something that she said Deurwaarder was fortunate to have with his family on hand.
"Good luck with your surgery," she said.
Brandon Johnson, an occupational therapist, said he would help Deurwaarder master tasks like dressing, bathing and grooming.
He showed a couple of tools — a "reacher" to grab items without bending and a long-handled shoe horn.

In addition, Johnson recommended the family get a toilet riser and make sure there were grab bars in the shower.
"We want you to integrate precautions into performance of daily living skills," said Johnson. "Move early and move often, that's the general objective."
Garrett Boothe, a registered who coordinates home care, said Deurwaarder's needs would be determined during a consultation with Dr. Cullen after surgery.
"Our visits typically begin within two days of discharge," he said.
Medicare covered 100 percent of this assistance, he said, and the average length of care was two weeks to a month.
In addition to helping Deurwaarder get around, Boothe said home care professionals would change his dressings, remove staples and monitor medications.
"I really wouldn't be eating bags of chips with lots of sodium because that's going to encourage swelling," he said.
Hartley ended the presentation by telling Deurwaarder that he should be doing well by eight weeks, although it would take up to six months to heal.
The life of his new knee would be 20-25 years, she said.
"You always hear jokes about 'There's going to be a test…'
"Well, there is going to be a test," she said, handing Deurwaarder several pages of multiple choice questions about what he had learned.
Hartley said the test is used to measure learning and ensure each patient understands all the important points made in class.
Since starting the class six years ago, she said feedback from patients has been overwhelmingly positive.
"When patients and families know what to expect prior to surgery, it reduces their anxiety and fear of the unknown," said Hartley.