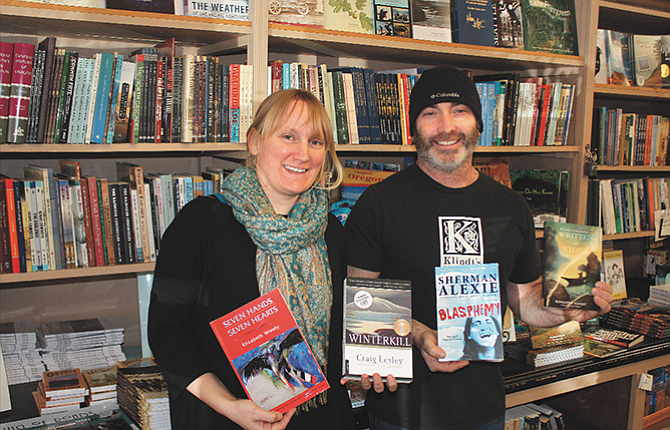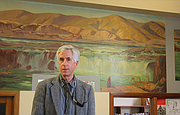 For those who love to read and appreciate the value of the written word, The Dalles is the place to be in April.
As part of the American Indian Cultural Festival, four Northwest authors who have written books about native cultures will be coming to The Dalles for more than a week of literary activities. Featured will be Craig Lesley, Rosanne Parry, Elizabeth Woody and Sherman Alexie.
Literary Events in April
4-9-17: Klindt's Booksellers, 315 E. Second Street, 6:30 p.m.; book discussion with Rosanne Parry, author of Written in Stone.
4-12-17: The Dalles-Wasco County Public Library, 722 Court Street, 10:30 a.m.; family storytime featuring the book Thunder Boy, Jr. by Sherman Alexie.
4-13-17: The Dalles-Wasco County Public Library, 722 Court Street, 1:30 p.m.; Oregon Poet Laureate Elizabeth Woody reading.
4-13-17: Columbia Gorge Community College Library, 400 E. Scenic Drive, 1:30 p.m.; Craig Lesley reading.
4-13-17: The Dalles Middle School, 1100 E. 12th Street, 4 p.m.; poetry reading with all four authors attending the American Indian Cultural Festival: Craig Lesley, Elizabeth Woody, Sherman Alexie, and Rosanne Parry.
4-13-17: Klindt's Booksellers, 315 E. Second Street, 7 p.m.; book signing with all four authors.
4-20-17: The Dalles-Wasco County Public Library, 722 Court Street, 6:30 p.m.; adult book club discussion featuring Sherman Alexie's Blasphemy.
The series of literary events will begin April 9 and continue through April 20.
The idea for the festival came from a collaboration of individuals whose careers have centered around books and a passion for the value of reading.
"The concept for the American Indian Cultural Festival came from conversations with (author) Rosanne Parry; Tina Ontiveros, manager of Klindt's Booksellers; Corliss Marsh of the Friends of the Library; and Megan Hoak of the public library," said Jim Tindall, district librarian for the North Wasco County School District and the festival's project manager.
"We started planning this in April 2016. We were talking about wanting to do a 'Community Reads' event, and the seed for expanding this program grew and grew."
Tindall said there is a basic purpose behind the event.
"The hope is that children will read these books and consider the joy of being a writer and learning about indigenous cultures. I'm super-excited about this," Tindall said. "I think there will be some lifelong readers and future writers who will walk out of these events."
Ontiveros said all the authors attending the festival have a great appreciation for tribal issues.
"All four of the authors touch on issues impacting native people in one or more of their books, so most might choose to read from more than one title," she said.
Tindall pointed out that Parry's 2013 novel, Written in Stone — a story about the whaling traditions of the Makah and Quinault tribes of the Northwest, and the survival of their culture — provides a theme that is also central to the Columbia River Gorge area.
"Whaling was a cornerstone of their cultural life, as with salmon here," Tindall explained.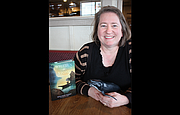 Sherman Alexie will feature his children's picture book, Thunder Boy, Jr., at a talk he will give for third grade and Native American students throughout the area. The book is about a Native American boy who is named after his father, but wishes he had his own name. In addition, The Dalles Wasco County Public Library will feature Alexie's title Blasphemy for its adult book club.
According to Tindall, Alexie – who also wrote The Absolutely True Diary of a Part-Time Indian — was interested in participating in the American Indian Cultural Festival in part because he is a Spokane Indian.
"Interestingly, it was a military unit out of The Dalles led by Colonel George Wright that subdued the Spokanes by completely cutting down their peach orchards and killing 800 horses," Tindall said.
Author Elizabeth Woody is a member of the Confederated Tribes of Warm Springs and is the first Native American to be named Oregon Poet Laureate.
"We will feature two of her books, Luminaries of the Humble and Seven Hands, Seven Hearts," said Ontiveros.
Craig Lesley, who spent part of his childhood in The Dalles, previously won the Oregon Book Award and has focused on regional tribal cultures in several of his books.
"I was born in The Dalles and spent my youth there living with my mother and her parents," Lesley explained. "My grandfather was a typesetter for The Dalles Chronicle. Jim Tindall asked me to participate in the festival because much of my writing focuses on the Native American people in that area. My first novel, Winterkill, starts with my Nez Perce protagonist at The Dalles rodeo. That novel and my second, River Song, feature Celilo Falls and the Indian fishermen along the Columbia."
Lesley said he believes current news events provide extra urgency to the theme of the upcoming cultural festival.
"I think the current administration has no respect for indigenous people, and I think its policies will continue to be harmful both for the people and the environment," Lesley said.
According to Tindall, Rosanne Parry's Written in Stone will be a focal point of the literary activities in April.
"As we looked at the theme of Written in Stone, that of cultural survival, we expanded our programming to better engage and honor the diverse Native American cultures of the mid-Columbia," Tindall said. "It is our mission to celebrate these underserved cultures through literary events that raise awareness of the contemporary issues facing these neighbors of ours."
"Cultural survival is not just an American Indian thing," Parry pointed out. "There are many cultures that have felt pressures at some point in their history."
Parry will kick off the activities with an April 9 discussion of Written in Stone at Klindt's Booksellers, 315 E. Second Street. The discussion starts at 6:30 p.m.
Parry said she gained an interest in tribal heritage while working as a teacher.
"My first teaching job was at an elementary school in Taholah, Wash., on the Olympic Peninsula," Parry said, adding that one of her motivations for writing Written in Stone was one of her elementary school students asking her why the stories they read in class "are never about us." That made an impression on her.
Parry, who now lives in Portland, said she started writing Written in Stone in 1998, "when my third child was a week old."
"When I was home with my children, there was a space in the middle of my professional life.
"I didn't know if I could do a novel. I told myself if I didn't make progress on a novel, I would go back to teaching, which I always loved," she explained.
In 2004, she earned an Oregon Literary Arts grant, which allowed her to continue her work on Written in Stone.
"That kept me at it," she explained.
The book was finally published in 2013.
Tindall pointed out that the community raised funds to purchase 400 copies of Parry's Written in Stone.
According to Tindall, the books — which were paid for through the Kiwanis Club of The Dalles, Klindt's Bookstore, and individual donors — will be distributed free of charge during the month of March at the public library and at local school libraries.
Parry hopes her book helps to spark a community conversation on cultural survival.
"We all want to preserve our way of life," Parry said. "If you have a heartfelt conversation with any American Indian, survival comes up in the first five minutes."
The festival's literary high point will come on April 13.
The day will be packed with a variety of activities, highlighted by all four authors getting together at 4 p.m. in The Dalles Middle School Commons for an hour of poetry.
Musical accompaniment will be provided by the Taholah Drum Group of the Quinault Indian Nation.
An array of local literacy partners are supporting the April festival, including the Columbia Gorge Community College Library, The Dalles-Wasco County Public Library, the Friends of The Dalles-Wasco County Public Library, D21 Libraries, and Klindt's Booksellers.
Funding and other support has also been provided by the Education Foundation of the North Wasco County School District, the Wasco County Cultural Trust, the United Church of Christ Congregational Church of The Dalles, the Ford Family Foundation, the Oregon Cultural Trust, the Meyer Memorial Trust, the Confederated Tribes of Grand Ronde, numerous school districts around the mid-Columbia region, and the local Kiwanis Club.
"This event required extensive fundraising, and we have been very lucky to receive funding from sources outside of The Dalles," Ontiveros said.
Tindall said he is hopeful there could be a yearly "Community Reads" festival of some kind to encourage reading and literary activities in The Dalles.
"Community Reads is not an annual event in The Dalles, but we would like it to be," Tindall said.
"The reality of creating something big is that there is positive pressure to do something big again. I've enjoyed being the project manager on this," he explained.
"I am hopeful that many people will have a positive experience, and that it or some form of it will become an annual event," added Nynalea Rew, Native American home-school liaison with the Columbia Gorge Educational Service District.
Parry said she is very enthusiastic about being able to do a literary event in The Dalles, a community she has visited many times over the years to promote her novels.
"I'm a huge independent bookstore fan," Parry explained. "I love that The Dalles is such a book-loving community.
"I love that Klindt's is the oldest bookstore in the state. That's a town heritage that's pretty impressive."