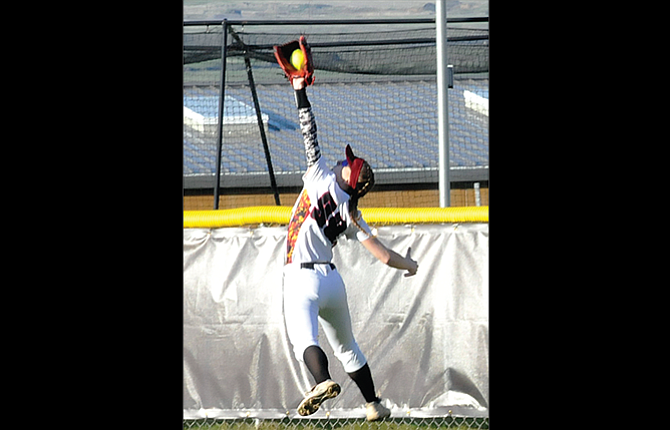 The Dalles fell behind 5-0 in the first three innings and inched to within a 5-4 deficit in the fifth, but could not get the crucial hit to tie or win the game in a 6-4 varsity softball loss to 6A Liberty Thursday at 16th Street Ballpark.
When soaking in the final outcome and what transpired, Riverhawk underclassman Bailey LeBreton said there were some encouraging aspects to take away.
"We definitely are going to have to work to get better from here," LeBreton said. "We had some fielding errors and other things that hurt us, but we will get through it. We will push harder, keep practicing, stay focused and have a good mindset. I am excited to see how we do for the rest of the season."
The Dalles mustered just one hit through the first two innings, while Liberty reeled off five hits, including four in a four-run third frame, which made the lead 5-0.
LeBreton put her team on the scoreboard in the home half of the third with a 220-foot opposite field home run to score herself and Kathryn Bradford, who reached on a two-out single to left.
Over the next two innings, LeBreton shut down the Falcon offense from the circle in relief, giving TD a chance to strike again in the bottom of the fifth.
With two outs, Bradford walked, LeBreton singled and both runners advanced to scoring position following a passed ball.
In a six-pitch at-bat, Sierra Watson blasted a two-run single to centerfield to draw the Hawks to within a 5-4 deficit.
Watson, who represented the tying run, was stranded on second base.
Still down by one in the sixth, Emma Weir walked and Audrey Synon was hit by a pitch.
Shaynie Watson bunted the two runners over in scoring position, but Liberty pitcher Emily Cundall ended the threat with a strikeout.
The Falcons added an insurance run in the seventh on an RBI single by Raegan Kirsop, setting up a two-run advantage TD had to make up.
LeBreton smashed a one-out single and stole second base, but the next two Riverhawk batters were retired on a popup and a flyout to end the game.
Cundall scattered six hits, walked a batter, hit another and struck out nine, but stranded six of those Hawk runners, five in scoring position.
"She was throwing a rise ball and we were letting a lot of low pitches go that ended up in the zone," said TD coach Steve Garrett. "We were going after a lot of high pitches and fouling them back. We weren't used to it, couldn't see it or make the adjustments to it. You have to see it and be able to make the adjustment. We had a couple of decent shots on their girl, but she hit her spots and hit them well."
LeBreton went 3 for 4 with two runs and two RBIs, Watson had a hit and two RBIs, Bradford added a 1 for 3 split with a walk and two runs scored, and Kilee Hoylman finished 1 for 2 with a sacrifice and a stolen base.
Offensively, Cundall went 2 for 4 with two runs scored and an RBI, Angelica Colbert and Abby McCarthy had a hit and RBI each, and Halie Shumaker had a hit in three at-bats and added two RBIs for the Falcons, who totaled eight hits. Three of the six runs were unearned.
Sierra Watson struck out two and hit a batter in her three innings of work, as she was tagged with the loss.
In her first relief appearance, LeBreton tossed four innings of three-hit ball with three strikeouts and a walk.
"I was very impressed with the girls today," said Liberty coach Stephen Royall. "It is hard work to go from working on several fields dealing with different conditions with the rain, but to come out here and win our first game against a really good team like The Dalles is impressive."
TD (0-1 overall) travels to Bend for a doubleheader starting at noon Saturday against the No. 1-ranked Lava Bears (2-0).