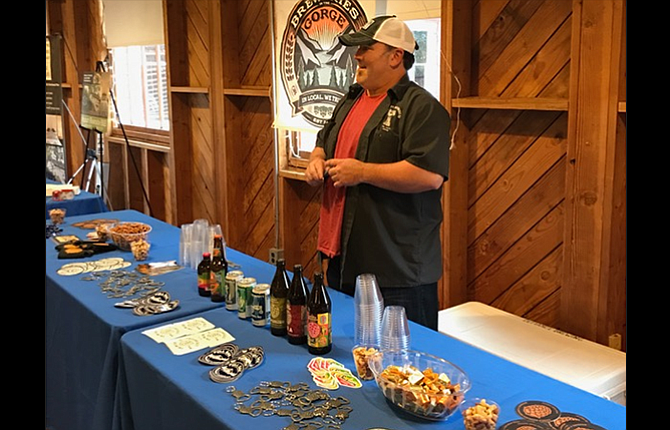 Aaron and Kelley Lee, owners of Sedition Brewing in The Dalles, have had two opportunities in just as many weeks to pour their own craft beers and others from the region for state leaders.
The first event on March 9 found the Lees representing the Gorge Brewers Association at the fourth annual Gorge(ous) Night Out legislative reception at Mission Mill in Salem.
"It was great to see what everyone thought of our gorge beers, they were really well received," said Aaron.
On Monday, March 13, two of Sedition's new flavors — Natural Born Keller, a pilsner, and a rye IPA (not yet named) —were again sampled in Salem at a "County Tasting" event.
Araon said the networking opportunity benefits not only Sedition but other independent brewers.
During the March 9 reception, the Lees also tappedbeers from Freebridge in The Dalles, Everybody's in White Salmon and Double Mountain of Hood River.
Aaron said Stave & Stone, a winery in Hood River, was also present, as were several food vendors from the area. Insitu, a Bingen-based company that manufacturs Unmanned Aerial Vehicles, had an exhibit.
The event was sponsored by Rep. John Huffman, R-The Dalles; Rep. Mark Johnson, R-Hood River; and Sen. Chuck Thomsen, R-Hood River.
"The purpose of this event is to expose legislators and lobbyists to people, products and issues of the Gorge area," said Huffman. "This year was our largest turnout ever, we had more than 150 people attend."
Lee said the opportunity to network was educational.
For example, he learned from an official representing Astoria how breweries and wineries had revitalized the town's blighted downtown area.
He envisions the same economic development opportunities coming to The Dalles with all of the new breweries and pubs establishing themselves downtown.
"Once these things take off, they bring a lot of more exposure of the community and are an umbrella for other businesses," said Lee.
The County Tasting was attended by all three Wasco County Commissioners and Tyler Stone, county administrative officer.
It was sponsored by the Association of Oregon Counties to provide elected officials with an opportunity to network and learn about issues in other areas of the state.
Lee is excited about the possibilities that branching out will bring Sedition, which opened in the historic Stadelman Ice House — built in 1901 — at 208 Laughlin Street.
He said severe winter weather hit businesses hard and it is good to see people out and about again, which will help his and other breweries regain their financial footing.
In February, Sedition and Freebridge participated in "Zwickelmania," a celebration of craft beer sponsored by the Oregon Brewers Guild, by providing visitors with tours of their respective operations.
"There were 400-500 people here in a four to five-hour window; they came from Bend, Portland and other places and they walked around town — we want to see more things like that," said Lee.
Getting the word out about the beers available locally has drawn Sedition to take on a brewing challenge.
The Lee's brewmaster, Kyle Rossom, is currently working on a dark Belgium, the flavor Seditition's proxy landed a dart on during a recent convention in Portland that drew about 85 crafters.
Businesses that participated in the contest will meet up again soon to present their new beer.
Some will return with a light beer and light taste and others with something in between.
"Kyle knows exactly what he doing on the Belgium thing. We're been wanting to do this," said Aaron, who is excited about adding to the inventory.
He said Sedition, which opened its doors at the end of September, has not yet settled into an established routine.
"I'm still working on the building every day, it's a love hate thing, so it can get a little chaotic," said Lee.
Despite ongoing renovations, he said Sedition now has seven of its own flavors and will be installing permanent taps for those beers in the tasting room.
"Breweries are a volume game so we are constantly adding, adding, adding," said Lee.
He said events to promote Sedition as a community gathering place are in the works with the busy summer season approaching, although he's not yet ready to announce what they will be.
"This is our first summer so we'll be pushing some things pretty heavy," he hinted.
Kelley has founded the Sedition Run Club that meets at 6:30 p.m. every Wednesday. Runners are encouraged to exercise before drinking beer, said Aaron.
Sedition is open from 11:30 a.m. to 9 p.m. Sunday through Thursday. The tasting room is open one hour later on Friday and Saturday.
The Lees can be reached for more information about Sedition at 541-296-2337.