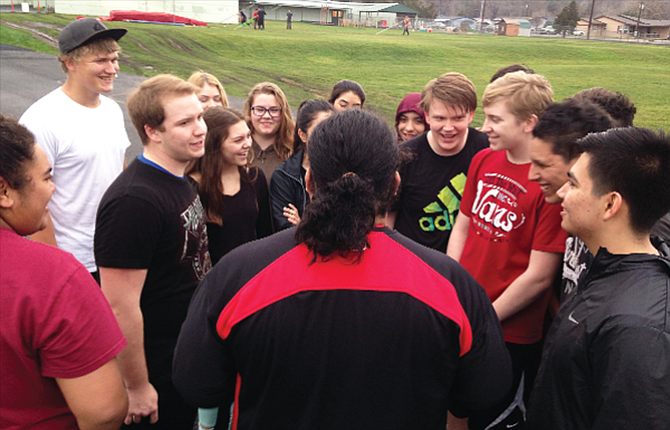 Filling the shoes of retired coach Dave Cornell is not an envious task, but The Dalles' new field events coach Jermaine Hisatake is looking forward to the challenge of getting his athletes back to the top of the 5A division.
"You can never replace a guy that has been here for 40 years. He is a legend here in The Dalles," Hisatake said of Cornell's tenure. "He has brought us and our kids up in his time here. He is a father figure and leader in the community. A lot of the former greats have learned so much from him and had a great deal of success. All I want to do is keep the same culture and keep it going in the same way that he did. I want to continue with his philosophy and I hope to make him proud one day."
In all, the Riverhawk track program has 48 boys and 46 girls on the roster, looking to progressively cut down time and add more distance to their jumps to meet and surpass last year's number of six state qualifiers.
Four of those 2016 qualifiers, Kayla Seibel (triple jump), Bailey Nearing, Emma Mullins and Paige McLeod (4x400 relay) are back for repeat performances, and there are countless others on the cusp of potentially earning that distinction.
Last year, Seibel placed second in the Columbia River Conference Meet in the triple jump with her leap of 33-feet-5 inches, a personal record.
She realizes that her outputs need to increase to make it back to Eugene because there is a talented group of athletes from Pendleton, Hermiston and Hood River Valley gunning for her.
"It is definitely more competitive this year because I have a target on my back, so I just have to stay in shape, put in my best during practice and put in my best at every meet," Seibel said. "I am really excited. It is my last year and I want to do everything I can to finish on top."
As one of the 46 other female athletes, Emily Peterson, another senior, sees the numbers as an encouraging sign.
It creates healthy competition and drives everyone to put out a maximum effort.
"I think we have a pretty strong girls team. They all have potential to do very well," Peterson said. "The girls will be successful if they stay dedicated and put in the work. I think they will be great over the next few years."
On the boy's side, Jonny Nelson, Luke McLean, Jack Bonham, Octavio Serrano, Justin Conklin, J.R. Scott, Bill Burns, Reed Twidwell, Ethan Shubert, Zerin Croover and Josiah Andersen make just a fraction of the names that will be headlining the relays, sprints, distance races, jumps and throws over the next two and a half months.
Jordan McGuirk is the lone senior in the field events and he is taking his previous experience to help bring along the younger group.
"Having Cornell here for my first three years has really imprinted certain techniques in my brain, so I really look forward to working with some of the freshmen this year because I am the only senior and I have gotten some excellent coaching from Cornell in the past," McGuirk said.
Last season, McGuirk set personal records in the shotput (35-4) and discus (117-10), both distances putting him in the top-10 at districts.
He plans to use all the lessons learned to get him over the proverbial hump in his final high school season.
"Cornell was just a great coach and he really just made me feel like I had some hope to build off of," McGuirk added. "There are certain things I know I have to work on this year, so I know exactly what I got to do to get myself to state this year."
Before the season, coach Mandi Williams worked with a core group of mid-to-long distance runners in daily exercises and even Saturday runs to prepare them for the rigors of the regular season.
Having Molly Nelson, Emma Mullins, Tressa Wood, Nearing and McLeod among the 30 athletes showing that level of dedication, gives the coach reasons for optimism.
"For me, I want to try to get as many numbers as I can to state," Williams said. "With a couple of the kids I have out this year, that are maybe in different events or weren't out last year, I am hoping to get a couple of them to state as well. My goal, ultimately, is to get my 4x4 relay team out to state again and then get some more kids from the mid-distance and distance events. I am hoping to get at least 10 kids down there. That would be the ideal, ultimate goal, but it is not going to be easy by any means."
TD hosts the 17-team Mullen-Leavitt Invitational starting at 11 a.m. (field events), 1 p.m. (track events) Saturday at Sid White Field.