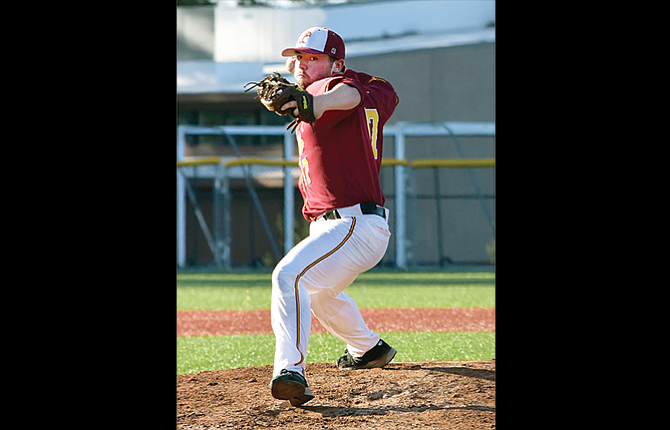 The Dalles baseball team totaled nine hits and had six batters reach on walks, but stranded 11 runners, including the bases loaded in the top of the seventh inning in a 4-3 road loss to Sandy Tuesday at Sandy High School.
Down by a 4-2 margin in the seventh, Dawson Hoffman led off with a double to left field and Johnny Miller then reached safely on a bunt single.
Tyler Westin was safe on an error by the Sandy second baseman, scoring Hoffman to inch the Riverhawks to within a 4-3 deficit, with two runners on and no outs for Daniel Peters
Pioneer reliever Nolan Turin entered the game to try to stop the Riverhawk rally, and the first batter he faced, Peters, walked to load the bases.
Turin settled in and retired the next three batters on eight pitches, the final two on strikeouts looking.
TD struck first in the opening frame after a leadoff double by Klindt, a walk to Hoffman and an RBI single by Miller to make it 1-0. With two on and no outs, the Hawks could not add to their run total.
Sandy scored two runs off Hawk starter Jose Gonzalez in the bottom of the first, but TD tied the score at 2-all in the third, as Westin roped an RBI double to drive in Hoffman, who hit a leadoff single.
The Riverhawks stranded two runners apiece in the fourth and fifth innings and while they could not take advantage of opportunities, the Pioneers tallied one run in those innings to regain the lead at 4-2.
In addition to the nine hits and six walks, TD had one runner thrown out stealing, one on the basepaths and another one an offensive interference call to stop potential rallies.
Gonzalez lasted two innings and allowed two runs on three hits with no strikeouts and two walks in his no-decision.
Westin tossed 2 2/3 innings of relief with five strikeouts and no walks, but scattered seven hits and two earned runs to pick up the loss.
Henry Lee finished the final 1 1/3 innings and struck out one.
Klindt went 2 for 4 with a run scored, Hoffman added two hits, a walk and two runs, Miller was 3 for 3 with an RBI, and Westin had a hit, a walk and two RBIs.
The Dalles (1-1 overall) next hosts No. 12 Bend (2-0) for a doubleheader starting at noon.