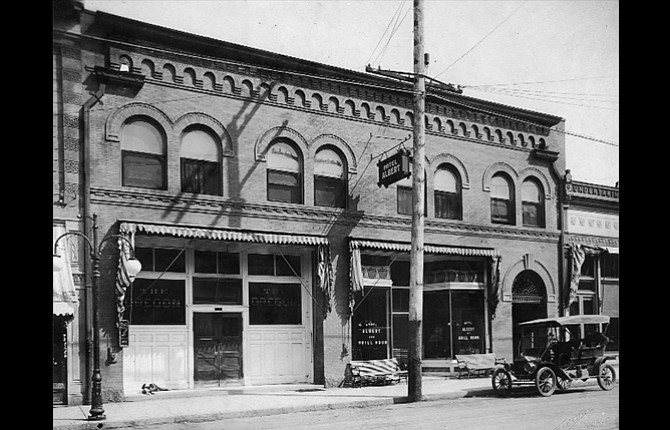 20 years ago – 1997
Rod Thysell was recently honored by United Parcel Service for completing 20 years of service with the company. Thysell, a package delivery driver, was cited for his loyal contributions to UPS.
City police hope the state will study traffic on Highway 197 by the Shilo Inn and opt to reduce the 45 mph speed limit. The request began when a city police officer and a state trooper were sitting next to Jack's Mini Market, by the Shilo on Bret Clodfelter Way, and commenting that traffic on nearby 197 was too fast. Drivers trying to get onto 197 from side roads like Bret Clodfelter, or from freeway off-ramps, have to contend with fast traffic in both directions as they try to merge. Accidents result, especially in summer with the high traffic volume.
More than 35 illegal weapons were destroyed last Friday under supervision of the Wasco County Sheriff's office. The guns were either used in the commission of crimes, or were a crime to possess, according to Det. Jerry Sackmaster of the sheriff's department. The weapons included fully automatic firearms, double-barreled shotguns, sawed-off shotguns and weapons that have the serial numbers destroyed. "This is an example of the type of weapons that police officers encounter on the street on a regular basis," Sackmaster said. "Many times they are concealed by criminals as they are used in the commission of a crime." The guns were cut up with an oxyacetylene torch by Bud Jones, owner of Jones wrecking.
40 years ago – 1977
The Dalles will get commuter air and freight service soon. A Portland based operator now giving daily trips between there and La Grande will begin making morning and evening stops here, perhaps by April 1, pending completion of scheduling and contract writings.
Mrs. Jack Albin hosted the March Maupin Dig & Hoe Garden Club meeting at her Maupin home. She told of the deep cultivation and the many soil types and what can be done to improve the kinds of soils.
60 years ago – 1957
The annual Easter Seal sale of the Oregon Society for Crippled Children got under way in Wasco county during the weekend with 3,842 envelopes of seals mailed out to county residents. The envelopes were stuffed and sealed last week by members of Alpha Pi, one of the three chapters of Epsilon Sigma Alpha sorority, sponsoring group for the seal sale here.
80 years ago – 1937
Sifting out the positive reactors from Tuesdays' tuberculin tests at the Dalles high school today revealed that only 20 children out of 488 who took the test showedany evidence of early infection, it was reported by Miss Mabel Spinning, city schools health instructor. This is a percentage of 4.1, considerably lower than tests of previous years in The Dalles and other Wasco County points.
As a farewell to Mrs. Joe Whipple, who is leaving this week-end for Bremerton, Wash., Mrs. William Perry and Mrs. Paul Martin were hostesses last night at the former's home, a handkerchief shower being arranged to fete the honor guest.
100 years ago – 1917
UNITED STATES IS ON VERGE OF OPEN HOSTILITIES – All Munitions Factories In Nation May Be Commandeered By President Wilson – Three American Steamers Are Sunk By German Subs. Washington Thinks Kaiser Has Forced U. S. Into "State Of War" By Sinking Without Warning.
Dry Wood! Fir wood! Slab wood! Van Dellen Lumber Company. tf
Coming down from The Dalles, the steamer Tahoma, Captain Charles Nelson, was so badly damaged by striking a rock at midnight last night (Friday) that she sank before she could be driven ashore, says the Portland Telegram. She was carrying passengers and freight. There was no loss of life. The steamer hit what is known as the Dalles City rock, which was given that name when the steamer Dalles City had a similar experience there a number of years ago. The rock is near Carson, Wash., in the middle Columbia.
WASHINGTON, March 19. – A cablegram from Consul Frost at Queenstown conveyed the fear this afternoon that Captain Borum and eight seamen on the American freighter Memphis are prisoners aboard a German submarine. The captain's boat was found this morning with evidences of a hasty abandonment. The ship's papers were found in a biscuit tin aboard the boat.
We have grown accustomed to the "bicycle cop," the "motorcycle cop" and the mounted policeman. Berkeley, Cal., has a new one. Every policeman in Berkeley now has an automobile to use on his beat. The policeman furnishes his own machine. The city pays for gasoline and oil and $25 a month besides.
WASHINGTON, March 19. – The supreme court this afternoon held that the Adamson eight-hour law is constitutional. The decision of the judges was six to three, Justices Day, Pitney and Vandeventer dissenting. The opinon says: "There was an authority begotten of public interest," in the action of congress in passing the law. Justice White held the right to fix wages is inherent in private parties, but added the "parties" had not exercised the right and the government had a right to fill the void.