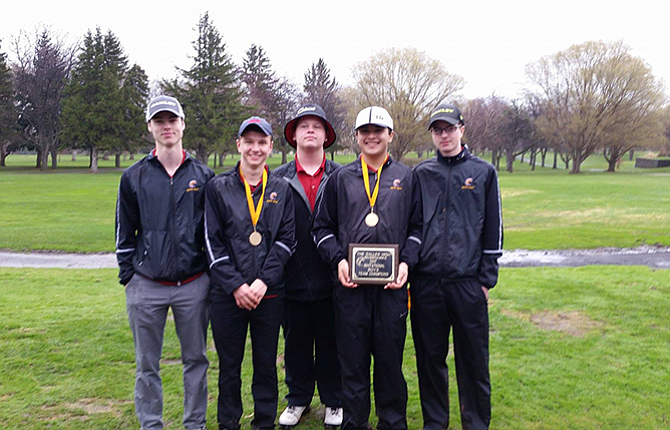 One year after posting an 18-hole score of 80 to win individual medalist honors, The Dalles senior Chase Snodgrass had to be even more dialed in Friday afternoon to defeat the competition once again.
Under rainy conditions, Snodgrass carded a five-over-par 76, inching past teammate Tyler Vassar and Canby's Sam Krauss by two strokes to take first place at the Riverhawk Invitational at The Dalles Country Club.
"I knew I needed to end strong, since last year I fell apart on the back nine and just squeaked out a victory by one shot," Snodgrass said. "This year, I made sure to keep my focus throughout the full 18 holes and not let bad shots ruin my focus."
Vassar ended his second tournament with a 78 to finish tied for second with Krauss, and freshman Aidan Telles notched a 79 on the scorecards to secure fourth place.
Nathan Som, of Pendleton, had an 81 to place fifth, Goldendale's Andrew Gerchak was sixth with his 82, and TD's Jacob Ford shot an 83 and was tied for seventh with La Grande's Braden Bell.
Mark Felderman rounded out the Hawk golfers with an 86 for ninth place out of the field of 44.
Staked by the outputs of Snodgrass, Vassar, Telles and Ford, The Dalles won the team title on its home course for the first time in more than a decade, cruising past Pendleton (361) by 45 strokes and Hermiston (365) by 49.
Canby (382), Goldendale (383), La Grande (388), Seaside (397) and St. Helens (401) made up the rest of the team standings.
Horizon Christian and Hood River Valley did not have complete teams.
Only two tournaments into the regular season, Snodgrass and Vassar are excited by the fact that all five golfers are playing to their full potential, as they are all capable of posting scores at or below the 80s.
"Everyone pulled their weight at this tournament and we shot a 316 as a team, which is a very good score for this early in the season," Vassar said.
Playing alongside Columbia River Conference teams Pendleton, Hermiston and Hood River Valley also gave TD players a glimpse of some of the competition they will face when districts roll around in May.
Of course, Summit, Bend, Marist, Ridgeview, Churchill, Redmond and Mountain View will figure into that mix as well.
"Looking on to districts, I think we know that there will be good competition, but we also saw that we have a good chance to go on from there," Vassar added.
Last May, at Eagle Crest Golf Course in Redmond, the Riverhawks totaled a 656 to wind up fifth in district play and earn a state berth.
While playing at Trysting Tree Golf Club in Corvallis for state, Snodgrass placed 11th, and both Vassar and Felderman were in the top-36 to help the Hawks lock down sixth place.
In two tournaments to start the 2017 campaign, the Riverhawks have a top-5 finish and a win to their record, both events under rainy conditions.
Although graduated senior Darsh Patel is gone, Telles and Ford have shown potential to put up solid numbers.
"This team has really stepped up their game since last year," Vassar said. "Everyone seems to be focused on their game and all the guys really care about getting better to benefit the team. This win gives us confidence moving through the season. We know we can play well under pressure, and knowing this, I think we will be striving even harder than before to better ourselves and our team as a whole, to continue to place well at our tournaments."
TD heads to Big River Golf Course in Umatilla for another test starting at 10 a.m. on Thursday.
After that, the team has seven additional tournaments to cut down their scores even more.
"In order to keep the team on top, we will need to focus on putting, since that seemed to be the weakest point in this tournament," Snodgrass said. "We also need to focus on a full 18 holes at every practice to have endurance for these demanding tournaments."