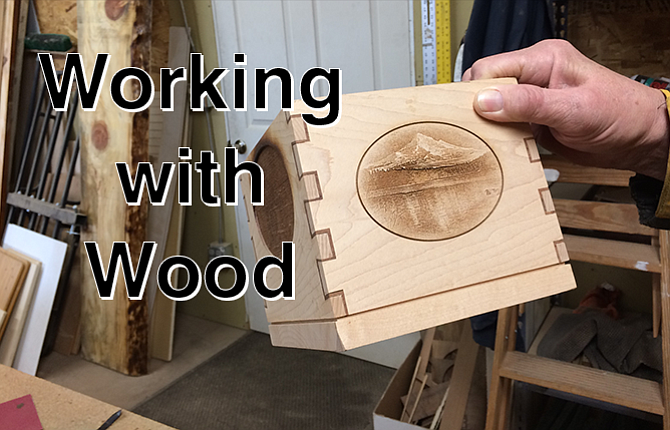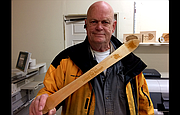 Danny Minor's woodworking specialty is everything, basically.
If you can describe it, Minor can make it. The magic happens in his shop on Snipes Street in The Dalles, where he creates blueprints on the computer in his front office, then heads back to the workshop to machine those blueprints into reality.
Back there, he has drills and saws, hammers and sandpaper, old-fashioned jigsaws and newfangled laser equipment.
Scattered around his office are examples of the intricate laser etchings he can put on any surface: wood, metal, glass, or granite. He even makes anodized aluminum business cards.
"A lady said, can you make a Chinese door? Certainly I can," he said. "They want a round door? I make a round door."
He's made trophies that looked like skis for the U.S. ski team, plaques for state troopers, and coasters for the Columbia Gorge Discovery Center. He repairs antiques and makes stackable dresser drawers, a design he created himself.
While he can conjure up anything — including intricate wood-on-wood-on wood inlays — lately he's been making wood urns for a local funeral home. They feature his specialty of dovetail joinery, which is an interlocking joint that doesn't require any mechanical fastener, such as nails or dowels, to hold it together. "It's one of the oldest joineries. It's very precise," he said.
It's a bit of a lost art that just isn't done much anymore, he said.
The finished pieces are basically seamless. The joined edges are so perfect and flush that it feels like one smooth piece of wood.
Most of the work he does now is small, but he can do entertainment centers, meeting tables and cabinets. He tries to stay away from chairs because he doesn't have all the needed equipment, but he can make parts for chairs. He has machines to bend wood, punch holes in wood, and etch wood. He has an entire bucket of clamps, and a wall of hand tools. Wood, naturally, is stacked everywhere and everything bears a fine coating of wood dust.
Minor, 68, creates beautiful woodwork, but offers a mundane reason for what led him to his profession: "It was the only job I could get when I was 18 years old."
Then, he admits, "It's something that allows me to express my own feelings of building stuff and creating stuff."
He studied to be a machinist in high school, but found the wages in woodworking better. He started working at BP Johns Furniture, a world class furniture factory in Portland that is now closed, but has a tony section of town – Johns Landing – named after it.
He later worked in sawmills, in trailer factories, and assembling displays for trade shows.
He moved to The Dalles in 2000 to help care for his mom, Cecil Cutshall, who now lives in Baker City.
He opened his shop, Minors International Wood Design, at 850 Snipes St., in hopes of employing others as well. He never got busy enough for that to happen, but he does rent out space to two other creative types, Brian LaRoque and John Marvinkite.
Marvinkite is there while Minor is being interviewed, and tells the story of the time Minor took a half-sized mockup of a picnic table to a Bi-Mart in Willamina, on the Oregon Coast, and convinced them to buy an order of 699 picnic tables from him. He took the order to the bank and got a loan to buy the needed 40,000 board feet of lumber.
Minor has been quick to adopt new technology for his business. Now, when he gets a custom order, such as for cabinetry, he can create blueprints on the computer with the design program CorelDraw. What used to take days is now done in hours.
Math is central to what he does, a theme he returns to often. "Technology is math. Even eating is math. That's what creates everything. Literature is ok, but math is the most important as far as creating."
One project is a treasure chest he's fashioned out of reclaimed wood. The lid, as expected for a treasure chest, is curved. "This here process is called cooper," he said of fashioning wood into interlocking parts to form a curvature.
As he discussed making the curved treasure chest, he reiterated, "templates make all these parts work perfectly. It's all about numbers. Numbers is what creates everything."
On the shelf by the treasure chest is a stack of scraps of wood. "I'm a hoarder of scraps," he said. They may come in handy, and if people come in looking for a piece of walnut, he can give them a piece of walnut.
In a corner of the workshop is an area with dovetail jigsaws. Not only does he create intricate, exacting pieces that snug exactly together, but he can also add inlays to the piece.
"That there is inlay dovetail – very complicated and very hard," he said. "It's like making the box four times" and it takes 10 hours to make just one.
"That is one of my top earns, but I quit making it, because things like this happen," he said, pointing to a chipped section of wood. "High-speed tools and wood don't like each other."
And after 50 years of woodworking, it is perhaps notable that he still has all his fingers. He's just careful, he said.
Asked if he's a picky, precise person by nature, he said, "I don't know. If it's not right, it's not right. I guarantee all my work."
That said, he notes that the drive for perfection only makes it more elusive. "There's got to be a little bit of leeway." And in fact, tiny imperfections can make a customer even more thrilled with their unique piece.
Even so, he still strives for perfection and aims to give the customer exactly what they want. "A customer that's happy with what they got? You can't ask for any more."
Minor can be reached at 541-980-7990.