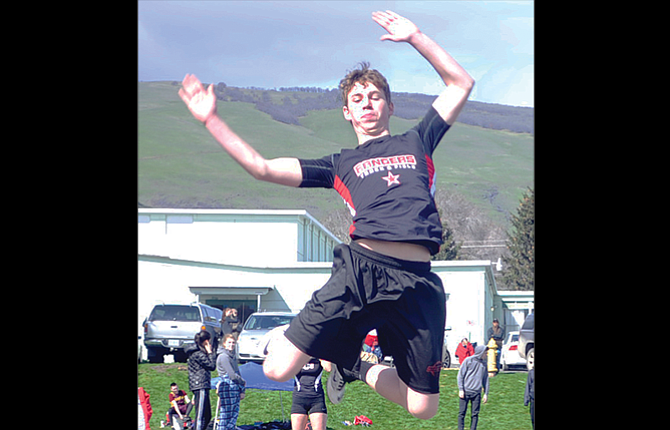 Coming off an impressive output last week at the Mullen-Leavitt Invitational in The Dalles, the Dufur track and field team burst onto the scene with six individual victories and one relay win at the three-team track and field dual Wednesday at Hood River High School.
Overall, Ezekiel Stelzer paced the Ranger boys with three individual wins and he was part of the 4x400-meter relay team with Oscar Salazar, Anthony Thomas and Abraham Kilby that claimed first place with a time of four minutes and 11.12 seconds.
Stelzer, who received a scholarship to run at the College of Southern Idaho, had a 2:10.37 to set a personal record in the 800 meters, he went for a 48.48 for tops in the 300-meter hurdles, and he then tacked on a 4:36.82 for his first-place effort in the 1,500-meter race.
Asa Farrell notched wins in the 100 (11.92) and 200 (24.67), and Kilby capped the day with a personal-record toss of 126-feet-7 inches to secure first place.
2016 state qualifier, Cole Kortge had second-place outputs in the 110-meter hurdles (19.06) and 300-meter hurdles (51.80), Farrell was second-best in the long jump after an 18-11, and sophomore Derek Frakes locked in for second place overall with a 35-10 in the triple jump.
Matthews Sipe was third-best in his 400-meter race with a 1:04.47, Oscar Salazar tallied a 34-05 to place third in his try at triple jump and he had a personal-record mark of 5:08.09 for third place in the 1,500 meters.

Wade Blake had an 86-07 to finish fourth in the discus and the junior added a shotput toss of 31-02 to grab fifth place.
For the Lady Rangers, Trinity Blake crossed the line in a personal-record 20.53 to claim second place.
Senior athlete Makenzie Dunn fired out strong in her 2017 debut for third place in the 100-meter race with a final rally of 14.40, just .56 seconds off her personal record set in 2015.
Dufur next travels to Stanfield for a track meet on Saturday, April 8.