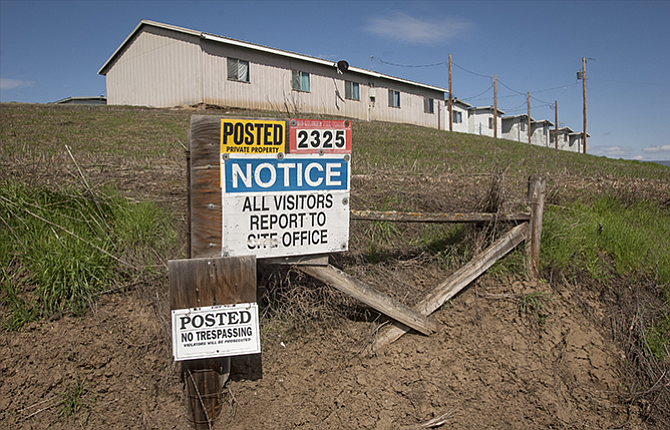 Timothy Bernasek, legal counsel for the Oregon Farm Bureau, is seeking to educate farmers about their rights if ICE agents show up to look for illegal immigrants during growing and harvest seasons.
He said there is a lot of uncertainty right now about how the work force will be affected this year with the Trump Administration's focus on deporting those in the country without documentation.
What is certain, said Bernasek, is that the Fourth Amendment of the U.S. Constitution prohibits government agents from unreasonable searches and seizures.
He said if every farmer and his or her managers know their rights when U.S. Immigration and Customs Enforcement officers come calling, they will be better prepared.
First off, Bernasek recommends that farmers post "No Trespassing" and "Private Property" signs, or those that direct people to go straight to the business office, because this establishes their property rights.
ICE agents must have a warrant or be invited onto the property to conduct a search, he said.
"Farmers need to be careful," he said. "A crew leader or supervisor must be trained in the manner to approach ICE agents. That person needs to know to ask for a warrant, be advised to call the owner or human resource manager. The farm should have one point person to address any agent that seeks to enter the farm, whether it be ICE or any other agency."
He said many times, an intimidated supervisor will grant access to agents because he or she is unaware of constitutional protections.
"Even if that person is not the property owner, they have given consent," he said. "It never ceases to amaze me how often, due to lack of clear policy, people allow agents to walk onto their farm without a warrant."
Bernasek said the access provided to ICE by a warrant is limited to its scope, so the language needs to be read carefully.
"You should not be lackadaisical about your property and knowing when someone is out there and why," he said.
It isn't that farmers who insist on seeing a warrant, or who deny ICE officials without one entry, are trying to get away with something, he said.
Requiring government agents to follow the law keeps power in check, according to Bernasek.
"To be safe, if they show up without a warrant and want on your property, you need to call your lawyer immediately. There is no gray area with ICE," he said.
Dealing with the U.S. Department of Labor is another animal, said Bernasek, because of expanded powers given the agency to enter private property.
The Supreme Court has held that the Fourth Amendment does not protect "open fields" and that police searches of pastures, wooded areas, open water and vacant lots can be done without the requirement of warrants or probable cause.
The court rules that the open fields exception applies to fields that are fenced and posted. An individual also cannot demand privacy for activities conducted within outbuildings and visible by trespassers peering into the buildings from just outside, or a naked-eye inspection from helicopters. DOL administers the Migrant and Seasonal Agricultural Worker Protection Act by establishing employment standards for wages, housing, transportation, disclosures and record keeping. Under the act, farm labor contractors must register with the agency.
"I do not think the two agencies would act together; legally they can't conduct themselves except as directed by Congress," said Bernasek.
He is well familiar with what happens when DOL moves into action against an agricultural operation. Bernasek was the attorney for two blueberry operations that won a case against DOL in 2015 that involved accusations they had violated "hot goods" labor law.
The provision of federal law known as "hot goods" was crafted around the turn of the century to deal with serious infractions at garment factories.
The regulation was intended to be enacted only in cases where labor violations were "willful, egregious and/or repeated."
In August 2012, DOL inspectors showed up at Pan-American Berry Growers in Salem and B&G Kitchen in Silverton.
The owners were forced to comply with DOL's demand of $220,000 to settle allegations of minimum wage law violations before being allowed to move their fruit to market.
In addition, they were mandated to sign away their right of protest without ever seeing in writing exactly what they were being accused of.
They were told by inspectors that it was impossible for one worker to have picked as much as payroll records indicated. Therefore, they were accused of violating minimum wage law by having two people work on the same ticket and paying only one individual.
The case was settled when DOL agreed to return the money paid by the blueberry growers and drop the cases.
The agency also agreed to pay an additional $30,000 to each of the two farms.
A year earlier, a federal judge tossed the consent decrees signed by the farmers because they had been signed under economic duress.
"It was a very good outcome but a painful process," said Bernasek.
He said OFB is advocating to help farmers with a workforce crisis through an expansion of the H-2A Temporary Agriculture Workers program, administered by DOL, that provides a path for foreign nationals, primarily from Mexico or Jamaica, to enter the United States for seasonal agriculture work.
To make the program more affordable and easier to navigate, Bernasek said there needs to be less red tape involved.
He said H-2A provides farmers with greater security that their crops will get picked and shipped to the marketplace. During a time of labor uncertainty, he said H-2A is a vehicle to ensure employees.