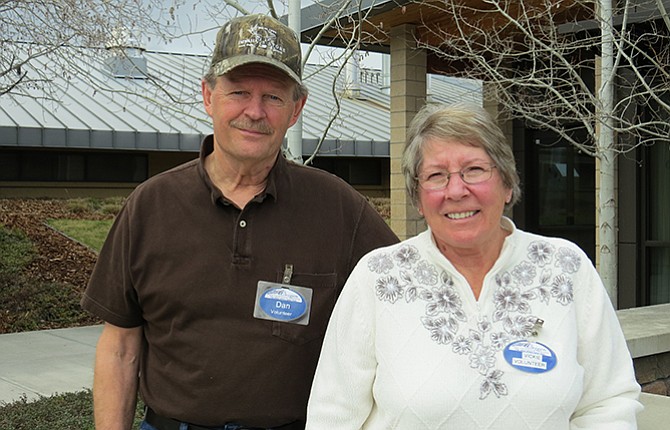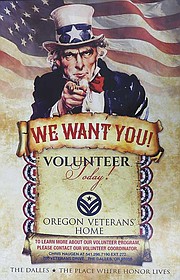 Volunteering at the Oregon Veterans' Home is more about play than work, say Dan and Vickie Brindell, who reside near Lyle and have been taking residents on social outings for years.
"Don't be bashful, come and see what's it all about," urges Dan, who spent six years in the Army reserves.
There are about 20 regular volunteers at OVH, about half the number needed, said Chris Haugen, who coordinates the program.
"The hours are flexible, people can come in when it works best for them," she said.
She said every person needs to feel unique, important and useful, which cannot happen in the facility with 150 residents without help from the community.
The greatest area of need at this time, said Haugen, are volunteers to drive the shuttle when residents take trips.
"The benefit of helping others who are not able to help themselves is priceless," she said.
On Friday, April 28, Haugen and Jade Lange, activities director, will host a volunteer luncheon from noon to 2 p.m. at the facility, 700 Veterans Drive.
They invite community members to drop by and meet with volunteers to learn more about what they do.
The roster of available activities that volunteers can get involved with is long, ranging from reading to residents, organizing poker, bingo and other games, gardening, baking, delivering mail and filling birdfeeders.
In addition, volunteers help people with mobility challenges go on shopping trips, scenic drives, fishing and other outdoor adventures.
There are also casino nights that are festive events for the residents and helpers alike, said Dan.
In addition, residents enjoy weekly luncheons at different restaurants in and around town. Their excursions have taken them to Zim's, Spooky's and Portage Grill and other eateries in The Dalles, Marie's Sodbusters in Goldendale, the Pastime in Dufur and Bob's Texas T-Bone in Rufus.
"They get around," said Dan. "We call ahead to let everyone know we're coming and then here we come."
He said the group enjoys the opportunity to broaden their menu a little and "some of the guys just fall in love with a hamburger all over again."
The role of a volunteer on these outings is to make sure the veterans, or spouses of veterans, are dressed warmly when they leave and help get wheelchairs on and off the bus. At the table, volunteers assist in opening straws, cutting food items if requested and running small errands, such as getting cream and sugar for coffee.
Volunteers get a paid lunch and admission to museums or other places the group goes are covered, said Lange.
Vickie said volunteering can be as simple as pushing wheelchairs down hallways to give disabled veterans the opportunity to get out of their room and enjoy a different view.
"I think it's a great place; I enjoy getting to know the people and listen to their stories. It makes you feel good to know that you are helping those who have served," she said.
"You can even bring your dogs in here to visit —they love pets," said Haugen.
Volunteers who don't want to interact directly with residents can mend and/or label clothing, organize the library and supply areas and work in the gift shop, said Haugen.
When there are big events, such as the July 4 celebration in town, then "it is all hands on deck" and as many volunteers are needed as possible.
In September, the U.S. Air Force will be 70 years old and Lange said OVH is throwing a big party on Sept. 16, two days before the official anniversary, to honor its veterans who served in that branch.
"We're going to have special speakers and a flyover — we could really use help with that one," she said.
When Vickie first started volunteering in 2009, she was at OVH so much that management offered her a job.
She worked for a couple of years and then decided to go back to donating her time on a more flexible schedule.
Dan had retired and was working part-time at Home Depot. He said Vickie's enjoyment from spending time at OVH was contagious, so he decided to join her.
They now take on the role of Santa and Mrs. Claus at Christmas time.
"We volunteer once or twice a week — sometimes more — and there is such a sense of pride and satisfaction," he said. "Everyone has different personalities and characteristics and it's fun to get to know them."
Vickie has informally adopted an Army veteran who has no family and regularly plays Scrabble with him.
"We take him out for dinner once in a while and for his birthday," she said. "We just hit it off."
The Brindells urge people interested in volunteering to visit OVH and "get a feel for the place."
"There is no pressure here for any set number of hours or what type of volunteering you do, so that makes it nice," said Dan.
"The people here just love to have someone to talk to," said Vickie, who also brings in baked goods for the residents to enjoy.
"Or to listen," added Dan.
Without having contact with someone who cares, the Brindells said seniors, particularly those without families, can fall into depression.
"We want to offer something different each day that helps our residents maintain a quality of life that gives them a sense of well-being and purpose," said Haugen.
She said everyone can learn from spending time with an older generation.
"They each have a unique perspective on the world and many different experiences to relate to others," she said.
OVH is billed by the Oregon Military Department as "The Place where Honor Lives."
Haugen said veterans made a commitment to put their lives on the line for the country and volunteering at the home is a good way to show appreciation for that service.
"You can make such a difference in their lives," she said.
Volunteers must sign confidential statements and undergo a criminal background check. They must also agree to treat staff, residents and their guests with "safety, honor, integrity, respect, trust and professionalism."
For more information, contact Haugen at 541-296-7190, ext. 272.