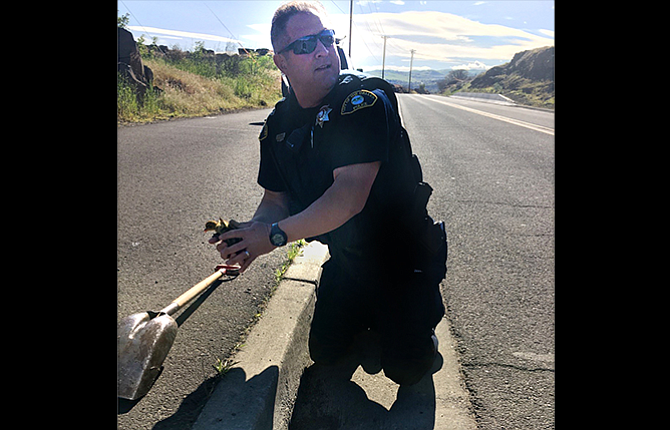 Eleven ducklings were reunited with their worried momma Sunday morning thanks to a Youtube video and some quack-thinking — er, quick-thinking — by The Dalles police officers.
A woman called dispatchers Sunday morning just after 9 a.m. to report a frantic duck was wandering in the road chirping, in the area west of the city dock and Rock Fort on First Street.
She suspected some baby ducks were trapped under a nearby grate, and when The Dalles police officers Troy Becnel and Joey Lick arrived, the sounds emanating from the grate confirmed it.
"They were down inside the storm drain in a culvert and the momma duck was standing on top of the storm drain just quacking up a storm and walking back and forth in the road," Becnel said.
"When I get there, you can hear the ducklings squeaking down in the culvert," he said. "Now how they got in there, they had to get in there from the south where the culvert comes down. They were too big to fall through the cracks — unless they'd been in there for quite some time, I don't know," he said.
When the officers arrived, the momma duck flew off and landed up by the rock bluff by Interstate 84 and observed the goings on. The officers pulled up the grate cover and learned it was too deep — about four feet down — for them to reach in by hand. Becnel got a shovel out of his patrol car, and Lick, meanwhile, went on Youtube on his phone and searched "duck calling babies," Becnel said.
"So he got this recording of this mallard duck quacking really aggressively and when he started playing it, the ducks would start hopping out of it one at a time," Becnel said.
Trapped up a long drainage pipe – which extended south to the freeway — and lured by Youtube, the babies plopped one at a time into the exposed catch basin, which had water in it, making it easy for Becnel to scoop each one up on his shovel.
"We just scooped them until we had all 11," he said.
They couldn't believe how many there were. "We thought six or something like that. 'Ok, we must be done.' We get ready to leave and there'd be more squeaking down there. 'Are you kidding me?'"
They had to move the rescued babies — all deposited in a cardboard box — away from the grate so they could distinguish the sounds of the yet-to-be rescued.
Rounding up ducklings isn't easy, Becnel learned. "Once they were on the shovel, we grabbed them. They're fast little critters."
They didn't appear any the worse for wear for their unusual location. "They were just fluffy as can be," he said.
Momma kept a watchful eye throughout. "The wind was blowing really bad yesterday. She would fly up off the bluff and fly in circles around us and kept doing that because it took us about 35 minutes. I figured she'd fly away after so much time, but she didn't," Becnel said.
"When we didn't hear any more squeaking we got the cardboard box" and packed them off. He took the precious cargo to a nearby pond. "I found a clear spot and dumped the babies out and momma flew right down to them. It was pretty cool," he said.
And Becnel isn't a University of Oregon fan either, dang it. A Louisiana native who was a police officer in New Orleans for 15 years, he joined the force here in 2005. "I don't watch football at all, so you can't put 'Go Ducks' or anything."