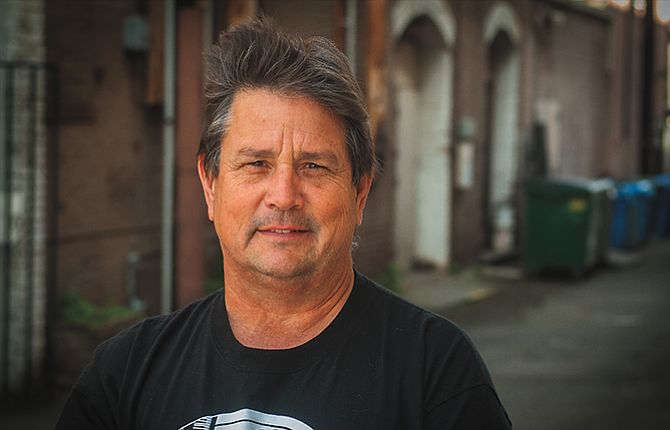 Blues radio host Steve "Squrl" Curley will celebrate 25 years broadcasting Squrl's Blues Review weekly in the Gorge this Friday, May 5, with an open house from 7 to 10 p.m. at Bi-Coastal studios, 719 E. Second Street in The Dalles.
The radio show, which features blues, gospel, soul, zydeco and American roots music, has survived changes in station ownership, politics ("I'm a liberal," explains Curley) and incidentally, a love of motorcycles. It's a long run for a radio show, especially a blues radio show, and bears testimony to Curley's love of music.
Born Steve Curley in West Chester, Penn., a suburb of Philadelphia, he fell in love with motorcycles as a kid.
"When I was 14, I started riding dirt bikes. I almost crashed, and my best friend said, 'you're awful squirrely.' I've been called 'Squirrel' ever since," he said.
Squrl, his radio name, is a diminutive of squirrel made to fit on his motorcycle license plate. He has ridden the roads and trails of six continents, logging thousands of miles.
"I love motorcycles, I love riding them, I love touring," he said. And after a pause, "I'm lucky to be alive. I've been very lucky."
His newest bike is a MOTO Guzzi. "I've got five or six bikes, street and off road. The street bikes, I take the back roads. I never go on the interstate. I love back roads. I love long distances," he said.
Turning 21 in the 1970s, Curley was exposed to the second love of his life: The blues.
"I started going to a blues club in West Chester, and met a lot of those guys, like slide guitarist J.B. Hutto. I really, really loved that music," he said.
He is not a musician himself, but an enthusiast. "I go to a lot of festivals, I've met a lot of blues musicians. Motorcycles and blues were my two passions in life."
In 1985, Curley moved to Oregon in the wake of a surfboarding friend. "I helped him fix up his house, and I loved the area," he said. "People were so friendly here, compared to the East Coast." He found fulltime work as a bartender in Hood River, and started using his contacts to bring national shows in the 1990s.
Breaking away from the smoky, late night shows of the time, Curley's shows were nonsmoking and ran 8 to 11 p.m. "Now that I'm older, we start them at 7 p.m.," he said with a chuckle.
The shows worked, and he became an independent producer through 2008, scheduling venues at River City, Full Sail, the Hood River Hotel and The Pines.
Hood River might not seem like a great place for national talent, but Portland has never had a longstanding blues club and his Hood River shows filled a niche.
It's not an easy gig, though. "People see you taking in all that money at the door, they think 'wow, you're really raking it in.' But I have to pay the sound guys, I have to buy the band dinner and get them hotel rooms, I have to print posters and do promotions. Hopefully, at the end of the night, I have enough to pay the band."
He stopped promoting shows in 2008. "People were offering shows for free, while I was charging $20. I do a few bookings, maybe five or six shows a year."
His work producing shows led to his work on the radio. "I had always wanted to host a 'blues' show, having been into the blues for 15-20 years," he said of that time.
"I was postering for a show in 1992, and took one to Q104. I talked to Shannon Milburn, who was the program director. He offered me two hours on Friday night."
Curley arranged for sponsors, borrowed a Compact Disk player from his niece (he didn't own one) and went on air May 4, 1992.
"I was scared spitless, that first night," he said. "I'd never done radio before. I was shaking all over."
He has made plenty of mistakes over the years but takes it all in stride. "You trip over your tongue, you just make fun of it. I make a joke of it. We are all just humans," he said.
Since that first show, Curley has amassed a collection of over 1,300 playlists, and worked with 130 sponsors. "Some have been with me for years, some have come and gone," he said.
Nestled within his 25-year run is a three-year hiatus. "I did get kicked off for three years for bashing Bush's war in Iraq, but Q-104 was sold and the new owners said, 'you can say whatever you want, as long as we don't get any complaints,'" he explains on his website.
In the past few years, he's added a third love to his life with his first marriage, to Tracy Ramsey of The Dalles.
He hopes to continue doing radio in The Dalles and the Gorge far into the future.
"I'm the luckiest person on the planet, because I can do what I love and I've met a lot of friends over the years. Radio shows typically don't last. I've been lucky to follow my heart," he said.
More information on his open house, live shows and other playlists can be found online at squrlmusic.com.