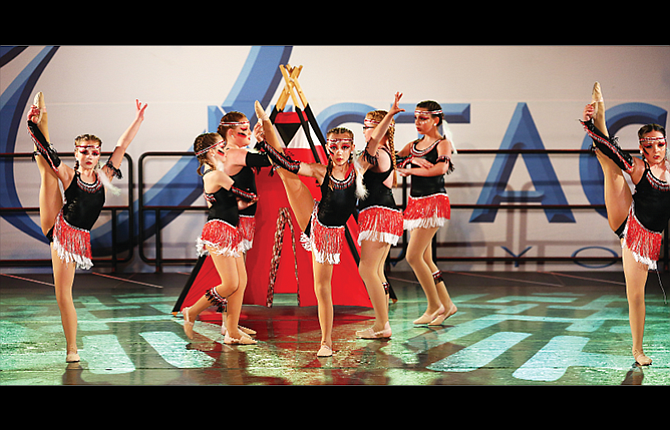 The Dalles Dance Club Academy attended the biggest regional dance competition in the region last weekend in Onstage New York at the Portland Convention Center, in what is considered the ultimate talent search and competition.

The dancers are judged by Broadway professionals from New York in jazz, ballet, lyrical, musical theater, hip hop, contemporary, song and dance, acro and open categories.
There are approximately 50 studios around the northwest and over 800 dancers.

In this four-day competition, dancers started at 7 a.m. and ended at 11 p.m. every night.

"This was one of the best competitions for DCA," said instructor Kristi Maley. "I was amazed and proud of how much the dancers have grown and how well they perform. This is a huge competition and they not only looked amazing on stage, but scored extremely high. My dancers have a tremendous amount of dedication and are not afraid to work hard, and it paid off."
In the mini division, Sophia Bucher, Makenzie Barrett, Ella Anderson, Tygh Timinsky, Ava Malcolm, Jayden Hansen, Bridget Donnell, and Jocelyn Olivan were awarded a gold in tap and a platinum in contemporary.
That group was also the fifth-highest scoring overall, won the judges' award, had the highest scoring open dance, and were top-8.
Timinsky also received a gold in her first jazz solo.
In the mini division, receiving platinum in jazz and a gold in tap, the 10th-highest scoring group and a top-16 finish were Abbie Canchola, Allie Masterson, Paige Compton, Katelyn Vassar, Tora Jo Timinsky, Nellie Wilkinson, Hayley Peterson, Bella Perez and Ahnikah Rubio.

Vassar and Peterson received a high gold on their duo, and Tora Jo Timinsky received a platinum and top-3 in her solo in the junior division.
In the mini division, and in their first competition, the group of Morgan Donivan, Abi Pope, Emma Lopez, Anabeth From, Jessie Lamb, Khloie Blumenthal, Isabella Beitl, Lillyannah Alvarado, and Olivia Prado scored a gold in tap and a gold in jazz.
"I incorporate a lot of tricks and lifts in my dances and it really is a team effort," Maley added. "Everyone must be present and working hard. My 8-year-olds are doing lifts harder than the seniors from other studios on stage. They amaze me at times."
In the junior division, receiving platinum in jazz, and judges' awards and gold in tap was Meli Avila, Lola Nelson, Paige Bankhead, Lorelay Berry, Hannah Kortge, Katelyn Vassar, Annah Cox, and Elizabeth Olivan.
Kortge picked up a gold in her solo, and both Kortge and Olivan earned a gold in their tap duo.
In the teen division, receiving a gold in jazz and the fifth-highest scoring group were, Aidan Telles, Nathan Nanez, Evan Despain, Jordyn Hattenhauer, Anna Singhurst, Gillian Wolf, Ella Morgan, Giselle Schwartz, City Mains and Sophia Pullen.
Hattenhauer and Telles received platinum, two judges' awards and top-3 in their jazz duo.
In the teen division, Nathan Nanez, Delaney Schanno, Abby Mains, Abbey Helseth, Jessica Nanez, Despain, Gillian Wolf, Hattenhauer, and City Mains received gold in tap.
In the senior division, Madison Richardson, Jessika Nanez, Crysta Harris, Abby Mains, Abbey Helseth, Delaney Schanno, and Kendyl Kumm tallied a high gold.
"I would like to thank Trystyne Rapelje, my tap teacher, who puts in numerous hours with the students, teaching them to not only perfect their craft, but how to excel in any circumstance," Maley said.
The club is holding its recital at 7 p.m. on May 20 at The Dalles High School.
Admission is $4 cash per person.
The club is located next to The Dalles Fitness and Court Club.
Summer session starts on June 26 and runs for six weeks with a performance on the last week.