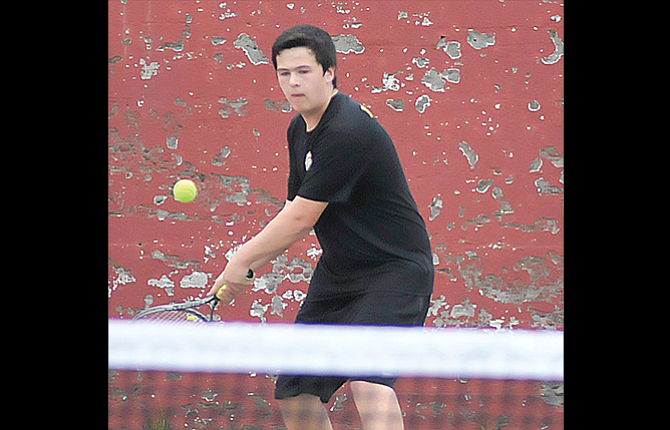 Last time The Dalles and Hood River Valley faced off, the Riverhawks scored a 5-3 win that coach Shea MacNab felt could have been 7-1.
In their final regular-season match, under warm conditions, the Riverhawks managed one singles win and had the No. 1 and No. 2 doubles teams pick up third-set tiebreaker victories in a 5-3 road loss to the Eagles in a league match played Thursday.
"Once again, we had some really close matches with Hood River," MacNab said.
Andy Lopez, playing at No. 4 singles, went toe-to-toe with Hood River's Nash Levy for two grueling sets, which Lopez won by final margins of 7-5, 7-5.
Quinn Wilson lost 4-6, 1-6 against Sawyer Bogard, James Pashek lost 5-7, 4-6 to Simon Harsanyi and Pedro Lopez came up short in his No. 3 matchup, 4-6, 6-7 playing opposite Carson Schutt.
Starting to find their pace, the Hawks' No. 1 doubles tandem of Omar Rodriguez and Alex Lopez worked overtime in a match with Adam and Luke Harter.
Rodriguez and Lopez won the first set by a 7-5 tally, but the Harter brothers rebounded for a 6-4 win to send the match into a third-set tiebreaker.
Both teams combined for 17 set points in the crucial third set, as Rodriguez and Lopez outlasted the Hood River duo by a 10-7 score for the win.
"Omar and Alex played a great match," MacNab said.
At No. 2, TD's Ethan Martin and Brandon Bustamante hit the court against Soren Rajani and Charlie Bickford, as the Eagle duo jumped ahead 1-0 after a 6-4 opening-set winner.
Martin and Bustamante, however, were not going away without a fight, taking the next two sets, 7-5, 10-5 in a three-set marathon.
"It was a good way to come back," MacNab said. "I have been really impressed with Ethan and Brandon over the past four weeks. They are communicating much better than they were early in the season and playing to win. They should be fun to watch at districts."
Devam Patel and Jose Reyes lost their No. 3 doubles match, 3-6, 4-6 to Arnulfo Perez and Reece Carroll, and the team of Edgar Contreras and Manuel Orquiz lost 0-6, 0-6 in a No. 4 match versus Jay Fiedler and Ben Fick.
MacNab is excited about the successful trend his team is on at the moment.
There is a strong possibility that the Riverhawks could make some noise and send a few athletes to state.
"With just four practices left before districts, I feel really good about the opportunity our guys have this year to move on to the second day of districts," MacNab said. "Set and match-breakers are going to be key to winning at districts and our guys will have longer matches."
District tennis action is scheduled for Friday and Saturday, May 12-13 at Sunriver near Bend.