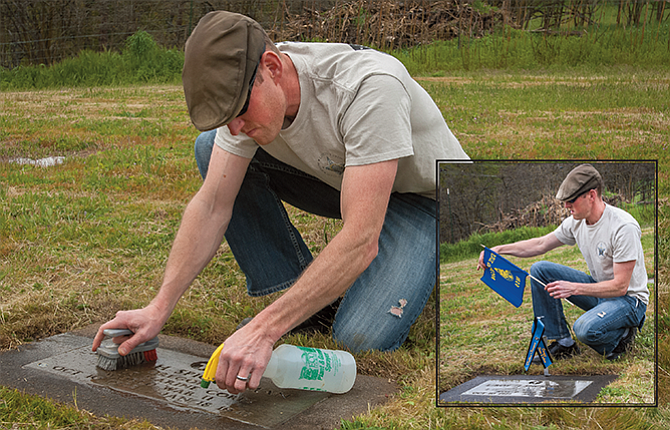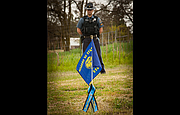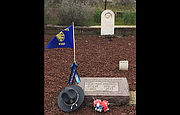 A lone grave in two different local cemeteries is decorated with a blue ribbon denoting that a fallen trooper lies there and a small Oregon State flag that denotes his area of service.
The markers were put in place April 29 by Oregon State Police troopers from The Dalles Area Command.
The IOOF Cemetery grave of Trooper Leroy Spickerman and Dufur resting place of Trooper Delmond Rondeau were meticulously cleaned and made ready for visitors during National Police Week, May 14-21.
Out of a sense of duty and respect, local troopers have joined a statewide effort to ensure the gravesites of 32 troopers who died in the line of duty are cared for and their names remembered.
"Some of these troopers died long enough ago that their family members are no longer around to watch over the gravesites," said Oregon State Police Lt. Pat Shortt, who heads the local patrol office, which covers five counties.
He said the ribbons and flags will stay in place through the week that has been set aside by Congress to honor local, state and federal officers who have died, or been disabled, in the line of duty.
"I think we live in an increasingly cynical age and it's important for us to remember that there are some things that are worthy to be honored. If you do, I think that makes you less self-focused," said Shortt.
In 1962, President John F. Kennedy proclaimed May 15 as National Peace Officers Memorial Day, a time for U.S. citizens to remember the ultimate sacrifice paid by many law enforcement families.
According to the National Law Enforcement Officers Memorial Fund, there are more than 900,000 sworn police, deputies and troopers now serving in the U.S., which is the highest figure ever. About 12 percent of those are female.
A total of 1,512 law enforcement officers died in the line of duty during the past 10 years — an average of one death every 63 hours, or 151 per year. There were 143 law enforcement officers killed in the line of duty in 2016.
"Going out to these gravesites makes it much more real to me that I have a duty and obligation to uphold the high standards that they established," said Shortt.
"It is a reaffirmation that there are people willing to stand in the way of danger to protect others."
He now serves as commander of the OSP Honor Guard that he joined in 2001. There are 25 members of the guard from across the state, including these troopers from The Dalles office: Senior Trooper Gavin McIlvenna, a former Tomb Guard at Arlington, Trooper Matt Moran and Trooper Zach Yoder.
The honor guard is spearheading the effort to maintain the resting places of the fallen.
"The danger is that the gravesite will be forgotten and the name will be forgotten," said Shortt. "As brothers, we want to make sure their names, their sacrifices, are never forgotten."
He has enlisted help from "caretakers" in each county to watch over the burial sites. He said OSP volunteers have agreed to do the following:
• Check on assigned sites as least once a year to make sure they are in good condition;
• Arrange for work to be done on the headstone or gravesite if needed;
• Place a memorial ribbon or similar tribute on the grave during National Police Week;
• Arrange for a replacement if the caretaker is no longer able to fulfill his or her responsibilities.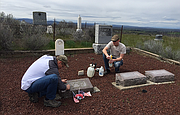 "It's not a new focus, but this is the first year we've had a formal program and all 32 gravesites are getting the same treatment," said Shortt.
Being a member of the honor guard is to be a leader, he said, and that is the role members are taking with the memorial markers.
"It's not just about being on the team, it's about developing yourself and learning how to develop future leaders," said Shortt.
To be qualify for the team, a trooper must first show strong performance in his or her regular patrol duties.
"Every guard member is a trooper first. I don't think you can take on exceptional duties unless you are doing your job well," said Shortt.
In addition, guard members must demonstrate a positive attitude about providing public safety.
"If you are grumpy, you can't serve as the face of an agency," said Shortt. "We want to be sure that people are of a good mindset to be a representative. You don't last in this job unless you have the DNA to want to serve people."
A team of guard members can put in long hours travelling to and from the funerals of retired troopers to post colors at the request of a family and perform a flag folding ceremony. The guard also stands watch at official state ceremonies.
"It takes our commitment to the next level," said Shortt.
The guard gathers each year at the Camp Rilea Armed Forces Training Center in Warrenton for three to four days of intense drilling in a private setting. Teams — new members are matched with the experienced — show up four hours prior to a funeral to "practice, practice, practice" so they are in sync while on the move.
"We make all our mistakes before anybody shows up," said Shortt.
Former members of the honor guard established the Fallen Badge Foundation, a nonprofit group that raises funds to help the families of fallen troopers pay funeral expenses and related costs.
In addition, the charitable organization sets up an "incident command post" when a death occurs that handles all the logistics of arranging a memorial service that could draw hundreds and greatly increase traffic.
That assistance takes the burden off a grieving family, said Shortt.
When the foundation is called into action, troopers are released from their official duty stations to help with service arrangements. By the time they arrive, a mission plan has been drawn up and everyone is issued a set of orders and the equipment they will need.
"It's all about taking care of family," said Shortt.