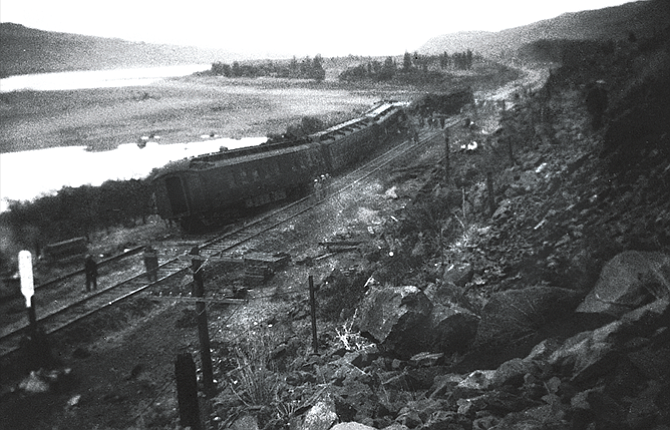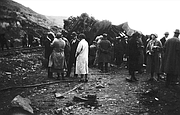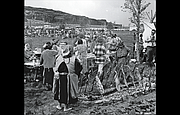 20 years ago – 1997
The Dalles High School is not keeping up with students' expectations for computer education, said principal Dave Beasley during a budget presentation. Revenue forecasts are still unpredictable until issues surrounding implementation of Measure 47 are resolved, but budgeting efforts are continuing in The Dalles School District. "We do not have enough computers to teach the classes students want to take," Beasley told the district budget committee. Beasley called the lack of computers one of the high school's biggest problems. The high school has 30 IBM computers in the business lab and 15 in the X-cel alternative school program. "All the other computers are old Macs that we use for word processing," Beasley said.
A proposal before the house Revenue Committee in Salem could boost Wasco County's chances of establishing limited public transportation, officials here learned yesterday. But legislators still haven't agreed on a funding formula for the proposal.
The Dalles City Council unanimously upheld the planning commission's approval of a 17-lot subdivision Monday.
DARWIN, Australia (AP) – Round-the-world pilot Linda Finch left Australia today bound for the Pacific, heading ever nearer to the site where aviator Amelia Earhart disappeared 60 years ago.
HANOI, Vietnam (AP) – A court today sentenced eight people to die before a firing squad for organizing a heroin smuggling ring linked to Vietnam's powerful Interior Ministry.
MOSCOW (AP) – Russia's painful transition to a market economy has helped cause a serious drop in population as death rates soar and birth rates plummet, a government report concludes. "The current mortality rate threatens Russia's national security interests and prospects of its future development," the presidential commission's report said Tuesday.
40 years ago – 1977
The back of an antique fire rig isn't the usual place to hold a wedding, but that is where The Dalles city fireman Scott Hakola and his new bride exchanged vows Friday afternoon. The old steam pumper, which was delivered to The Dalles Fire Department in 1879, was moved outside the downtown station for the occasion. The truck was decked out with "Just Married" signs and went to the reception with siren blaring.
On Tuesday, voters in The Dalles will consider a proposed one-year serial tax levy of $164,943 to help pay salaries, cost of living increases and fringe benefits for all city employes. It would also maintain the work force as it now stands.
WASHINGTON – (NEA) – The drive for a constitutional amendment outlawing abortions has taken a new twist this year which Congress can no longer afford to ignore. Frustrated by congressional inaction, right-to-life groups are now trying to get state legislatures to force the calling of a national constitutional convention to overturn the 1973 Supreme Court decision legalizing abortion.
60 years ago – 1957
A confession signed by Ernest LeRoy Smith, on trial for assault with intent to kill police officer Robert Brower, was read to the jury shortly before noon today as Deputy District Attorney Ed York rested the states' case. The signed statement, admitted as evidence by Circuit Judge Malcolm Wilkinson, was taken by city police a few hours after Smith's arrest at the east edge of the city March 2 following a running gun battle with Brower early in the morning.
The Dalles public schools will present their annual Spring Music Festival at 8 p.m. Friday in The Dalles high school auditorium.
HALIFAX, N.S. (UP) – At least four unidentified submarines have been sighted off Canada's east coast in less than a month. The Canadian Navy is not overlooking the possibility that the mysterious undersea craft might be Russian.
PORTLAND (UP) – Indictments returned by the March Multnomah county grand jury against Mayor Terry Schrunk and Oregon Journal reporter Brad Williams came under fire in Circuit Court Monday by attorneys for the two men. The indictments under attack Monday charge Schrunk and Williams with illegally obtaining tele-communications.
80 years ago – 1937
L. A. Larr of 1401 Jordan street recently found an old dog license, dated 1809, in her front yard. A marked difference is found between the tags of today and the older types used in the early '90s. The old license is round, and stamped with the image of a dog.
Approximately 100 delegates to the 37th annual convention of the Pacific Synod of the United Lutheran Church in America will arrive in The Dalles Monday for sessions lasting through Thursday, Rev. W. I. Eck, pastor of The Dalles English Lutheran church and synod secretary, said today.
BOSTON, May 14. (UP) – Manufacturers and topmakers were showing very little interest in the purchase of domestic wools on the market, the U.S. agriculture department reported today. Quotations on domestic wools are largely nominal.
LONDON, May 14. (UP) – Although reliable royal sources today continued to insist that Mrs. Wallis Warfield automatically becomes "her royal highness" when she marries the duke of Windsor, some unofficial quarters broached the idea that the government might seek legislation to take the coveted title from the American-born divorcee after her wedding.
100 years ago – 1917
ASTORIA, Ore., May 14. – Why wait for a submarine? The gunners on a foreign steamer arriving here the other day grew tired of waiting for one of Kaiser Bill's underwater boats, so practiced at whales along the coast. One whale near the Oregon coast was "tickled" three out of five times.
Home gardeners should aim at diversity of crops and not make the mistake of planting too much of one thing for their own use, while they do without other things which might have been grown instead of the surplus.
After four years, a citizen of Seattle – a woman, judging from the penmanship – voluntarily confesses that she stole a pillow from Hotel Dalles, and sends $1.25 to pay for it. Since stopping at the local hotel, she has become a Seventh Day Adventist, and this caused her to desire to make restitution for her "sins."
Tygh Valley held its second annual Industrial club picnic Saturday, celebrating the occasion with exercises particularly pertaining to the problem which now confronts the American people. That interest in the farming problem is intense, was evidenced by the big attendance, it being estimated that at least 2000 people were present, and they listened with close attention for more than two hours to patriotic speeches which were given by a notable array of speakers, headed by the chief executive of the state, Governor James Withycombe. The Dalles was represented by a large number of citizens and Dufurites honored their neighboring community by closing all places of business for the day and attending in a body.