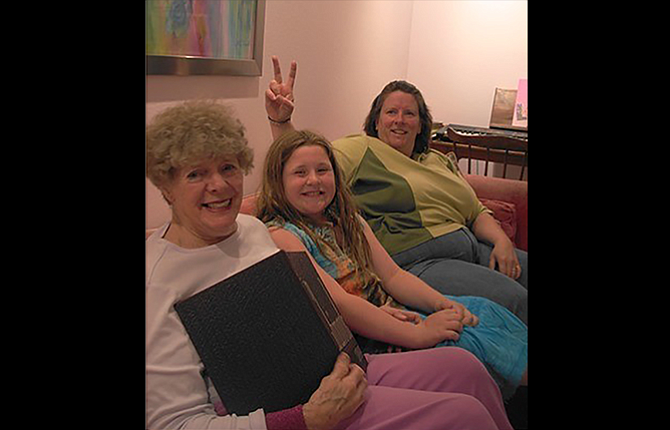 When I told my mom the other day I was assigned to write about her for Mother's Day, she said, "Oh! Well, make it funny," and then, with perfect comic timing, added, "but not too funny."
So, in the interest of decorum, I shall keep some of our most side-splitting moments to myself. Laughter has been a key motif throughout my mother's life. She excels at dwelling on the positive and finds humor everywhere. It's almost her lifeline.
My mom, Mary Ellen Kavanagh, turned 93 on Friday. Since my stepdad Jerry Kavanagh died in 2013, she's been in assisted living. And that kind of environment, according to Mom, can be a riot.
Like Mom, many of the residents are hard of hearing. She chortled for weeks about the time she told a woman, "I saw your husband's picture," and the woman replied in delightfully off-colored confusion, "my husband's fixture?"
Mom also has the gift of being able to belly-laugh at herself. Not too long ago, I told her I was going to read her a funny story titled "The deaf wife." She said, "the what?" I loudly repeated the title, she finally heard me, and we died laughing.
At the time, she was in the hospital. It was May 2015, she was a week shy of 91, and she'd just had a total knee replacement a few hours earlier. She'd been stuck in a wheelchair for months and was determined to get out of it. Total knees are hellacious to recover from at any age, but she did it, because that knee was cramping her style!
She's always been active. She jokes that she didn't walk to school, she ran to school every day. She did the Hood River Cross-Channel Swim when she was 60. She hits the gym when the weather isn't great and heads outside for a walk when it's sunny.
She's always loved a party; going to one, hosting one. Doesn't matter. She had a party the time they redecorated the bathroom. Called it a throne room party.
When we moved her out of the family home of 46 years in 2013, she didn't have much in the way of knick-knacks. She explained: "People are more important than things."
Her favorite Bible passage is Philippians 4:8, essentially about finding the good in people. A Facebook post modernized it: "Anyone can find the dirt in someone. Be the one that finds the gold."
Mom has always found the gold in people, a habit I struggle to emulate. She comes by it naturally, but I know she also has to cultivate it from time to time and makes a point to do so.
As the years close in on us, I've found her and her wisdom ever more precious: everybody has flaws, but see past them; be grateful; be loving; be interested in others; enjoy the little things, like frogs croaking outside your door or al fresco dining on the Vancouver waterfront on a perfect sunny day.
She doesn't actively impart her pearls in dry lectures to me, of course; she is simply living her joyful life, and I am taking careful note.
Her resilience and outlook amaze me. She's faced heartbreak many times over her life, of course.
She's long outlived her siblings, buried two beloved husbands, said goodbye to her lifelong best friend – Gracie Brooks, my daughter's namesake — and many other friends, including some of the new pals she'd made at her assisted living place.
But she doesn't mope. She simply cherishes the good memories.
And her happiness is not contingent on physical robustness. She uses a walker, has frustratingly fickle hearing aids, and is legally blind, but she soldiers on, loving life.
Having grown up in Christian Science, Mom has never given power or attention to her own physical ailments. Sometimes it's actually been hard to get her to cop to symptoms at the doctor's office.
Nowadays, even though she can't see colors sometimes, she still paints, which is her lifelong passion.
Robert Redford autographed an oil painting she did of him, and her vibrant art fills her apartment and covers the walls of many other area homes as well.
Our house in Vancouver was pink with green shutters, just like the famous home of impressionist painter Claude Monet at his garden in Giverny, France. She even painted her handmade mailbox as a miniature Monet house.
We also had a shockingly hot-pink sofa in our living room. The deliveryman famously said, "I'd better bring it in one cushion at a time."
Mom not only has a positive outlook for her own life, but is unfailingly proud of me, my brothers and her four grandkids. There is not one happy or encouraging thought that goes unexpressed.
All this is not to say there haven't been clashes and tears and moments of radio silence over the years.
No relationship is without bumps, but the road has smoothed over time and I have come to treasure it.
I call her four times a day, a habit we developed when she was stuck in a rehabilitation facility after one of her three surgeries in 2015 and was bored out of her mind.
My two brothers each usually call her daily.
She ends every call with, "I love you so much, honey."
To feel her mother-love poured into me four times a day is a pretty potent gift.
She keeps saying how lucky she is to have us kids, and I keep telling her, "Mom, we're the lucky ones."
I love you, Mom. Happy Mother's Day!