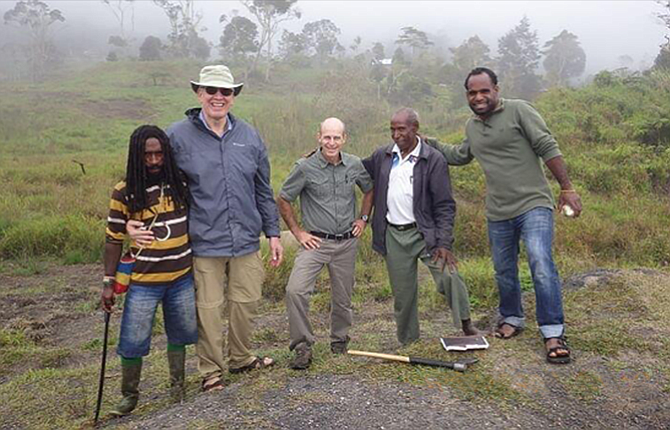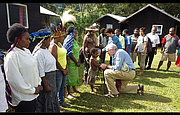 Wayne von Borstel remembers the first few schools he built for the impoverished.
They were in Africa, and they were big and beautiful. But he saw them as monuments to American wealth, plopped incongruously amongst grass huts.
Von Borstel, who owns von Borstel & Associates, an investment firm with locations in The Dalles and Portland, decided he would take a different approach.
Three or four years ago, he talked with somebody "who knew a guy who knew a guy that knew a guy that was crazy in the jungles of Indonesia. That's what I was looking for, is crazy."
He learned about Scott and Heidi Wisley, a Christian missionary couple who did the unthinkable and began schooling their own children with the locals in Papua, Indonesia. The norm was to either move away once kids became school age, or send them to boarding school.
But the Wisleys decided to enlist the locals to build humble schools in their humble surroundings, and they are educating their own children alongside the locals. They have three schools now, teaching 300 students in three villages in an area called the highlands. Their program is called Ob Anggen, which means "good fruit."
One of the things Wisley wanted most was to have someone come "love on" the teachers, von Borstel said. So he convinced a 14-strong contingent from Calvary Baptist Church in The Dalles to go there recently for the sole purpose of providing moral support to the teachers at the three schools.
They didn't dig a single ditch, or pound a single nail, von Borstel said. They just hung out with the teachers who, because of local norms, face hostility across the board.
It was a deeply emotional time. When meeting the locals, he said, "they cry in joy. They hug you and start slobbering and crying and snot is going, and this goes on for about five minutes."
The group split up, supporting the 40 teachers. "Their families don't like them to go there, the villages don't like them. The parents don't respect them. There is no support for them. We spent a week building relationships and giving love to people that don't get any love from anybody else," he said.
Many of the teachers, some with master's degrees, could make more money elsewhere, which angers their families.
Most of the teachers are native Papuans, "but you can't put the teachers in their own village, because if you do, their system of uncles — everybody is your uncle — if your uncle asks you to give them a computer [from the school] you have to give them a computer."
The schools, largely built and paid for by locals as a means of instilling pride, were founded in 2007, and each year a grade is added as the oldest kids move up. Now, they are looking for someone to teach junior high. If they can't find one, the kids will have to go elsewhere for education or stop going.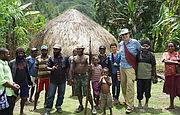 He said any person who took the job would see their life changed.
He added that if an American took the job, "they would probably get the best house in town because they kind of have got it figured out what Americans are like."
About two-thirds of the teachers are indigenous and a third are from the other islands of Indonesia, a country just north of Australia. "There's one Hispanic American there," von Borstel said. "There's Americans that come in, and there's a natural jealousy. The locals are black and curly haired and the ones that come from outside are straight-hairs and there's a little bit of a problem with that. People are people everywhere. People are jealous and create little walls. America has no corner on that market. It's just different levels."
He said they were formerly a hunter-gatherer society that was literally untouched by modern civilization as recently as 40 years ago. Now, the men, the former hunters and protectors, have no work and the women raise gardens. They collect government payments and "welfare has taken all their pride away."
Many of the kids have no parents at home, he said. Very few have two parents.
He said the kids there "have to have the strength and the ability to get out of what is normal there now. And hopefully we're teaching the leaders of tomorrow. I don't know. All we can do is give them love and education and try."
He said, "We in America talk about kids having no chance – these kids have no chance."
One battle had to be fought with the government itself. The typical government school doesn't even have teachers in attendance. They just show up a couple times a week before a national test, give the students the answers, and oversee the cheating on the test itself.
"We have the first class in the highlands that passed a national test without cheating," von Borstel said. "We thought our kids were smart enough to pass, and they all did."
They had to struggle to keep the cheating functionaries away. "The administration actually walked into the classrooms with the answer sheets and asked the kids and the kids had to say they did not want the answers," he said. "We're trying to change that little corner of the world."
He added, "Can we bring our faith in, our beliefs in and be a positive thing? And sometimes you have to wonder if you're being positive or negative because it's not all black and white."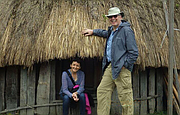 He said the locals would describe themselves as Christian, "but one of their biggest concerns is flying witches.
"Their parents were converted and were strong Christians. It's a pretty interesting mix of spirits. It's a spirit world. Girls trying to appease the spirits. Older women walk around with no fingers because every time something bad happens they cut off one of their fingers to appease the spirits."
The schools are a target, and just recently, someone threatened to kill the principal at one of them. "It's a revenge society," von Borstel said. "But they found a non-racist way to get around [the problem] so supposedly they aren't going to kill him now."
Another school was "having elections and they were literally having a civil war where the people were having to shoot guns to keep them from killing each other," he said.
Von Borstel said, "I've built schools around the world and support schools and they're all places where you wonder, 'Why would you go there?' But I believe God has blessed me and it's my calling to make a difference in the world, but not on American terms."
He has funded two schools in Bangladesh and he's funding a second school in India. He's helping with the three schools in Papua and he's helping with a new school in Chad right now. "These are places where nobody would want to go."
Brian Casady, who works with von Borstel on the schools, was escorted by the army when he went to a location in Bangladesh, because it was so unsafe.
Most of his schools are in Muslim countries, but all are Christian schools. Their mission is both to provide an education and to convert them to Christianity.
"Every place we go is a Christian mission. God has called me to do this. I believe this is my purpose in life. I keep working across the street from you [the Chronicle] so I can continue to afford to do this."
He got this calling six or seven years ago.
"Most people would look at the schools that I'm helping fund and wonder," he said. The one he's building in India he would consider a monument to American wealth, "but the other schools we're building are shacks. They aren't fancy schools. We're just trying to create a safe environment, dry, that's out of the weather, to go to school."
He said, "I'm hopeful that 100 years from now, someone will say that I made a difference, that we made a difference. These kids have nothing, and no hope, and we are giving them hope. I don't know where that will lead. It will be hard to tell. You tell me in 40 years how we did."