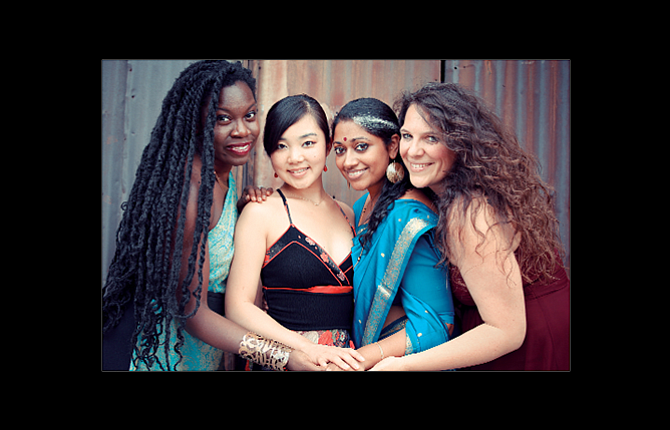 A unique a cappella music experience is coming to The Dalles by way of the voices from the Women of the World, a quartet from all corners of the world, performing folk and traditional music in more than 20 different languages.
The four singers include the groups founder Ayumi Ueda from Japan, Giorgia Renosto from Italy, Annette Philip from India, and Deborah Pierre representing the USA via the island of Haiti.
"To share my culture and experience with other people, it's amazing," said Pierre.
The group plays at The Dalles High School on Wednesday, May 17, starting at 6 p.m. The show is organized by the Mid-Columbia Concert Association.
Despite differences in culture the group shares its interest in "exploring the sounds, rhythms, and musical vocabulary from all over the world."
"Music is such a power medium, a powerful tool, to spread the energy, not just the sound," said Ueda.
According to the group's website, their tour takes them to China, Japan and Russia — surely a wealth of travel experience that will be integrated into their music.
"We've grown so much individually and collectively, it's been a great journey, and I think there's a lot more to come," Philip said.
The group says their music makes them "believe in their bond as a family of musicians and they believe in peace."
"When I hear all of our voices together, it's something that's not comparable to anything else," said Renosto.
The group has been performing since 2008, and their tours have included shows with the Boston Pops orchestra, Greek classical artist Mario Frangoulis and American songstress Nona Hendryx.
In 2013, the group performed in "Koloro" a tribute to diversity which included a 92 member World Peace Choir at Berklee College, celebrating "the myriad of colors in nature, culture and life."
According to critics Women of the World have successfully integrated the music of Africa, South America, Asia and Europe, and concert goers can expect to hear their special a cappella show to include chants, story telling, dance and improvisation.
Grammy-winning vocalist Bobby McFerrin, who mentored the group, calls Women of the World's music "Beautiful, spirited, loving and wonderful."
The Women of the World's a capella awards include the Independent Music Award in 2014 and the Boston Music Award in 2013.