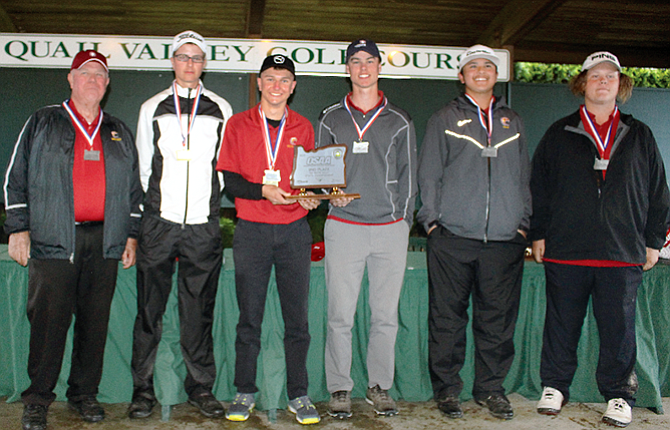 Without the bells and whistles of most golf programs across the state, The Dalles boys' golf team paved the way for success in 2017 with grit, passion, skill and motivation as their calling card.
After two days at Quail Valley Golf Course, the Riverhawks proved that the little engine that could had plenty of steam left in the reserves.
Chase Snodgrass finished third overall, Tyler Vassar was tied for ninth and Mark Felderman ended up tied for 15th to help lead the Riverhawks to second place and their best finish in program history at the 5A OSAA/U.S. Bank/Les Schwab Tires State Golf Championships in Banks.
"Our fantastic team performance has definitely made other schools more aware and more respectful of The Dalles golf," Snodgrass said. "Before we were viewed as underdogs, but now, we are viewed as one of the teams to beat."
Through the opening round, The Dalles shot a combined 332 for a third-place tie with Corvallis, 15 strokes behind Summit and five in back of second-place Marist.
Tuesday, in second-round play, four of the five Hawk players cut down strokes to leapfrog both Corvallis and Marist, finishing with a 660, trailing only three-time state champion Summit by 25 strokes (635).
Corvallis (672), Pendleton (676), Marist (677), La Salle Prep (688), Thurston (705), Crescent Valley (714), Sandy (714) and Wilsonville (727) rounded out the team tallies.
Considering the bad weather and sloppy conditions, Vassar was more than happy to be part of a history-making group and helped Snodgrass and Felderman, both seniors, end their careers in style.
"Our team set out for a win or second at state and we feel accomplished to have taken second place," Vassar said. "This whole thing was possible because we all stayed committed to our craft this year and worked year-round to get prepared to have a successful season."
Taking home individual medalist honors was Ridgeview sophomore Isaac Buerger, who carded a four-over par 148, and Thurston's Andrew Watts, a junior, placed second with a 153.
In his first day of action, Snodgrass posted two birdies and 10 pars for a 78, and then he capped tournament play with two birdies and nine pars to secure his 155, one shot ahead of Corvallis senior Nick Rolen (156).
La Salle Prep's Matt Werner was fifth following a 157, and the trio of John Pollock (Marist), Cole Chrisman (Summit), and Dawson Ruhl (Summit) tied for sixth after scores of 159.
"Placing third place amongst a field of such strong competitors is a big accomplishment for me, especially with the pressure of this tournament and it being my last high school tournament," Snodgrass said. "I am very happy with ending on such a high note."
Vassar notched a 160 and wound up tied for ninth alongside two Summit players, Eric Wasserman and Richie Mikesell, and La Salle Prep's Jonah Pemberton.
Vassar had an 82 was tied for 17th place through his first day, but then added four birdies and seven pars in second-day play to score a 78.
"Being top-10 this year was my goal and I feel good to have accomplished that," Vassar said.
Felderman tallied a 21-over par 165 covering two days, ending his career with an 82, as he swung out nine pars on his last 18 holes.
Looking back at the two days in Banks, Felderman feels he left some shots out on the course, but he offers no excuses for his overall finish.
"At least Chase and I ended on a high note," Felderman said. "I'm not satisfied, because I know I could have been much better and Chase could have as well. But, we still took second as a team, so we can't be mad about that. I, personally, am not satisfied or fulfilled because of the way I played. I have a lot of work to do."
Thrown into the fire as a freshman, Aidan Telles proved to be a pivotal piece to the puzzle this year.
All told, the group racked up a handful of tournament victories and provided several highlight moments through the spring.
Spanning 36 state holes, Telles racked up one birdie, 11 pars and 14 bogeys for his 180 and a 33rd place tie.
After dealing with a nagging injury that forced a withdrawal on both days of District 2 Championship play last week at Redmond, Riverhawk junior Jacob Ford completed both rounds and carded a 189 to lock down 42nd place out of 53 players.
Ford had seven pars and 16 bogeys in his 36-hole effort, but that two-day tally was the last thing on the mind of The Dalles players, especially Snodgrass, who called Ford an inspiration.
"Jacob's perseverance of playing 36 holes of golf despite battling a hip injury fueled the entire team with motivation," Snodgrass said. "We didn't want Jacob's effort to be in vain, so it inspired us to shoot some low numbers."
From the opening day of practices, there was a level of expectation placed on the five Riverhawk players.
With several huge wins, a solid district placing and a runner-up state trophy, Snodgrass feels a legacy has been built.
More than the litany of medals he has accumulated across four years on the links, Snodgrass is most proud to be a part of something bigger than him – history.
"As I walk away from high school, I can't imagine a much better ending than what took place," Snodgrass said. "Even though I didn't place first and my team didn't place first, the effort each of us gave was unmatched. Myself, my coach (Kent Smith), and my teammates gave everything we had in the final tournament of the year. In no way can I be anything but overjoyed."
While Snodgrass and Felderman move on to bigger and better things in the collegiate ranks, the trio of Vassar, Ford and Telles make up a formidable returning core that is even more dialed in and focused on taking another step up the ladder.
Vassar said the expectations won't be higher next season, on the team front, but that the three players will look to taking larger leadership roles with hopes of filling the shoes left by the senior duo.
With all the attributes gained through overcoming adversity, battling conditions and fighting for every team and individual accomplishment, Felderman knows the future is bright with Vassar, Ford and Telles on the roster in 2018.
"We have grown so close like a family," Felderman said. "We are all passionate about the game, which has created a healthy competition in practices and tournaments. What I learned most from my time here is that not many teams think we are any good, so that gives us more motivation to prove them wrong. The golf team is being left in good hands with Tyler, Jacob, and Aidan. They will do well I am sure."