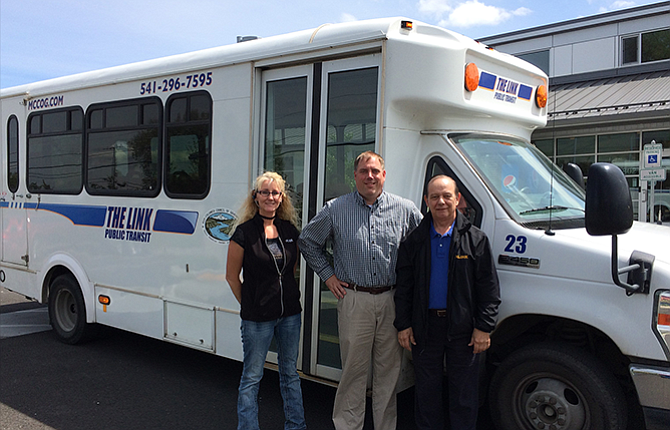 Twenty years ago Friday, on May 19, 1997, the LINK transportation network got its start locally with a single bus. Today, it has a fleet of six buses and two vans, and 100 riders daily.
It is celebrating its milestone on Friday with an open house from 11 a.m. to 1 p.m. at its new offices at 802 Chenowith Loop Road.
Brent Olson, operations director for the transportation system, said they were celebrating "linking people and places for over 20 years."
Treats and refreshments will be available, and buses will be on hand for viewing. Guests are also welcome to tour the new facility, which the transportation agency moved into last June. While much has changed — they have computer-aided dispatching now in addition to a fleet of buses and new quarters — one thing that hasn't changed is the price.
"You know how much fare was when we started 20 years ago? A dollar fifty. You know how much is it now? A dollar fifty," Olson said.
The program is subsidized with federal dollars, and also gets some funds from the city of The Dalles, Olson said.
While the LINK bus is mostly used by seniors and the disabled, it is available to anyone, Olson said. "Senior and disabled are a majority of our riders, which is fine, but we want people to understand we're a public transit open to anyone."
LINK is a dial-a-ride program serving Wasco County that is available on a first-come, first-served basis.
It's also not just for medical appointments, he said. "We will take you anywhere in The Dalles for any reason. We'll take you to your friend's house, we'll take you to work. We'll take you to the store."
The buses even have bike racks on the front.
Rides are offered between 7:30 a.m. and 5 p.m. Monday through Friday. Calls for rides – to 541-296-7595 -- are encouraged to be placed the day before, or as far in advance as possible, Olson said, but they do their best to accommodate same-day requests.
The buses take on multiple passengers, each with different destinations. Most of the service LINK provides is in The Dalles area, but it can serve other locations in Wasco County.
Olson has even gotten behind the wheel himself in a pinch to help out a same-day rider.
Advanced reservations are required, and riders are given a 30-minute window in which to expect their ride.
"I just want to say how easy it is getting a ride, just call and tell us the times," he said.
Drivers used to have excel spreadsheets with their stops on them. "Now we have tablets," he said.
All the buses are handicapped accessible, including a lift for people in wheelchairs or those who cannot walk up the stairs. Each bus has space for two wheelchairs.
LINK has two 17-passenger buses and four 12-passenger buses and two five-passenger minivans. The LINK system has three full-time drivers, six part-time drivers and one dispatcher.
In addition to dial-a-ride services, LINK offers shopping buses on Mondays and Wednesdays between 10 a.m. and two p.m. "We will go to your door and pick you up and take you to all the local stores and our friendly drivers will carry your bags for you and our fare for that is $3 total," Olson said.
It includes unlimited stops for the $3 total, "which is a heckuva deal," he said.
"We'll carry groceries to the door, we won't go inside the home," he said.
A fixed-route service can be used to go to either Hood River or on to Portland. That service is offered on Tuesdays and Thursdays. The bus leaves the transportation office at 7:15 a.m., and then makes a stop at 7:30 a.m. at 201 Federal St. downtown, the former bus depot.
Then it heads to Hood River, where riders can transfer to the Hood River-based CAT transportation system for a ride to the Gateway Transit Center in Gresham. From there, riders can take the metro train into Portland or even to the Portland airport.
The cost is $8 one way. "A lot of people go on Thursday and come back Tuesday," he said.
While many things have changed, one hasn't, and that's driver Gerald (Jerry) Benedict, who has been with LINK since its very first day.
"We have a lot of fun talking," Benedict said of his passengers. "If you need to know about politics, sports, the weather," his passengers can fill you in.
His oldest passenger was 103, and once he gave a ride to a new mom and her three-day-old baby. "So we've had from three days old to 103," he said.
Olson noted that all buses are equipped with car seats for infants.
Benedict said the LINK system has a good reputation in town, and the usual reaction he gets from people about the low fare is, "Is that all?"
He said, "The main thing is be courteous, polite, help people, bring assurance to them. Tell them we'll get them home safely."
All the drivers have passenger assistance training to help people with disabilities on and off the bus, and they are trained in CPR as well.
"Also, to be a driver, you have to have a heavy dose of common sense," Olson said.
He said the LINK is "a caring bus company that's concerned about people. It's rewarding to see people satisfied and looking forward to another ride."
He said the 20 years that have passed "seems like just a few years to me."
Charlotte Dupree is the dispatcher. "Some days are busier than others," she said. Right now, Tuesday through Thursday are the busiest.
"Most of our regulars, they're so grateful and thankful," she said.
"We offer our clients freedom and independence," Olson said. "It's a big deal to us. That's why we're here."