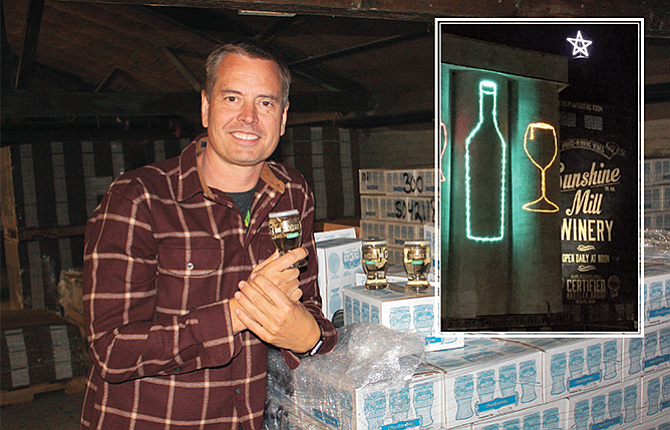 Correction
There was an error in our May 17 story on the Sunshine Mill Winery. The business has produced a payroll of $8 million over the last seven years; the $8 million is not an annual payroll figure. We regret the error.
On Memorial Day weekend seven years ago, James and Molli Martin, co-owners of the Sunshine Mill Winery, opened their doors to the public for the first time.
"We went in with 'this might work,' that's all we had," said Molli. "It feels like it was yesterday."
But after seven years of toil, marketing, and smart business moves, the landmark winery appears to be on track to success.
Sunshine Mill's main products are the Copa Di Vino single-serving wines that come in a stylized, sealed cup, along with bottles of wine with the Quenett label.
"'Quenett' is an Indian word for 'steelhead,'" James said, adding that almost all the grapes used in their bottled wines come from the Columbia River Gorge region of Washington.
To commemorate the upcoming anniversary, Molli said Sunshine Mill plans to release a new white wine, called "Nirvana Blend," under an "Oregon Mountain Estates" label.
"We're releasing it Memorial Day," she said. "It's a summer blend, and we named it Nirvana because that is also a favorite band of ours."
James pointed out that the company now ships its wines to 40 states and 39 different countries
"The international part always amazes me," he said. "But we've got to keep running fast. There is always only one speed in business."

More than 90 percent of the company's revenue comes from the sale of the single-serving wines, and it has become a product with some very high profile customers.
"It's the top-selling wine at Disney World, and it's also the wine that's sold at Madison Square Garden," James said. "It has been a fun journey. You go to Las Vegas, and all of a sudden you see someone with your product in their hand. And it has The Dalles' name on it."
"Our growth happened organically," added Molli. "Copa Di Vino has gained a following all over the United States."
James pointed out that he was born and raised in The Dalles, and helping the community grow and prosper gives him a special sense of pride.
"It's a great joy to see this happening in The Dalles," he explained. "Our family has been here since the 1860s; that's forever."
Rather than an intriguing winery, the increasingly active business easily could have been just an empty lot. Some of the buildings on the site were built in the 1870s. In that era, James said, the facility was used as a flour mill and for wool storage.
"It was called the Wasco Warehouse," he said.
The flour mill closed in 1978, and the building sat empty and disused for many years.
There was serious discussion about just tearing everything down to allow the potential for someone to come in and construct something modern. But the Martin's proposal caught the attention of city officials, and rather than knock the structures down, the city's urban renewal team saw the wisdom in putting forward about half of what demolition would have cost to help launch Sunshine Mill.
"It would have been $1 million to tear down the concrete silos," Molli said. "Urban renewal put in $500,000 (to provide seed money to Sunshine Mill). They invested in us."
The investment appears to be paying off. Sunshine Mill started with just the vision of the Martins and a small handful of employees, but a lot has changed since the opening in 2010.
"We started with five employees and have gone up," Molli said, in something of an understatement. The business now employs dozens, and, according to Molli, has a hefty annual payroll.
"From that initial $500,000 investment, we now have a payroll of over $8 million, and we have about 55 employees, mostly full-time," Molli said. "This is exactly what urban renewal should do and can do. We are a tourist destination."
As June nears, the winery's tasting room — which is situated at the base of the big silos — is gearing up for an influx of tourists.
"Our business is seasonal, because most of our business is travelers," James said. "We're really busy from Memorial Day to Labor Day."
The winery, which in some places has the feel of a museum, has incorporated numerous artifacts and equipment from the city's early history. Those artifacts, along with the almost ancient technologies on display, showcase a glimpse of the region's history.
"This equipment is from back when we milled our wheat here locally," James explained. "As a winery, it's a very authentic experience for people to enjoy, and it saved the building from being demolished."
"The warehouse was condemned, now it's our production facility," added Molli. "It has been amazing bringing it back to life after 30 years."