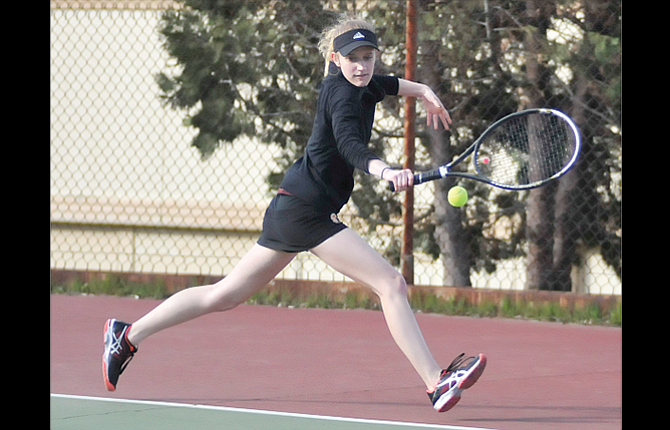 Kiana Pielli went 4-1 to clinch third place and a singles state berth and The Dalles girls' tennis team picked up second-place honors after play this weekend in Hermiston.
Coming off a memorable 2016 season, capped by a third-place state outcome with her doubles partner, Johanna Wilson, Pielli is headed to state with a free and easy mentality.
"I've already capped my career off with a high note I'd say," Pielli said. "I've met my goal of going to state, so now I'm just going to play my hardest at state and have fun. If I can get places in state, I would be ecstatic, but I'm going in with a mindset, so I won't leave with a feeling of disappointment if I lose a match or matches."
Pielli kicked off her district run in a tough match against Hermiston's No. 1 player, Mackenzie Hall, and she scored a 6-3, 6-3 victory.

In her second match, Pielli defeated Pendleton's Brandy Brown 6-1, 6-1, and then she played the underdog role against the No. 3 seed, Danielle Axten, of Summit.

Pielli played a consistent, all-around match and cruised past Axten by scores of 6-2, 6-2.
"There was a considerable amount of pressure included with that match," said TD head coach Debby Jones. "Playing the No. 3 seed, who coaches predicted would finish in the top-4, Kiana was focused and the matchup was perfect for her, as she continued to exemplify match and aggression in just the right dosage. The win guaranteed Kiana a state berth."
On finals Saturday, Pielli ended up losing to Paige Dionne, a No. 2 seed from Summit, by a 1-6, 1-6 margin.
Playing for third or fourth place, Pielli had to deal with Jenna Senter, Pendleton's No. 1 player.
In the opening set, Senter took an early 4-1 advantage, but then Pielli found her groove and went on a 5-0 run to grab a 6-4 win.
Senter fell behind 4-1 in the second set, before picking up a 7-5 victory to send the match into a third-set tiebreaker.
At this point, after nearly two and a half hours of action, Pielli had to find a second gear to come out on top.
She grabbed a 6-2 win to capture third place.
"I am so excited for Kiana to have accomplished a goal in making it to state two years in a row and in two different disciplines, doubles last year and singles this year," Jones said. "It speaks a lot to her all-around game and the anticipated success for her college tennis, where she will be required to play both singles and doubles."
In other singles action, Robin Pashek defeated Summit's Anika Groener in a second-round match by scores of 6-4, 6-4 to move into the quarterfinals.
Senter and Pashek had split matches over the past two seasons, but this time around, Senter went on to slip past Pashek, in a match halted by thunder and lightning, to vault into the semifinals.
Even with the loss, Pashek had to rebound and keep winning matches to help her team in the final standings.
The senior placed sixth and helped the team secure the second-place team finish.
"I know the final outcome of the tournament was a huge disappointment for Robin, but I hope this last match she played is the one that she reflects back on in her memory bank," Jones added. "Robin has been such a leader for us over her high school career."

Another bright spot on the singles side came from sophomore and first year district competitor, Yahaira Alvarez.

Alvarez won her first-career district match against Hood River's Monica De La Rosa by a score of 6-2, 6-1.

The prize for winning that match was a date with the No. 1 seed and eventual district singles champion, Autumn Layden, from Summit.

Layden went on for a 6-0, 6-0 triumph.
"It was so enjoyable watching Yahaira compete," Jones said. "I know she was pretty nervous, but she did not show it. Although she was defeated, she came bounding off the court motivated by the experience and with an understanding that she is better than she realized."
Jocelyn Hernandez lost two matches against opponents from Hood River and Pendleton to round out the singles slate.
On the doubles side, The Dalles picked up a huge win from Abby Minnick and Ellie Trujillo against Pendleton's Patterson and Davies.

They lost the first set, but found their stride and won the match in a closely-contested third-set tiebreaker.

In the round of 16, Minnick and Trujillo played a solid match, but were defeated by Mountain Views Collins and Leighton, who went on to take fifth place.
The No. 2 doubles combo of Cassie Vazquez and Maggie Corey lost to Pendleton's Williams and Flanagan, the No. 3 team of Natalie Varland and Lupita Contreras were defeated by Hermiston's Hamilton and Sanchez, and the No. 4 doubles duo of Jessica Vega and Liz Leon lost to Beaver and Reed, from Mountain View.
Next up, Pielli will be competing in the OSAA 5A girls' state championships starting Friday in Portland, with an opening match against Tessa Kerns, a No. 2 seed and last year's runner-up.

"State has some very difficult competition, so I'm going to have to play the best I have all season," Pielli said. "I'm working on putting all of my work together this season into this weekend."