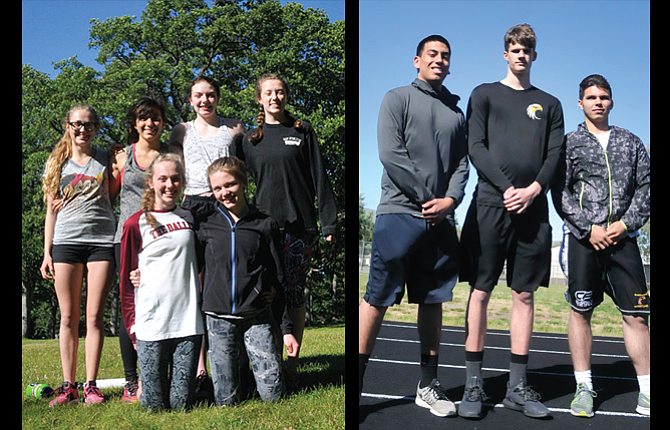 Molly Nelson is taking one final bus ride as a Riverhawk.
Time has flown by at a dizzying pace, but through some reflection, The Dalles senior is able to look back at all her accomplishments with pride.
Nelson is headed to state in Eugene as part of the 4x400-meter relay squad, and she is joined by teammates Shyanne Cady, Elizabeth Tapia, Tressa Wood, Jenna Miller, Emma Mullins, Justin Conklin, Julian Hernandez and Cameron Perez for action on Friday and Saturday at Historic Hayward Field.
"It is kind of bittersweet, because this year has been really difficult being a student-athlete," Nelson said. "The schooling part has taken a lot of my time, but being involved in sports has been a good outlet for me. It has been the main source of my friends and all the experiences that I have had. It has been a good run and I am glad I did all of it, even though at times, it was difficult. In the end, I am happy and I feel satisfied."
While she has earned state bids in cross country and swimming, this is Nelson's first trip to Eugene.
Through seven events this season, Nelson, Mullins, Miller, Tapia and Cady have displayed steady progression in the 4x400-meter relay, starting with a time of five minutes and 4.71 seconds on March 18.
Coming off a season-best 4:24.76 at the Dean Nice Invite on April 28, the relay team combined for a second-place mark of 4:32.74 at districts last week to earn their state trip.
Every other member of the girls' team is an underclassman, making their first state appearance, except for Mullins, who helped the 2016 relay group to 12th place with a 4:15.33.
Nelson has been blown away by the level of tenacity and determination the girls' team shows in practices and meets.
"These girls are great. In my four years of doing this, I haven't seen anyone with this much drive and this much motivation and passion for the sport," Nelson said. "It is really cool to see, especially since they are freshmen. And they also just great human beings in general."
Mullins, a sophomore, placed second in the 800 at districts with a mark of 2:32.25, a few ticks off her personal record of 2:25.66 set on April 28.
In her seven 800-meter races, Mullins has amassed four top-3 outputs.
From her state-qualifying performance last season, Mullins knew she had to put even more work into her craft to compete against some of the best runners in the 5A classification.
The sophomore gives credit to her teammates, inner resolve and mid-distance and distance coach Mandi Williams for her rise up the rankings.
"Mandi is really good at being a motivational coach," Mullins said. "She gets to know every one of her runners and she knows exactly what to say to each of us before every race. Before I run, she likes to call me 'Mini Mandi' and that I can do it. She is constantly telling me that if I put my mind to it, that I can accomplish anything. That is really encouraging. Her expectations of us are exactly what they should be. She doesn't set the expectations too high or too low, she knows what we can do and she knows what our abilities are."
As one of the new kids on the block, Wood is well on her way toward great success in track.
This season, Wood has three firsts and two seconds in distances spanning 800, 1,500 and 3,000, but she saved her best race for districts, where she hit for a personal-record time of 11:23.34 to capture first place in the 3,000 meters.
She also had a 5:22.35 for second in the 1,500 to secure another state qualification.
Before that time, Wood had been averaging a time of 5:16 in her past three races, including a personal record of 5:12.02 on Apr 28.
Wood said that she is headed to Eugene to have fun and soak in the ambiance of the moment.
"I honestly did not expect this to happen. It has been really fun," Wood said. "My goals are, that I am just going to go out there and have as much fun as I can. I just want to put everything out there, as much as I can. If I can come away from state with that feeling, I feel that I accomplished a lot."
TD boys trio is aiming for gold
Cameron Perez never thought about joining the track and field team, but decided to give a shot in his junior campaign just for fun.
His first javelin toss on April 5 sailed 109-03 and he placed fifth in a three-team dual in Gresham.
Perez added a 143-10, a 151-1 and set a personal record of 160-02 for second place at the Dean Nice invite on April 28.
On the big stage in Hermiston last week, Perez set a personal record of 165-04 to take first place.
"I started the season pretty badly, but I just kept going up and up. I kept working on it," Perez said. "I have practiced half the season into and I give (head coach Garth) Miller all the credit. He is always there working with me on technique and correcting my throws to make sure I get the most out of myself."
Through his senior campaign, Hernandez had a target on his back as the No. 1-ranked javelin participant in the Columbia River Conference.
The senior had a switch in coaches, going from Scott McMullen to Garth Miller, and the results have been impressive.
"Coach McMullen was big for me. Without him, javelin would have never happened. He trusted in me and kept trying to get me to compete in this event. I feel like I have improved a lot since he showed me how to throw a javelin," Hernandez said. "With Miller, he has put me over the top now, trying to get me prepared for college. I feel having Miller now has been a good thing for me. He has helped me improve my technique and skill."
Coming off a year where he placed fifth at districts a year ago, Hernandez has come on strong in eight meets, having placed no worse than third, with four wins.
Leading up to districts, Hernandez posted throws of 157-6, 159-8 and 160-10, until hitting for a 157-8 in Hermiston, finishing second behind his teammate, Perez.
With a final chance to earn a state medal, Hernandez is looking forward to the opportunity to get in a groove and finish on top.
"I need to take it to the next level," Hernandez said. "I am going there to compete, so I can see what ways I can work harder to improve myself in the sport. It feels good being able to go to state and I am hoping for something good to happen. I want to launch a big one this weekend. That is the goal."
After being edged out of state competition in his freshman season, Conklin put an emphasis on improving his 110-meter hurdle times.
He set a season-best 16.28 at districts last year to place third, and has six times bettered that number in 2017, capping the regular season with a personal-record mark of 15.51 to score second place in district action.
In his seven meets, Conklin has two wins and a second to his credit.
"I felt pretty motivated, because throughout the season, I would check other people's profiles and see that there were a couple that were coming out of nowhere, setting good times," Conklin said. "They were getting closer to me and that made me want to work that much harder to stay ahead of some of those other guys."
Conklin's 15.51 has him as the fourth seed out of the six runners in his heat.
He admits that he is going into state with no pressure, since he is an underclassman in an event that features nine upperclassmen, five seniors.
"It is really cool to be a part of this," Conklin said. "Being a sophomore, in a junior and senior race, it is kind of humbling to realize that I still have a lot more to go and these other guys are pretty much done with high school. I am just hoping to get to finals for the hurdles and we will see what happens. Now that I have made it to state, I am using this time to get even better for my last two years."