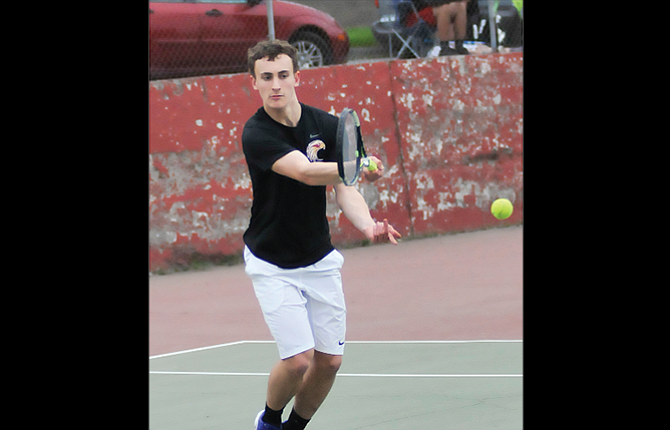 Although The Dalles High School boys tennis team did not advance to the state championship round, head coach Shea MacNab was pleased with the growth the team experienced and sees reason for optimism as the 2017 season comes to an end.
In the district competition held in Sunriver last Friday and Saturday, TDHS captured second place behind Summit High School of Bend, a team that is seen as being good enough to possibly win the state tournament. MacNab said the team's improvement over last year's finish was very impressive.
"This was the best our team has done at districts in several years," MacNab said. "The last two years, our boys have finished sixth in our district, so this is a huge jump for our team."
MacNab singled out several players who had outstanding performances in the district matches.
"Quinn Wilson had a great tournament," MacNab said. "He dominated in his first two matches. Unfortunately, on his third match he faced the best player in the state (Summit High School's Carter Quigley) and one of the best high school players in the nation."
MacNab said Devam Patel and Justin Eiesland had a strong first-match performance that could have gone either way.
"They started out down 5-1 in the first set, and came back to eventually lose the first set 5-7," he said. "And the second set was just as exciting as they went to a tiebreaker; however, they unfortunately, came up just a little short, but still played great and battled the entire time."
In other doubles action, MacNab pointed out that Omar Rodriguez and Alex Lopez played their best district tournament of their high school careers.
"The first match they handled with ease, and then once again we came up against a Summit team in the second round and lost," MacNab explained. "All four of Summit's doubles teams qualified for state, which means that no other doubles teams from our district qualified. Edgar Contreras and Jose Reyes also had a great first match of the tournament with a 6-1, 6-0 win."
Overall, the Riverhawks had four first-round wins, which is the best the boys tennis team has played on Day 1 in the past three years, and MacNab sees an opportunity for a big leap forward next year if the players keep practicing.
"It was great to see our guys compete this year and play with confidence," MacNab said. "If the boys keep playing and practicing over the summer and fall, it will really help keep our team sharp for next season. We have a young team, and most of our doubles players and all of our singles players are returning next season. We have a strong base for the next few years to build on."
MacNab said there is a good spirit of competition among the Riverhawks players.
"Each time any of our guys improves their games, it pushes everyone else to improve as well," he said.
MacNab added that he was very grateful for the assistance received from volunteers this season.
"Revell Coy and Alex Chavarria were a big reason for our success this year," MacNab said. "Both Revell and Alex volunteered for two-to-five days a week to come in and work with the team, and it made a big difference this year. I would also like to thank Erika Wilson and her family for their support of our program and help with keeping the boys fed during the tournament."
MacNab said he especially appreciated the dedication of the players on the Riverhawk tennis team.
"The credit really goes to all the players who came out this season and put in the time and effort to improve their game," he said. "What a great season, and I am really excited for the future of our program."