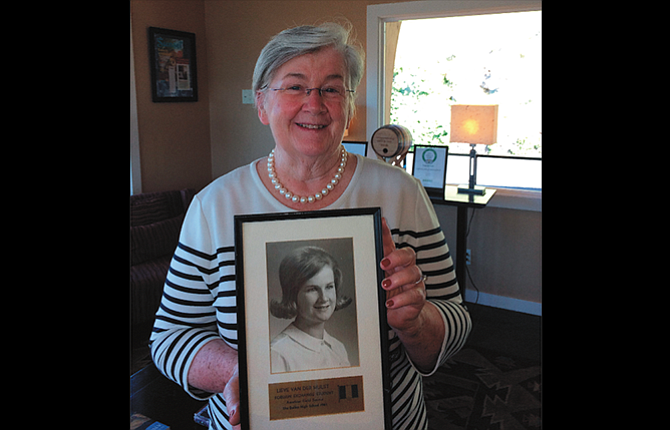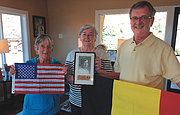 Lieve Baeke, The Dalles High School Class of '65, no doubt got the "farthest traveled" award at a mini class reunion last weekend.
That's because she and her husband, Dr. Tony Baeke, came all the way from their native Belgium. They swung by the reunion as part of a longer visit to the United States.
Lieve spent the 1964-65 school year here as a foreign exchange student through the AFS program. Her host parents were Kieran and Rita Kelly, and she had the good fortune to have their daughter, Brenda Kelly, in the same grade with her.
Baeke said she felt "practically immediately at home" with her host family, and their strong connection has lasted a lifetime.
"It was a perfect match, really," she said. "It was a nice year, top year."
Brenda Kelly said, "She was part of the family for me I guess, because we were the same age and the same grade, so there was a lot of sharing. It was fun to have Lieve there."
Lieve said she didn't really focus on what was different in America. "I just explored it, accepted it. It's because we were close and good in the family. I didn't have problems."
She was only homesick two days, and that was during extreme Christmastime flooding that was so severe it took out the John Day bridge.
This trip by the Baekes here is just the latest example of the visiting the two families have done.
Brenda's older brother, Pat, who was already away at college when Lieve came to stay, has visited Belgium, and Lieve and Tony's son Henri and his family came to visit Pat last summer, and they even visited The Dalles High School.
When Sheila Kelly, another Kelly daughter, was on her own year abroad in Spain, she broke her foot and when it was casted poorly, she caught the train to Belgium, where Lieve's dad, an internal medicine doctor, and Lieve's husband, then a young surgeon, sawed the cast off in the family living room, boiled some plaster on the stove, and correctly re-cast her foot.
While Lieve has visited the U.S. since her yearlong stay here 52 years ago, last weekend marked her first trip back to The Dalles.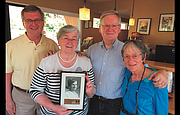 About 20 members of the class of '65 enjoyed a tour of the high school and a bash at The Dalles Yacht Club, hosted by Gary Bradford.
Rymell Lovell, chapter chairman, Columbia Pacific Area Team of the AFS, is looking for host families for AFS. She wanted to put a spotlight on Lieve's good experiences as an encouragement for any families or individuals who may want to volunteer as hosts.
Exchange students pay their own travel and have their own medical insurance, but cannot drive or work. They are expected to provide their own money for activities they do on their own.
Host families feed and house them and provide transportation, and are expected to include them in any family outings, at no expense to the exchange student.
Those interested are asked to call Lovell at 541-296-6546 or email her at tlovell@netcnct.net. For more information on hosting or going abroad through AFS, visit www.afsusa.org.
AFS, which stands for American Field Service, is an exchange program born of World Wars I and II, and is meant to foster world peace, one person at a time. It began in the late 1940s, with the then-radical idea of bringing German students to live in American communities that had lost young men in the fight against Nazi Germany.
Now the program is in over 80 countries.
Part of being an exchange student is making multiple presentations on your country. Nowadays, a presentation fits on a thumb drive. In her day, Lieve said, "I had like a diplomatic case" to haul her documents around in.
The curriculum in European schools is usually tougher than in American schools, and Lieve had already graduated from high school in her hometown of Ninove, outside Brussels, when she came here.
Her schooling had rigid programs that were laid out for students, while American students had their choice of classes. So she took some practical courses, like home economics, and joined the Future Homemakers Club. "I learned to sew. I still use it."
She also has the kind of bubbly, outgoing personality that made it easy to form friendships. Pat Kelly said, "Her picture is under 'sociable' in the dictionary."
She wanted to do a student exchange "because it seemed to me a big adventure and big experience. Once in a lifetime. And you have a better look on the world."
That was especially true after she ended her year here by getting seriously injured when falling off a horse. Dr. Robert Rice operated on her ruptured liver, and her father came from Belgium to help her recuperate. The accident delayed her return home by six weeks.
She had a head start on learning English, since it was a required subject at school since age 11. She also honed it on visits to family in England. Still, it was a jolt to be immersed in the language in an American high school.
"In the beginning, it was pretty difficult because it was spoken differently," she said. "I remember one time in class I didn't know what was going on so I started writing a letter home, and I found out they were taking an exam."
She said, "You had to listen all the time very well." In the beginning, she had to translate it into her first language, Dutch, but eventually, she was able to skip that step. She speaks five languages: Dutch, French, English, German and Spanish. "German is not easy. English has always been my favorite," she said.
When she and Tony – who speaks four languages – were writing each other, she would write him in English, and he would respond in French.
Lieve went on to graduate college with a degree in political science, with an eye on working in International Relations, but ended up staying home and raising three children.
She swore she wouldn't marry a doctor, but then Tony came along in college and that was that. His career was extremely demanding.
For 10 years, he said, he worked seven days a week without a vacation, and was called out a minimum of once a night. He began as a general surgeon and eventually specialized in laparoscopic surgery of the abdomen.
On the flight over here, he responded to a request for a doctor to attend an ill person. He presented his Belgian credentials, a credit-card like document that states, in four languages, that he is a doctor. He attended the sick woman for three hours, and the flight crew – and yes, it was on United Airlines – presented him with a bottle of fine French wine for his efforts.
He shared it with the Kelly family later.
Over the years, Lieve and Tony also hosted three exchange students.
"It's a life experience to have AFS. Maybe not immediately when you return, but maybe when you get more maturity," Lieve said. "Then you use it every day. I think about my [host] family every day."
She said, "I'm very thankful of the experience and that the family has taken good care and shared experiences and a mom and dad. It's precious."