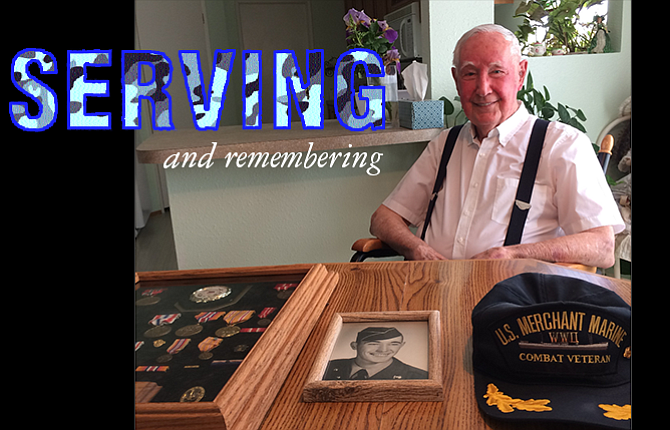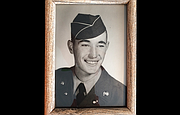 On this Memorial Day weekend, when America honors its war dead, pause to think of one particular duty that befell Gary Cotter as a 17-year-old merchant seaman during World War II.
It was early 1945, on the island of Manus, in the South Pacific, and he and another man were ordered to stay aboard a ruined transport ship that had been rammed by a tanker. One of its hulls was breached, and many men died.
The dead were left on board for several months, he said, a huge pile of their duffel bags left untouched.
"You could smell it because they couldn't clean it up overnight," he said. "They were probably pretty much incinerated. I stayed away from it."
The smell of death eventually went away, he said. He stayed on that ship for four months, but Cotter only touches briefly on this story. A cheerful sort with a ready smile, Cotter prefers to focus on the funny things, and give a straightforward retelling of the gruesome ones.
His cheerfulness clouds over when he's asked, given the upcoming Memorial Day, about reflecting on the losses he'd seen.
"In my mind I think of it," he said. "A lot of guys won't even talk about it, and I think it's good to talk about it. Kid around a bit."
Cotter, who lives in The Dalles with his wife Lynn, but was born and raised in San Francisco, had to get his parent's permission to join the Maritime Service on July 4, 1944, since he was still 16.
He turned 17 two weeks later. His mom thought after training he'd be sent back to school. Instead, he was sent to the South Pacific, his Liberty ship hauling 9,000 tons of ammo for the U.S. Army invasion of the Philippines.
Though the Merchant Marines were a civilian service, they hauled the supplies that fueled the American war effort. The price paid in Merchant Marine lives, in percentage terms, was steeper than that of any branch of the military.
It wasn't until over 40 years after the war, in 1988, that the Merchant Marines were finally recognized as war veterans entitled to military benefits.
Because he was a civilian, Cotter didn't earn a Purple Heart for an injury he sustained.
He has no idea how he was hurt. All he recalls is one day his ship was sailing from the Philippines, and the next thing he remembers is getting out of a small craft in Hollandia, New Guinea.
"My face is red and puffed up and my eyes are just about closed, and I hurt all over. I can hardly make out things, sort of half blind," he wrote in notes he'd taken years ago.
Nobody on the small craft said anything to him, so he just walked away.
He headed to a Red Cross station, where a man informed him that since he was a civilian, he couldn't help. "I will never give money to that outfit," he wrote.
But then, an Army officer came upon him and took him directly to a big Army hospital, and put him at the front of the line, saying, "Take care of this merchant seaman, now!"
He recuperated for five or six weeks, eventually fully regaining his sight.
Released from the hospital, he found his way to the War Shipping Administration office, and told them what ship he'd been on. They didn't know anything about him or his ship, so he asked to go home.
As a civilian, they couldn't order him to stay, but when they offered him the alternative of waiting for a ride home and meanwhile staying in a comfy tent on a hillside, where he'd be sleeping on a 45-degree angle, he agreed to their suggestion to take an assignment on another ship.
He was told to get to Manus, by any means he could find. He checked in at an airfield daily until he found a ride. At Manus, he was ordered to guard the ship still carrying war dead.
There were plans to take the good half of that ship and weld it to the good half of another ruined ship, thus making a new franken-ship.
Merchant Marines ate fairly well, and Cotter thought his first taste of Army slop was a joke. "I figured he [the cook] was having fun with me and threw it away," he wrote.
Not willing to settle for GI slop, he and a buddy talked their way into the officer's mess. Told to leave, they then asked, "Where is the civilian's mess?" That was their ticket to eating with officers until they headed out for Manus.
At Manus, there were light moments, like the Japanese fighter that kept trying to bomb a nearby dry docks. "He never hit anything," Cotter recounted.
"Finally, he hit that thing one day, and everybody clapped. I'll never forget that. 'That sucker hit something; he's getting better!'" No one was hurt by the bomb.
Before leaving for Manus, Cotter was given a virtual golden ticket from his commander, in the form of a written order to all merchant ships to supply him with the necessary food or other supplies for his ship's crew.
He and his buddy were the only crew aboard the dead ship, but on the strength of that written order, he acquired a bounty of food. He used it to trade for supplies with some nearby New Zealanders.
They even gave him a sailboat, and he'd tool around in the huge harbor. "So I used to sail all over the bay," he wrote. "Great time to be 17 years old."
He also fished with hand grenades. "Easy way to catch fish," he wrote.
Since their disabled ship had no power, they had to fare for themselves. They scavenged parts to make a crude cooking stove. He posed for a picture sitting on an exposed girder over the gaping hole in the ship.
It wasn't all fun and games. He saw planes shot down, and once when he was thrown from his bunk onto the deck, he assumed his ship, anchored off an island, had been hit.
They always slept on deck, not below decks, to give themselves a fighting chance to abandon ship if it got hit.
But the Japanese had snuck up on a munitions store on the nearby island and blown it up. The store had been surrounded by living quarters. All that remained was a huge crater, guarded by MPs so nobody would fall into it. "It was just gone," he said.
When the Navy finally arrived to take possession of the damaged ship, Cotter headed back to the states, where he saw his mom for the first time in 11 months. Then he was off to Hawaii, and was there when the war ended in August 1945.
Fast forward a few years, and the United States was at war again, this time in Korea. Cotter had received a draft notice, with orders not to leave the U.S., but since he was still in the Merchant Marine, his job forced him to leave.
And that's how the FBI came to detain him and 12 others the day he pulled into port in San Francisco after a trip overseas, with agents accusing the group of being draft dodgers.
He said he went from being an officer of the Merchant Marine one day to an Army private the next.
"It didn't hurt me. I enjoyed the Army. I had good times. You have to make it [good]," he said.
He became a cook for the WACs, and when an officer later found out he was a skilled engineer, the slow wheels began turning to get him out of the Army and into the Navy.
The officer lamented, "We have thousands of cooks, we don't have thousands of engineers."
But the process took over a year, and his request was ultimately denied, because by the time it was ready to be approved, he had less than a year left to serve, meaning he could not be sent overseas.
After two years in the Army, all of it served stateside, he immediately went to sea again with the Merchant Marine.
He sailed on about 30 ships, going all over the world, including delivering munitions to Vietnam — or French Indochina as it was then known — when the French were beginning to fight the Communists in North Vietnam.
In Vietnam, Cotter decided to go ashore once and have a look around.
"All I saw was a hammer and sickle and I saw these people looking at me" – he mimicked a suspicious look. "Hatred."
He hastened back onboard. "Also, they were shooting at us going up the Saigon River," he said. But it was just small arms fire. Back in '46, another ship he was on was haunted. "We had ghosts, absolutely."
The war had just ended, and his ship was taking a boatload of wheat to Bordeaux, France.
The gun tubs on the ship had been removed to make way for grain. One guy on the ship refused to go to a certain, dark and distant part of the ship. So Cotter went.
"He saw white faces looking out the porthole, just floating like. I said, 'Who's there?' Just nobody."
An officer scoffed at the men, and went to check out the area, but quickly returned, declaring nobody else had to go there anymore.
"As far as I was concerned, there was something there," Cotter said.
In 1960, he gave up the sea, and began working for Bethlehem Steel. That lasted a year, and then he spent the next 30 years, until retiring in 1992, working in managing the mechanical side of high rise office buildings in San Francisco.
He and his late wife retired to Gold Beach on the Oregon coast, and she passed away 10 years later. Eventually, he was prodded to answer an ad in Ruralite — a magazine of western electric cooperatives — that asked, "Where's my Prince Charming?"
"It was me," Lynn said with a smile. She lived in Dufur at the time.
They met in person two weeks after he answered her ad, and two months after that, they got married. That was 15 years ago.
In their immaculate home, Cotter's wartime service photo has pride of place on the living room wall, as does a display of service medals he bought that reflect the campaigns he was a part of.
"I put this together one time," he said of the display. "It makes me look like a hero."