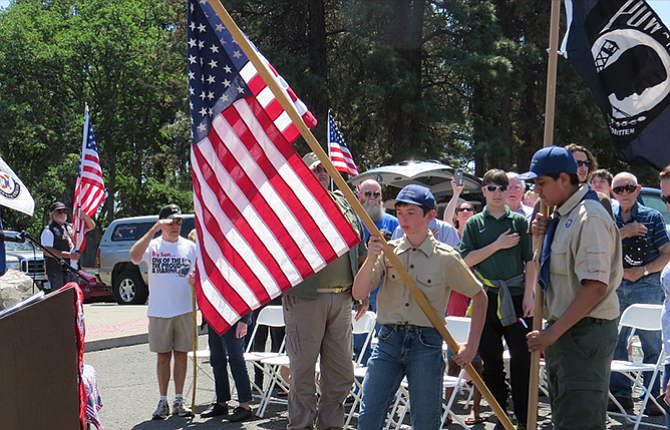 Heat radiating off pavement in front of the Veterans' Memorial at Kelly Viewpoint didn't stop a crowd from gathering to pay respects to America's war dead.
The Dalles Mayor Steve Lawrence acknowledged the temperature headed into the 90s after taking the podium as keynote speaker.
"I may have dressed a little warmly; hopefully I'll make it through this," he said about wearing a suit jacket.
Lawrence, a decorated Army officer who served in Vietnam, said Memorial Day was a sad time not only for Gold Star families who had lost someone on the battlefield, but the men and women who had served beside the fallen warrior.
"As a way to point out the individuality of each loss, I decided to share with you three stories of soldiers lost — men I knew," he said.
Army Specialist 4 Charles Edwin Wight of Tacoma, Wash., had met Lawrence on a flight to Vietnam in June 1968.
"He was worried about the fact that he had gained weight during his honeymoon," said Lawrence. "He described the kind of bliss that only comes from 30 days with a true love. In turn, I told him that I, too, was a newlywed of only two months. We shared pictures of our brides together."
The two soldiers went separate ways at Cam Rahn Bay after wishing each other good luck. They met up again on the battlefield about a week later; although they were in different platoons, they were both assigned to Delta Company, 1st of the 5th, 1st Air Cavalry Division.
Wight was killed during an ambush while on patrol up a dry creek bed in the mountains.
"He was killed just 19 days after he arrived in Vietnam. He was 21," said Lawrence.
He and 1st Lt. James Bradly Claybaugh of Caldwell, Idaho, had been college buddies and both attended Officer Candidate School at Fort Benning, Ga., from June 6, 1967, to Nov. 22, 1967.
Although Jim was challenged by a speech impediment and one leg was slightly shorter than the other, Lawrence said he was determined to go to Vietnam and lead men.
"After we both graduated, I asked Jim to be my best man as I was getting married in April. It was a full military wedding with crossed sabres and dress blue uniforms.
"Jim performed perfectly, took a lot of pictures and gave the first toast," said Lawrence.
On Jan. 1, 1969, Claybaugh deployed to Vietnam with the 1st Infantry, Americal Division, and he died March 29, 1969, at the age of 29.
Lawrence met 1st Lt. Michael Ciesielka of Eddington, Penn., as one of 150 men in the same Officer Candidate training company.
The two men were roommates and Lawrence said Ciesielka was very smart and very strong.
"During training, I was always surprised to see Mike Ciesielka go through each and every physical challenge quietly but always at the top of his class," said Lawrence.
"His bed and his room area were always the best. His weapons scores always expert, his written tests without a mistake and, when it came time for him to act as the company commander for a tank exercise, he pulled it off as if he had been doing it all his life."
They graduated from OCS on Nov. 22, 1967, and Lawrence met Ciesielka's fiancé, who was to become his wife during a 30-day leave before his next assignment.
"Of all the people I met in OCS, Michael Ciesielka was one I did not worry about. If he ended up in Vietnam, he would be the best," remembered Lawrence.
On Nov. 3, 1968, Ciesielka arrived in Vietnam with the 5th of the 7th, 1st Air Cavalry Division. He died 37 days later, on Dec. 9, 1968, at the age of 20.
"I tell these stories to re-emphasize today that we honor not just names and dates but human beings whose lives were cut short by the brutality of war," said Lawrence. "Millions of individuals throughout our long history of wars, who gave that "final full measure" because their country asked them to and because they did their duty.
"Their friends and family had had to live with that reality since the day they learned their loved one would not be returning to them alive."
The message that Americans needed to take time on Memorial Day to remember those who had paid the ultimate sacrifice for their freedoms was noted by three other presenters. .
"Because of them our lives are free, because of them, our nation lives," said Ruben Hall, commander of American Legion Post 19, which worked in partnership with VFW Post 2471 and Mid-Columbia Veterans Memorial Committee to plan the ceremony.
He said people needed to pledge themselves to patriotic service to repay those sacrifices.
"May those who rest in heroes' graves not have died in vain," said Hall.
Jeremy Anderson, chaplain for the local VFW post, gave the invocation.
"May we never forget the cost of freedom," he said.
The benediction was given by Mike Knopf, the local outpost leader for Point Man International Ministries.
"Let us always remember those who have gone before and laid down their lives so that we may stand in their shadow," he said.
Wreaths were laid at the foot of the memorial for each of America's wars by Boy Scout Troop 395, who provided an escort for the girls who carried the brightly colored rings of flowers, including 2-year-old Anastasia Schwinof, who took the job very seriously.
Also helping to lay the wreaths was seventh-grader Samantha Huskey, who sang the National Anthem.
Vandee Mauser, District 5 commander for the legion, served as master of ceremonies and she and Eva Summers, District 5 judge advocate and adjutant, explained the symbolism of the missing man table. The military tradition pays respect to fallen warriors, those missing in action and those held as prisoners of war.

The Patriot Guard Riders stood watch in a flag line around the perimeter.