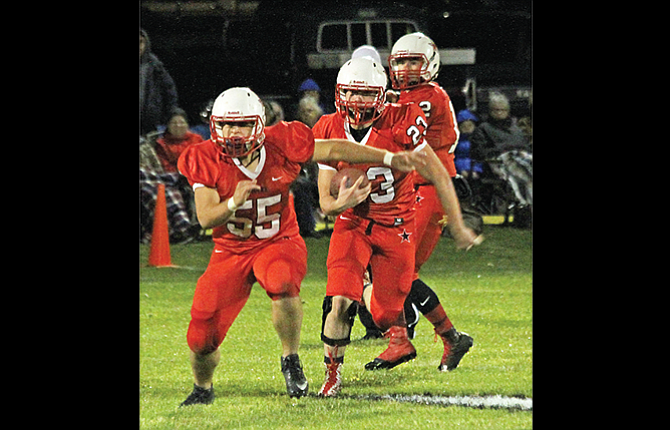 For the past two seasons, the Dufur Rangers have been on a magical run, with back-to-back state championships to their credit.
There was some question as to whether the Rangers could be just a formidable as the previous teams, especially with some new faces in new positions to start the 2017 season.
Through eight games, the undefeated and No. 2-ranked Rangers remain a prolific top-8 offense and defense with added depth, and more skill players to utilize in big moments.
They will be put to the test at 6 p.m. this Friday in Dufur against the No. 15 Lowell Red Devils in a 1A state playoff opener.
"It is always exciting to qualify for the playoffs with an opportunity to play more football," said Dufur head coach Jack Henderson. "Luckily, this group is a mature and experienced group that comes to practice focused on improving every day."
The Red Devils (6-3 overall) were the fourth seed in their league, behind Falls City, North Douglas and Yoncalla.
After starting with a 2-3 record through the first month of the season, the Red Devils have won four consecutive games over Mohawk (54-16), McKenzie (48-6), Siletz Valley (74-28), and added a league playoff victory over Mapleton last week by a 66-32 margin.
In nine games, the Lowell offense is ranked ninth in the state with 422 points scored, 242 of those points during its win streak.
The Dufur defense is ranked seventh in the 1A classification with 141 points allowed in eight games, good for 17.6 points a clip.
In last week's blowout win over Glendale, the Ranger defense allowed 110 yards on 38 plays, 71 of those in the rushing game on 23 carries.
They also forced two turnovers, one on a fumble return for a score by Anthony Thomas, posted four sacks and had 10 tackles for loss, holding Glendale to 2 of 9 on third downs and 1 of 4 on fourth downs.
Henderson said that Lowell likes to work the edges of the field on offense, to get opposing defense to make mistakes.
"They do throw it well enough to keep defenses off-balanced," Henderson said. "To stop them, we continue to focus on the fundamentals of the game and being sharp in our execution."
On one end, the Lowell offense has the capabilities to put up points in bunches, but with the state's 15th ranked scoring defense, the Red Devils have given up their fair share of points (310 points, 34.4 a game).
That group will face off against a Dufur offense that ranks sixth in the state with 440 points scored for a 55.0-point-per-game average.
"Lowell crowds the line of scrimmage with their even-front defense and they like to blitz and create problems for you," Henderson said. "We need to make sure we communicate the right protections on the line of scrimmage to have success."
Against Glendale last week, Dufur quarterback Derek Frakes completed 5 of 7 passes for 94 yards and two touchdowns, both to Hagen Pence, who caught four balls for 83 yards.
On the ground, Dufur tallied 195 yards on 29 attempts, with Tanner Masterson leading the way for 109 yards.
Another caveat to Friday's matchup is each team's record at home and on the road.
The Red Devils are 4-1 on the road, including three in a row to end the season.
Of their eight contests, the Rangers (8-0) have played three home matchups this season with wins over Falls City (50-12), Sherman (54-22) and Pilot Rock (58-22).
State is a time where luck, fundamentals and execution are of the utmost importance, and while Dufur has plenty of fresh faces, there is a good mix of athletes with years of playoff experience.
"We have young kids and kids that have been in the battles and ultimately won championships," Henderson said. "I think this group is a very tight group and have a great deal of trust for their teammates. I look forward to being challenged in the playoffs, because I do think this group will continue to grow and become a better team."
Radio station 102.3 FM broadcasts the game live at 6 p.m. on Friday, and a live stream can be found at www.gorgecountry.com.