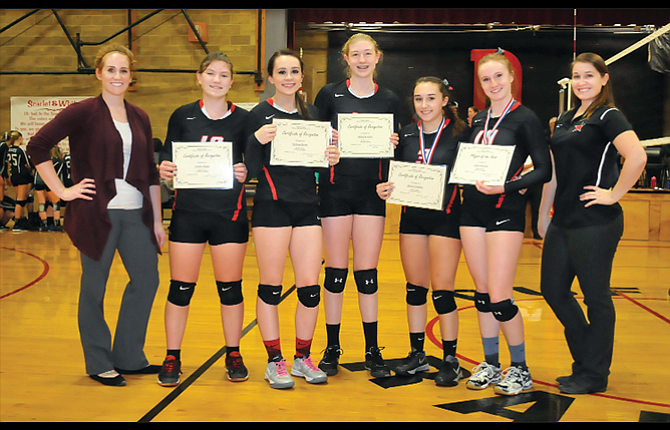 DUFUR – Never in her wildest dreams did Dufur senior Chloe Beeson think she would take home Player of the Year honors.
It was a humbling award she shares with her teammates and first-year coach Kristin Whitley.
In addition to being named the Big Sky Conference's top athlete, Beeson and teammate Alexus Outlaw were named as first-team winners, Sydnee Byers and Trinity Blake had their names called as second-team recipients, and Mikayla Kelly earned an honorable mention for their play during the 2017 volleyball season.
"That was such a great honor. I can't believe it really," Beeson said. "I just put in the extra work and try to play my best in every game, so to be given this award is really special. It shows me that the all the time and dedication I put into this sport paid off."
In her 24 matches played, Beeson slammed down 159 kills, had 33 blocks, 32 aces and 15 assists to go along with her team-leading 200 digs.
The dig totals were nearly double from the mark last season, where she posted 107 in 28 matches, and her 33 blocks were a few short from 2016's 41.
"Chloe had an excellent senior season," Whitley said. "As our varsity social captain, she was always finding ways to lift her team up, and helping the girls feel great about their abilities. Chloe really read the court well, and I could always count on her to find holes in the defense, and score crucial points during crunch time."
After being snubbed for league honors last season, Outlaw showed her skills on a nightly basis at the net for a Ranger team that won 13 matches, earned district runner-up status and advanced to state sub-round play.
Outlaw was third on the team with 135 kill shots, and the senior added 34 aces, a block and 129 digs for her first-team award.
"Alexus had an outstanding final season, and saw so much improvement at her net play," Whitley said. "She displayed phenomenal consistency as a hitter, and was constantly analyzing how she could improve. Her mental game was strong; she was always able to recover from mistakes by analyzing and moving on to the next point."
The Lady Rangers started with a 1-5 record, three of those sweep losses, and at one point had a 3-8 record overall.
Whitley made some personnel and formation changes, and those moves opened the door for several big wins.
Starting on Sept. 19, Dufur won nine non-tournament matches in a row, seven by sweep, until a district championship loss to South Wasco County on Oct. 21 in Moro, to finish 13-11 overall and 6-1 in league.
As part of her second-team jump, Byers carved out a major role in varsity action and racked up solid numbers with her added playing time.
The 5-foot-8-inch junior rattled off 107 kills, 38 service aces, 11 blocks and 111 digs overall.
As an incoming senior in 2018, Whitley is planning on bigger and better things from Byers.
"Sydnee is developing into a powerful front row player, and her consistency as a back-row player was so important for the team this year," Whitley said. "She is smart on the court, so it was fun to play her both the outside hitter and middle blocker positions this year. I am excited to see her continue to develop and improve next year."
After losing co-Player of Year Sydney Reed to graduation, there were questions as to who would take over the reins at setter.
With her calm demeanor, attention to detail and ability to make the perfect passing decisions, Blake was a perfect fit.
The second-team winner dished up a career-high 510 assists, added 11 kills, 12 service aces, eight blocks and 27 digs.
"Trinity stepped into a huge role for her team this year, and did so with grace," Whitley said. "She hustles on the court, and puts 110 percent effort into improving as a setter and team leader. She reads both the court, and her teammates very well. Trinity is only halfway through her high school volleyball career, and it will be exciting to work on developing more complicated offensive plays with her next year."
Another sophomore just two years into her career, Kelly looks the part as the prototypical middle with her leadership, willingness to work, all-around skill set and 6-foot stature.
With an honorable mention certificate already in the books, there are plenty of reasons to believe she will be in line for first-team accomplishments in the future.
Kelly led the Ranger net attack with 163 kills, and she tacked on a team-high 58 aces and 49 blocks, and displayed her defensive prowess with 60 digs.
"Mikayla improved her net defense so much this year. Her block timing is outstanding, and she was able to stop numerous hard hits for her team," Whitley said. "As varsity mediation captain, Mikayla stepped into a leadership role, and really found her voice on the team this year. I am excited to have her back as an upperclassman leader next year."