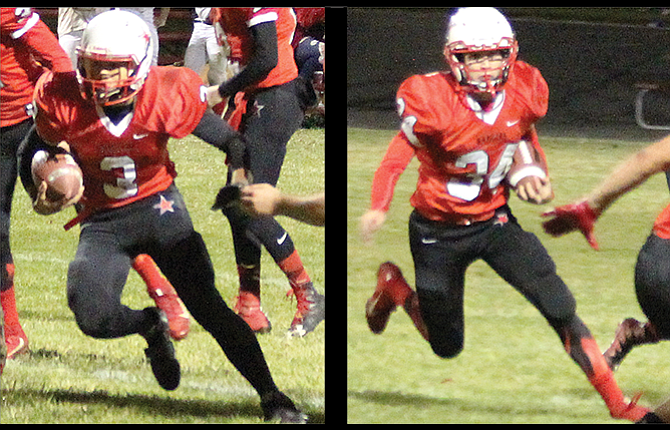 DUFUR – When November football arrives, the great gridiron warriors from far and wide emerge from the shadows with renewed purpose and passion for the state's greatest prize.
The nights are crisper, the energy is infectious.
The pads are strapped on and the battle ensues with one winner determined after 48 minutes of rough and tumble football pugilism.
On a chilly Friday night, the two-time defending champion Rangers were a sea of red renegades ready to send a message to any and all in the 1A classification, that the road to the blue trophy leads to Dufur High School, as all phases of the game stood tall in a 72-0 triumph over the No. 15 Lowell Red Devils.
"You have all these teams playing for one thing, so your opponents are tougher, the players are faster and there's more on the line on every play. That is why we have to maintain our intensity," said Dufur junior Tanner Masterson. "Tonight, we made plays and executed on offense and defense, and we showed that we are not going to roll over."
Lowell (6-4 overall) entered play on a four-game winning streak, with the offense averaging 60.5 points a game against Mohawk, McKenzie, Siletz Valley and Mapleton.
Those groups did not have players like Ian Cleveland, Russell Peters, Hagen Pence, Tabor McLaughlin and Curtis Crawford.
The Red Devils managed just 38 yards of offense on 44 plays, went 0 for 11 on third downs, and had eight punts, two turnovers and allowed six Ranger sacks.
Lowell quarterback Taysian Williamson completed 2 of 8 passes for nine yards with no touchdowns and an interception.
Josiah vanDoloski led the rushing attack, going for 27 yards on six carries, as the team totaled 29 yards on 36 rushing attempts.
Abraham Kilby posted five tackles, two sacks and had a fumble recovery, Crawford tacked on six tackles and a pair of sacks, and McLaughlin ended his night with four tackles and an interception.
Cleveland had a team-high 11 tackles, Peters added 10 tackles and a sack, and Pence tallied nine tackles, for the Rangers, who posted 16 tackles for loss.
Through nine games, the Dufur defense has given up 141 points, good for sixth in the state.
"Our defense has been great this year. I think it has been better than what we have had over the last few years," said Dufur's Anthony Thomas, who totaled four tackles. "We all stepped up and played physical and did not let them get anything on us. It is a great feeling to see us playing with intensity, swarming to the football and making the hits to let them know that they are going to have to earn every yard."
In their nine games, the Ranger offense racked up 58 points on three different occasions.
Friday, Pence, Cleveland and Asa Farrell combined for 365 yards on 20 rushes and five touchdowns, and quarterback Derek Frakes completed 5 of 7 passes for 65 yards and three scores, two going to Crawford and the other to Cole Kortge.
Frakes had two first-quarter touchdown passes, one for six yards to Kortge and another on a 30-yard connection with Crawford.
Cleveland rumbled for a 68-yard touchdown, and Pence capped the opening frame with a 66-yard scamper, making it a 30-0 Ranger lead.
Dufur (9-0) scored three more times in the second quarter, in a span of four minutes and 46 seconds, on back-to-back 20-yard runs by Kilby and Pence, and at the 4:49 mark, Frakes and Crawford hooked up on a 13-yard play, giving the Rangers a 50-0 halftime advantage.
The 45-point rule was in effect at the start of the third quarter and the Dufur offense rattled off three second-half touchdowns to end the game.
Farrell had third-quarter runs of 14 and 63, and at the 9:35 mark of the fourth period, backup quarterback Cooper Bales completed a 13-yard pass to Caleb Olson for the final tally.
"I am really pleased with our effort tonight. The kids came out focused and took care of business. We didn't let down," said Dufur head coach Jack Henderson. "Obviously, our physicality overmatched Lowell, but we didn't let down at all for the entire game. When our younger kids came in and our reserves were in there in the fourth quarter, they did a great job too. They scored a touchdown and our defense had some good stops. All-in-all, a great night for Ranger football."
Dufur ran 35 plays and rattled off 496 yards, with three plays amassing 40 yards or more and eight going for 20 yards or more.
Pence hit for 146 yards on eight rushes, Cleveland tacked on 139 on his seven attempts, and Farrell was good for 80 yards on five carries.
After Kilby's 20 yards, freshman scatback Peyton Neal ran for 37 yards on two rushes.
Following their 30-14 home victory Friday, the No. 7 Adrian-Jordan Valley Antelopes (8-1) are scheduled to take on the Dufur Rangers next Friday at a time to be determined.
"This is just one game," Henderson said. "This one is over, and Adrian will come in next weekend and put in a heck of an effort. Just like us, they didn't show up for football just to get to the quarterfinals, they are going to show up here and give a great effort. That means we are going to have to put in a great effort to be successful next week."
Masterson knows that the practice intensity will ramp up, because there is a sense of urgency for the eight remaining 1A teams left in the playoffs.
There won't be a letdown, however, and many of these players have been on this stage before.
"We got to work on the fundamentals. We got to keep doing what we were doing from one week to the next and improve on that," Masterson said. "Every game and every performance should never be good enough. We need to expect more out of ourselves and we need to come out bigger, faster and stronger if we want to keep going."