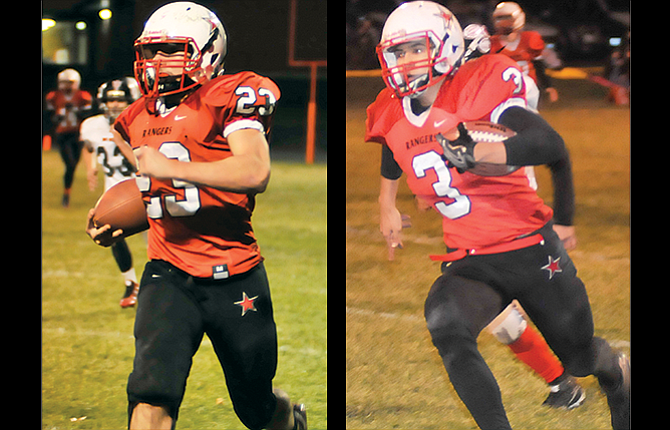 DUFUR – With rain pelting the area earlier in the week and a forecast for rain on Friday night, weather and field conditions could play a key factor in Saturday's OSAA 1A State Football Quarterfinal matchup at 1 p.m. between the No. 2-ranked Dufur Rangers and the No. 7 Adrian/Jordan Valley Antelopes.
In last week's home win against Sherman, Adrian showed that its can be a ground and pound, physical team, with 335 rushing yards, 231 in the second half, in its 30-14 victory.
Dufur (9-0 overall) on the other hand, has the bruising tandem of Ian Cleveland and Hagen Pence to hit the middle of the field, and scatback Asa Farrell ready to pound the edges.
In their 72-0 win over Lowell last Friday, Pence, Cleveland and Farrell combined for 365 yards on 20 rushes and five touchdowns.
On the surface, it appears that the conditions could play to each team's strengths.
"We feel good about playing on a mucky field," said Dufur head coach Jack Henderson. "Big, strong running backs tend to do well on a challenging surface."
On the year, the Adrian offense ranks 10th in the state with 448 points scored in nine contests (49.7 points a game), and are led by running backs, Kirkland Obendorf and Eduardo Munoz, tight end, Zeke Quintero, and quarterback Chase Fillmore.
Last week, Fillmore completed 5 of 12 passes for 85 yards and two touchdowns to go with a rushing touchdown and an interception, Quintero added 61 yards receiving and two score on four catches, and both Obendorf and Munoz combined for 303 yards rushing on 37 carries, 217 of those coming in the second half, where the Antelopes broke open an 8-all halftime tie and a 14-14 deadlock through three quarters with a pair of fourth-quarter scores.
One of those plays came on a halfback pass from Munoz to Fillmore that netted 34 yards.
"Adrian does a nice job of mixing their offense up," Henderson said. "They run the ball with power and throw it equally as well. Their offensive balance is impressive and difficult to defend."
Since a 42-14 loss at Crane on Sept. 29, the Antelopes are averaging 58 points a contest during their five-game winning streak.
In that same time frame, the Ranger defense has given up 80 points (16 points a game), 141 overall, but only one of those two scores have come against the No. 1 unit.
Against Lowell, Dufur's defense held the Red Devils to 38 yards of offense on 44 plays, forced an 0 for 11 rate on third downs and eight punts, two turnovers and racked up six sacks in the team's first shutout of the year.
Cleveland had a team-high 11 tackles, Russell Peters added 10 tackles and a sack, and Pence tallied nine tackles, for the Rangers, who posted 16 tackles for loss.
Henderson and defensive coordinator C.S. Little have devised a course of action to stop Fillmore and company.
"The key for us is in identifying formations and keys and aligning appropriately to have success," Henderson said.
With the efficient quarterback play of first-year starter Derek Frakes, Dufur's offense drops an average of 56.7 points a contest, 512 overall, for the state's No. 4 scoring offense.
Against Lowell, Frakes completed 5 of 7 passes for 65 yards and three scores, two going to Curtis Crawford and the other to Cole Kortge, as the team ran 35 plays and rattled off 496 yards.
"We performed well against Lowell," Henderson said. "Our kids did a great job in preparing to play and performing during the game. It was our best effort of the season."
The Ranger offense will need all elements running smoothly versus a stout Adrian defense that allows 14.4 points a tilt, 130 total in nine games, with four games of giving up a touchdown or fewer, two on shutouts.
When playing against 2017 playoff teams, Wallowa, Crane, Cove and Sherman, the Adrian/Jordan Valley defense has given up 25 points a game, going 3-1, including last week's win over Sherman.
The Husky offense entered its opening-round playoff game averaging 44.5 points a game, 57 in two wins over Arlington-Condon and Perrydale, in their final two regular season matchups.
Adrian/Jordan Valley (8-1), however, allowed touchdown runs of 44 and 64 to Sherman quarterback Jacob Justesen, but only 108 yards on 23 other plays, 49 in the air on 3 of 14 attempts, and recovered two fumbles.
"Adrian crowds the line of scrimmage and makes things happen at the point of attack, so we will need to block it appropriately," Henderson said. "The critical thing for us is to identify what they are doing and lock in accordingly."
Since their state-championship run in 2014, the Antelopes have gone 5-1 against teams from the Big Sky Conference, including wins of 42-20 and 58-52 over Dufur in 2014, but the lone loss came in 2015, a 50-0 shutout against Dufur in a regular-season contest.
So, there is a little revenge factor, executing under pressure situations, limiting mistakes and fighting through any adverse weather or field conditions that will lead toward a semifinals berth and hopefully, beyond.
Both teams have recent history by their sides and have accounted for the last three 1A championships, the last two by Dufur.
"Adrian is a talented football team that can create issues for their opponents in all three phases of the game," Henderson said. "It is up to us play consistent and with emotion. We must continue to work hard to maximize the amount of football that we get to play this season."
Gridiron action starts at 1 p.m. PT on Saturday from Dufur High School.
Radio station 102.3 FM broadcasts the game live at with a short pregame at 12:45 p.m., and a live stream can be found at www.gorgecountry.com.