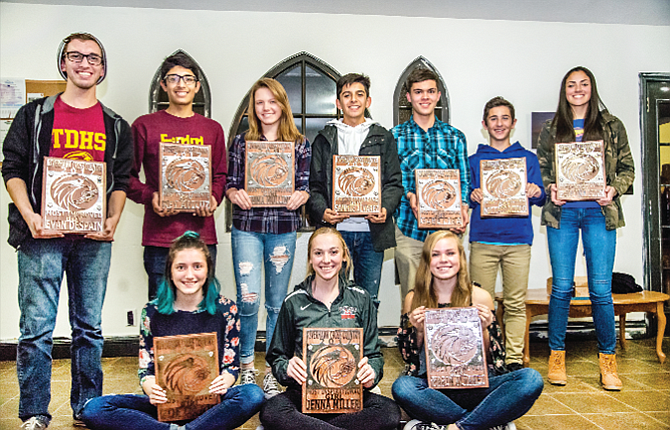 The Dalles cross country coach Bob Thouvenel offered praise and well-wishes to his athletes, his assistant coaches and community members at the team's year-end banquet Thursday night at the Riverenza Café in The Dalles.
Cross country runners received team honors, such as Most Inspirational, Most Improved and Most Outstanding.
In addition to those awards, six harriers were presented with their all-league certificates, and female participants, Emma Mullins and Hanna Ziegenhagen, received their honorable mention all-state awards.
"Emma and Hanna both had great seasons and they were our No. 1 and No. 2 runners most of the season and trading off a couple of times as to which one was on top," Thouvenel said. "Both Emma and Hanna worked very hard for us."

Because of their solid Columbia River Conference district times and finishes, Mullins and Ziegenhagen secured second-team status for the girls' team, and on the boys' side, Rey Aviluz, Michael Lantz and Zerin Croover were rewarded after helping lead the team to a second-place CRC outcome.
"Rey, Michael and Zerin have all worked very hard over the past three years and became much better cross country runners this past season," Thouvenel said. "They did the summer running and ran early morning workouts during the school year."

Sophomore Sam Alvarez, who finished third at districts with a time of 16 minutes and 40 seconds, was named to the first team.
"Sam was an unknown quantity when it came to cross country running, but adjusted quite well by mid-season, and began to be not only our top runner, but a possible district champion in the future," Thouvenel said.

Mullins added to her trophy case with the team's Most Outstanding award, Marin Alvarez and Zoe Orion were Most Improved, and both Paulina Finn and Jenna Miller had their names called as Most Inspirational.
Alvarez received Most Outstanding for the boys, Evan Despain and Nic Caracciolo claimed Most Improved, and Rey Aviluz and Gabe Lira had the honor of being named Most Inspirational.
Thouvenel took time to give homage to his 10 senior athletes, Marissa Heemsah, Paulina Finn, Darlene House, Bill Burns, Zerin Croover, Jonathan Knotts, Peter Cardosi, Quinn Strassheim, Michael Lantz, and Zain Hartsook, for their dedicated service and time given to the program.

"They were hard workers and were always at practice contributing in some way for the betterment of the team," Thouvenel said. "Their contributions will be missed, and we hope all 10 will continue to run in some capacity in the future."