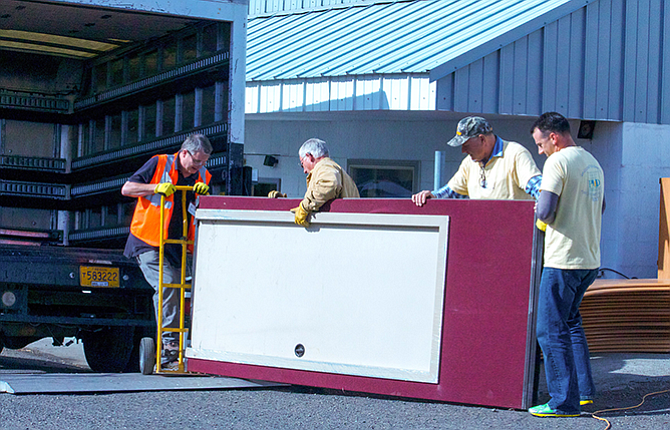 Some 50 Northern Wasco County PUD employees and board members recently spent their day out in the community helping with projects at five locations.
They did work ranging from loading 145 pounds of bird feed into feeders at the Oregon Veterans' Home to mucking out gutters at The Dalles-Wasco County Library.
They also did transformative work at the Habitat ReStore and Wonderworks Children's Museum. "There were tears at the end," said Travis Hardy, energy management technician for the PUD.
Plans are to make it an annual event.
The idea for a volunteer day came about last spring as PUD officials were heading to a blood drive in Dufur.
PUD General Manager Roger Kline thought it would be good to put the weight of the entire PUD behind a volunteer effort.
They chose to do it on Columbus Day, Monday, Oct. 9, a day the PUD is open, but because so many other offices are closed, people assume they are too. That made it a good bet for clearing out the office to go help others.
The employees were on the clock for the day.
The PUD reached out to the community to ask for suggested projects, said Amy Augustus, lead financial analyst II at the PUD. "We were looking for things that were high impact that would benefit the highest amount of people but we were also needing to accommodate [PUD employees'] restrictions" for what they could physically do, she said.
So they chose a variety of projects for all levels of ability. They planned things out well ahead of time to ensure the projects went smoothly.
At the veterans' home, 10 PUD employees visited with residents there, played bingo, and loaded birdfeeders. Each resident room at the facility has a bird feeder outside. They also took donations from residents to the Goodwill.
At the library, "We basically did a massive yard debris cleanup of the grounds and also we had Trees Inc. do a major pruning from about the middle down of all the suckers on the huge sycamore tree out front. It looks like a new tree now," said Hardy.
Trees Inc. is the company contracted to do tree trimming for the PUD. The volunteers also cleaned the roof and gutters with the time-saving help of bucket lifts.
"It was an all day job and they were going 100 percent," Hardy said. "Everything looks just amazing. It was a whole facelift."
The work done was so extensive, Hardy said, "I couldn't imagine what it would cost a professional company to do that."
The PUD has a dump trailer, and The Dalles Disposal agreed to let them make dump runs for free. The library crew included six PUD staff, three Trees Inc. staff and two high school students from Wahtonka Community School.
The third project was at a Habitat for Humanity house, in the 1400 block of East 12th Street. There, the PUD actually did some power company work. In addition to painting the exterior and exterior trim, they put in a trench for power supply.
"They needed to get power from our line to the meter and it needed to be an underground trench," Hardy said. So they dug the trench, connected everything, ran the lines "and got them all set up to have power to their house."
That represented "a pretty big savings" for the homeowner.
"We were here to use our equipment and use our resources to help people out," Augustus said.
At the Habitat for Humanity ReStore, significant changes were made to make the store more usable. There were at least 10 people helping at that location. They helped clean out a warehouse that had been filled with bulky, essentially useless donations, and cleared out a storeroom.
"No wonder they've been sitting here for three years. Nobody could move those things," Hardy said of the bulky items.
They also built racks in a rear area to slot and display doors and organized bins of various items, from nuts, bolts and nails to electronics cords.
"Because of our work, they got that whole warehouse available for donations," said Augustus.
The volunteers even went to a hardware store to buy supplies out of their own pocket to fix a door.
Hardy said he supports the ReStore and is a customer there, but he found the store to be overwhelming when he went there in the past. "Now everything is in its place. It's clean, it's organized. It just feels better. There's more room to move and for them to move," he said.
The fifth project was at Wonderworks Children's Museum.
The PUD paid for shelving units, which were installed in a storage area at the museum. They had to empty out the storage area, install the shelves, and then replace the storage items. They got a bucket brigade together that stretched from the building into the parking lot as items were handed out of the storage area. "That was pretty cool when that started happening," Hardy said.
"That was another one where there was a whole lot of tears and excitement," Hardy said.
Plans to rebuild a water display were nixed when it was learned the display was leaking. That display was hauled off, but the volunteers were able to repair another water display instead.
That crew started with just four people and ended with 15 as volunteers finished their work at other projects.
While the planning for this effort only started last April, Hardy said the PUD is already looking for ideas for next year.
"We'll be doing this all year long," he said.
For any suggestions for a project, email volunteerday@nwascopud.org.