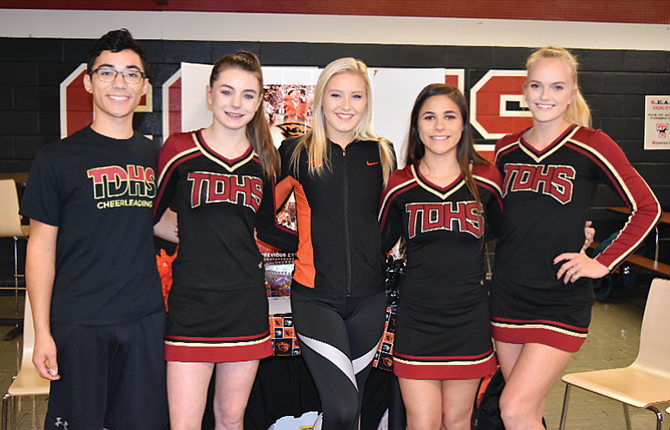 In their first foray into the competitive cheer world, The Dalles' Emily Adams and Nathan Nañez showed they belong.
That duo, plus veteran seniors Kendyl Kumm and Jessika Nañez put on a dazzling display last Saturday at the Oregon Cheerleading Coaches Association All-State competition at Thurston High School in Springfield.
Facing off against more than 30 other 5A cheerleaders, Jessika Nañez racked up one of higher scores of her contemporaries and represented the all-state squad.
"Jess is a really great leader and she continually sets a great example for our team in all areas, on and off the mat," said TD head coach Kelsey Wallace. "As for Nathan and Emily, they went out and put a strong routine on the floor, which is all I could have asked for. Kendyl also put together a strong routine and was only two points away from making the all-state cut."
TD's cheer members performed a running tumbling pass, jumps, a choreographed cheer and a dance in front of a panel of judges.
They are judged on the difficulty of their jumps and tumbling, so execution is also a big component of how well they execute their routine, and the judges tabulated scores for sharpness of motions, voice and overall performance.
Jessika Nañez finished well within the top 30 percent of the highest marks, as 12 were selected as all-state representatives and the top-3 earn scholarships.
"I was very excited to receive this award," Nañez said. "I didn't have my standing tuck two weeks before the competition, and if it weren't for my teammates being so supportive, I don't know if I would have received this award. They were always so excited when I would make progress and that boosted my confidence a lot."
With all-state in the books, Wallace and the Riverhawk team will use the next month to prepare for the competitive cheer campaign, starting on Saturday, Dec. 9 at Thurston High School.
Earlier this year, at the 2017 OSAA/U.S. Bank/Les Schwab Tires Cheerleading State Championships in Portland, The Dalles scored a total of 67.80 points in its building skills portion, added 66 points in tumbling and jumps, and finished with a 50-point effort in overall routine for a combined 183.80 for second place, more than 11 points higher than the third-place team, Crater (172.60).
Led by a highly-skilled senior group, along with several underclassmen, the Riverhawks are vying to take to take the next step up the 5A ladder, after back-to-back second-place state finishes.
Wallace and junior varsity coach Alli Miles are planning to focus on keeping everyone injury free, perfecting the team stunts and working on consistency, from practice to practice, and working on their overall team atmosphere.
"Our competition is strong this year and we are working hard to master our skills and finish out the season strong," Wallace said. "We will have our junior varsity girls in competition this year and it is great to have Alli guiding them. She is doing an amazing job and it is great to see our program growing and seeing girls staying involved and dedicated."
In the past two weeks, Jessika Nañez is noticing a tremendous amount of progress being made, in all areas.
"We've hit every skill in our routine except one, so we just have to put it all together," Nañez said. "I want to give a shoutout to Karla Hernandez for being such a good partner to stunt with. She's so strong and is always so positive. She was thrown into main base and she does an excellent job."
As for Nañez, Kumm and the rest of the seniors, this is the last chance for them to make their marks to capture a state championship.
One thing is certain – these athletes will put it all on the line to get to the mountaintop.
"If the team keeps improving like we've been, I think it's definitely possible for us to move on to the next step, which is our first competition," Nañez said. "I'm so excited to see the finished product of our routine. I think it's going to be the best routine yet."
Wallace announced plans to raise money for the team to compete at nationals in Anaheim, Calif. this coming February.
To donate funds to help the program, email the coach at kelseyesugg@live.com.