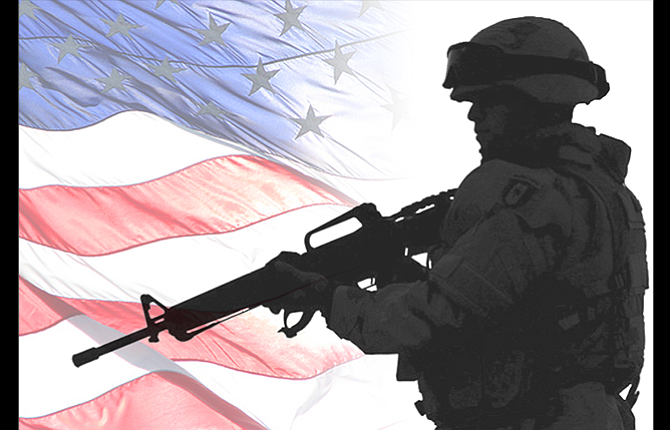 Every year, Americans line streets to watch Veterans Day parades across the nation, as they do here in The Dalles.
It is fitting and right that civilians pay tribute to the 25 million veterans now living in the United States, as well as those who have fought for our freedoms and are no longer with us.
However, devoting a day to veterans is an empty gesture if Americans don't make sure they get the care they need when they return from war. And if communities and employers don't figure out how to meet their unique needs.
Tens of thousands of former members of the armed services will spend Veterans Day homeless — living on the streets, in vehicles and in shelters.
We need to ask, as a society, what we can do about this situation, and then get busy.
Why are we not incensed when we read about a homeless veteran who received a citation for searching out food in a trash can?
That situation actually happened several years ago in Houston, Texas.
James Kelly, then 44, was a homeless veteran who was so hungry that he was digging for his next meal in a trash container near Houston City Hall.
He was charged with "disturbing the contents of a garbage can in the downtown district."
To make matters worse, Houston also had a law banning feeding the poor without registering with the city. That meant the homeless veteran could no longer rely on the kindness of strangers.
First Houston took away Kelly's option to get a helping hand, and then they turned him into a criminal when he searched for food.
According to the National Law Center on Homelessness & Poverty, more than 50 U.S. cities have adopted some kind of anti-camping or anti-food-sharing laws that put the homeless at risk.
Laws that restrict panhandling are designed to push the homeless out of sight, which is bad enough. Since many of these people are veterans, the total lack of compassion and respect is even worse.
Although the transient nature of the homeless makes a population count difficult, the U.S. Department of Housing and Urban Development estimates that 39,471 veterans are homeless on any given night.
About 1.4 million other veterans, meanwhile, are considered at risk of homelessness due to poverty, lack of support networks, and dismal living conditions in overcrowded or substandard housing.
The National Coalition for Homeless Veterans reports that those living on the streets have served in World War II, the Korean War, the Cold War, the Vietnam War, in Grenada, Panama, Lebanon, the Persian Gulf War, in Afghanistan, Iraq and the military's war against drug cultivationin South America.
Nearly half of homeless veterans served during the Vietnam era. Two-thirds served for at least three years, and one-third were in a combat zone.
The number of young homeless veterans is increasing, but only constitutes 8.8 percent of the overall homeless veteran population, according to the coalition.
On another grim front, the stress of surviving in a combat zone, and losing battle buddies to war, makes reintegration into civilian life very difficult and puts veterans at a heightened risk for substance abuse.
One study found that 39 percent of soldiers coming back from Iraq and Afghanistan tested positive for "probable alcohol abuse."
In fact, an astonishing 1 in 8 troops are referred to counseling for alcohol problems after being deployed.
Offering veterans a life free of addiction should be a top priority for the government and the communities where they settle.
Many know that the U.S. has the highest incarceration rate in the world, but another statistic that is rarely cited is that nearly 10 percent of inmates are veterans.
That's right, about one million veterans are currently in prison. Some speculate that the high incarceration rates are due to the fact that soldiers act out aggression ingrained in them by the military.
However, it shouldn't be surprising to see veterans who are homeless, jobless, addicted to drugs and dealing with mental afflictions turning to crime.
So, while it is nice to wave flags along the streets and yell "Thank you" to the veterans who pass by, we owe them much, much more than lip service.
We need to ask ourselves: "Are we supporting our veterans half as well as they supported us?" After all, our troops put their lives on the line to fulfill their oath to protect us.
Yet, in the comfort of our protected lives, we cringe from having to interact with veterans when they are hungry, cold and homeless or are struggling with tortured memories.
In a recent survey, eight of 10 Marine families said they did not feel supported by the civilian population. It is a national disgrace that the troops we have sent into harm's way feel that they are alone in this 16-year fight.
"We are at war, America's at the mall" is a favorite Marine saying.
Can we really say as a nation that we are doing a good job of supporting our troops when they feel this way?
Wasco County can't change the way the rest of the country operates, but we can do more than thank our veterans: we can give them the resources they need and hope for the future.
We need to ask: Are we Americans worth dying for?