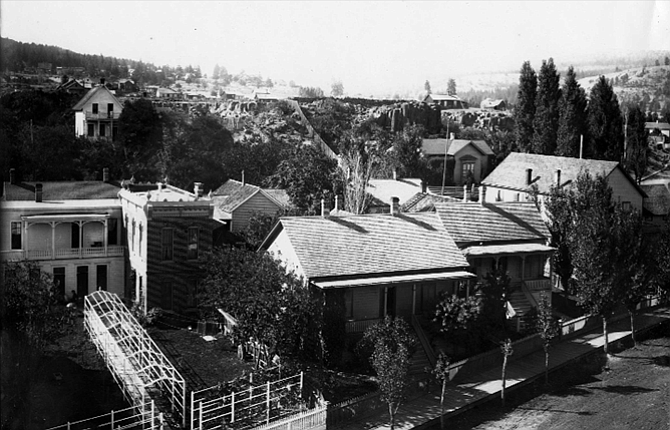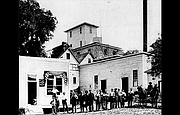 Two callers suggested that the answer to last week's History Mystery photograph placed Lentke's Palm Garden, seen in the background on the right, in the incorrect block. The honkytonk was located in the Granada block, near the Horn Saloon, which latter became the recreation building.
Jake Grossmiller noted that going west from Federal Street there was the Granada, a shoe shine parlor, Lentke's Palm Garden and the Horn Cafe.
20 years ago – 1997
A 25-year-old local man was stabbed in the heart after getting into a fight with another adult male on Tuesday afternoon. Police in this area are seeking the suspect. Police do not have a current address for him.
Drug abuse. Premarital sex. Domestic violence. These and other social problems confront young people in communities throughout the Columbia Gorge – and here, as elsewhere, solutions to those issues depend as much on the answers teens find for themselves as on any official answers handed down from traditional authorities. That's the logic underlying a multi-community effort to give young people a stronger voice in identifying and forging those solutions.
Local motel operators will meet today, hopefully armed with enough information this time to take a stance on a room tax hike to help pay for a convention center at the new armory. It will be the third meeting of the group.
Several people representing the Mid-Columbia are part of a committee which has been charged with redefining the direction of the Oregon Economic Development Department.
40 years ago – 1977
Wahtonka High School is in for a different looking student body Nov. 17. That's when senior citizens will dress in garb of the early 1900s and go to the school for a birthday luncheon where the student body will furnish the entertainment.
Should the Postal Service stop Saturday deliveries? That question has been discussed in recent years as the postal service continues operating in the red. Some people say not enough money is coming in to pay for services; others say postal patrons don't get the services they pay for. The suggestion has been made that curtailment of Saturday deliveries would help reduce the postal service's deficit.
WASHINGTON – "Would you buy a used car from this man?" may soon fade away as a motto for shady dealing. Proposed federal regulations would require used car dealers to inspect every car they sell and disclose its condition on a window sticker. A Federal Trade Commission staff proposal would force dealers to reveal the car's previous use, mileage, mechanical condition, safety defects and the fitness of such key components as headlights, horn and brakes.
60 years ago – 1957
City street crews this morning started tearing out the concrete ramp in front of the fire hall in preparation for putting down a new cement slab tomorrow.
Members of the Wasco County Board of Equalization are meeting today to consider the county tax ratio and other taxation problems.
SANTIAGO, Chile (UP) – Unamused civil and military authorities today were looking for the practical joker who parachuted a dog into a Santiago suburb Sunday, touching off a rash of reports that Sputnik II had ejected its canine passenger over Chile.
PORTLAND (UP) – A band of shrewd thieves Monday night escaped with an estimated $5000 in cash from a Kienow supermarket in a southwest Portland suburb. They first set fire to a barn at Southwest 87th avenue and Bertha-Beaverton highway to divert attention from their activity at the Raleigh Hills supermarket. There they used a stolen Hyster company truck and fork lift to remove two safes weighing 3,000 pounds from the Kienow store.
BUENOS AIRES (UP) – Gen. Curtis E. Lemay flew a giant jet tanker plane 6,350 miles to a new nonstop long distance world record without refueling today in a dramatic demonstration of U.S. airborne nuclear striking power. The four-jet KC135, the military version of Boeing passenger jets due to go into service late next year, took an eelapsed time of 13 hours and 2 minutes for the trip.
80 years ago – 1937
Arriving in The Dalles unexpectedly last evening, Henry McLemore, United Press sports writer, yielded to the pleadings of a Chronicle representative and agreed to spend the night in The Dalles and drive over the Columbia River highway this morning. McLemore, whose column, "Today's Sports Parade," is a daily feature in The Chronicle, as well as all other United Press newspaper clients throughout the United States, is making a cross country automobile trip to visit the sports centers.
Flames fed by 4,900 gallons of gasoline completely blocked the Columbia river highway west of here for four hours last night while they completed destruction of a huge tank truck and trailer that had crashed into the ditch at the bottom of the Rowena loops. Cliffard C. Roush, Portland, driver of the truck, leaped to safety when the big carrier toppled and burst into flames. State police who investigated the accident said they believed a broken front spring had made the vehicle unmanageable.
WASHINGTON, Nov. 12. (UP) – The typical American family living in a small city has an income of $1,400 a year, is buying a home, owns a 1935 automobile and goes to the movies once a week. These conclusions are drawn from government surveys of the earning, living and spending habits of 100,000 average American families on farms, in villages, towns and cities intended to "give a composite picture of the usual American family."
100 years ago – 1917
Don't be a "tight-wad." Buy Sammy a Christmas present. The Red Cross and Honor Guard organizations of The Dalles are making it simple and easy for you. They will take your $1.50 and send a splendid comfort kit to Sammy for that amount, saving you all the trouble.
DUFUR, Ore., Nov. 12. – (Special.) – "You are requested to be present at the Get-together meeting to be held in the Dufur I. O. O. F. hall on Saturday, November 10, 1917," was the way the bills read announcing the patriotic rally of last Saturday. And a "get-together" meeting it was. IN spite of the threatening weather, the streets were lined, even before dinner, with autos from the surrounding country.
LONDON, Nov. 12. – Artillerying by both sides was all that General Haig had to report today.
HOUSTON, Tex., Nov. 12. – Twenty thousand cars of cottonseed cake, which had been stored at Port Arthur and Galveston, owned by neutrals, have been seized by the government, it was learned today.
BUFFALO, N. Y., Nov. 12. – Asking that he be considered as a fellow citizen and not as president, Woodrow Wilson appeared at the opening of the annual convention of the American Federation of Labor today and asked the laboring men to join with the other people of America on a new, high platform. This is the first time that an American president has talked directly to the nation's labor representatives.