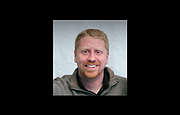 Daniel Bonham, owner of Maupin's Stoves & Spas in The Dalles, is excited to be one of three finalists to replace John Huffman as the representative for House District 59.
He is the only contender from the Gorge and is vying against Mae Huston, chair of the Jefferson County Commission, and Robert Perry of Redmond, who retired after 40 years in a marketing career.
"I've always wanted to do this, and I think the timing is right with my family," said Bonham, 40, about filling Huffman's unexpired term, which ends in November 2018.
He also plans to seek election to the District 59 position, which serves more than 63,000 constituents in western Wasco, Wheeler, Jefferson and northern Deschutes counties.
Betsy Hege, chair of the local Republican party, said Wasco County Precinct Committee Persons found in Bonham a candidate who would be open, transparent and available to constituents.
The convention to pick nominees for the seat vacated by Huffman in late October took place Saturday in Madras.
"Bonham's presentation and presence in the room demonstrated to us that he has the communication skills and character to engage with constituents and become an effective representative," said Hege.
"Saturday was Daniel's first election; and the fact that he came through as the first candidate to get 50 percent plus 1 of the vote told me that he had also appealed to PCPs from the other three counties."
She said commissioners in the four counties will convene at 11 a.m. Monday, Nov. 20, at the Jefferson County Courthouse in Madras for the final vote.
Secretary of State Dennis Richardson, also a Republican, is appointing a temporary chair to run the meeting, which is open to the public. Bonham will be present and could be afforded the opportunity to speak.
He and his wife, Lorilyn, have two children who are now old enough for him to feel comfortable taking on extra duties. Jennifer is a sophomore in college and Jack a junior in high school.
Although he has no prior experience in an elected office, Bonham has held the role of a lobbyist in Salem for Evergreen International Aviation in McMinnville, where he worked. He has also served as regional director on the Oregon Hearth Patio and BBQ Association board. In that capacity, he went to Washington, D.C. to participate in a government affairs training program.
Bonham has served on the budget committees for the City of The Dalles and Columbia Gateway Urban Renewal Agency.
He holds a bachelor's in business that he earned in 1998 from Linfield College in McMinnville.
He and Lori have owned Maupin's Stove & Spas since 2007.
He has coached youth soccer, basketball and baseball teams.
In 2014, Daniel and Lori rejuvenated The Dalles Booster Club and raised more than $100,000 in two years to enhance the high school athletic experience of students.
"My plan is to go to Salem and effect some positive change for District 59," said Bonham.
He said Huffman was accessible to people by returning phone calls and explaining his point of view. He also plans to carry that interaction with constituents forward if appointed to the vacant office.
"I love people, so this should be a good fit," he said.
Huffman vacated the elected role in late October to serve as state director of the U.S. Department of Agriculture Rural Development in Oregon.
He was selected by the Trump Administration for the role, in part, because of his 10 years of legislative experience, where he represented rural communities and helped implement solutions to their challenges.
One of his first achievements in the state office was to help bring cellular infrastructure to a rural county in central Oregon.
Huffman has also led wide-ranging efforts, from expanding affordable rural housing to connecting rural businesses with the resources that will enable them to thrive, to supporting the installation of new sources of renewable energy.
In his new job, Huffman will help implement USDA policies and Rural Development programs to improve the economy and quality of life for citizens in outlying areas.
"I look forward to working with the president, secretary of agriculture, and assistant to the secretary for Rural Development to increase rural prosperity and enhance customer service through innovation and partnerships in our state," said Huffman of the appointment.