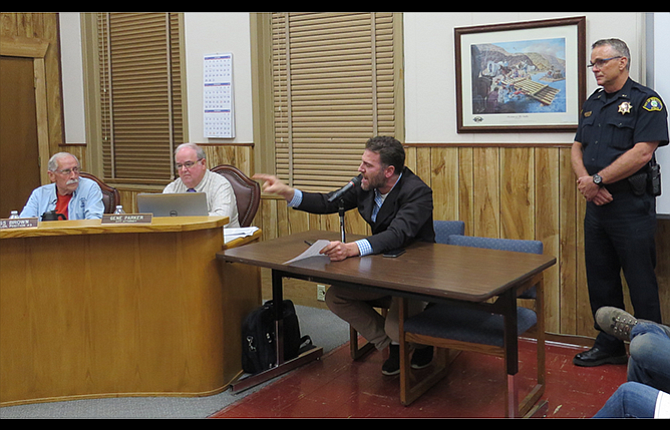 An Iraqi war veteran was escorted by police out of The Dalles City Council meeting Monday after he stridently accused the elected body of violating the free speech rights of the audience and the civil rights of the homeless.
"I took an oath to defend the U.S. Constitution against all enemies, foreign or domestic," said Joshua Farris, a local resident who told the council he deployed to Iraq in 2003 and had also been stationed in Korea and Germany.
"Here's the problem: The constitution is not being adhered to in The Dalles, Oregon," he said.
He then accused the council — in a voice that escalated into yelling when Mayor Steve Lawrence tried to intervene — of violating the First Amendment that he had sworn to protect.
"It's not a public meeting if we're denied the right to address agenda items," said Farris.
He also accused the elected body of violating the Eighth Amendment rights of the homeless if they inflicted "cruel and unusual punishment" upon them by imposing punitive rules.
"Cities have been sued for this," he said.
He came forward to speak after Lawrence told the audience, which overflowed the council chamber, that they would not be allowed to comment on the issue. The agenda for the meeting stated that people would not be allowed to address any subject listed and the discussion of exclusion zones, and an amendment to the nuisance law to prohibit camping in public places, was listed.
"Tonight, all we're doing is finding out what the council wants to do with the staff report," said Lawrence.
The report submitted by Julie Krueger, city manager, recommended that homeless people accused of certain crimes be banned from designated areas.
The report listed 24 crimes the homeless could commit to qualify for a 90-day ban from exclusion zones. They would face arrest for trespassing if they returned within that time period.

The crimes ranged from disorderly conduct and harassment to public indecency, littering, graffiti, theft and tobacco possession by minors to harassment, assault and strangulation.
Staff also suggested the city look at enforcement action against "aggressive panhandling and loitering in tourist and shopping areas."
The two proposed civil exclusion zones are contiguous and take in the downtown blocks, from Taylor Street on the east, to East Third Street on the south, and continues westward along West Second, and West Sixth, ending at Webber on the west end. Its southerly border is West Eighth Street.
When Lawrence told Farris his five minutes to speak was up, the veteran insisted that the mayor had cut into his allotted time.
"I need my full five minutes," he shouted.
"Your time is up, thank you," Lawrence said.
The Dalles Police Chief Pat Ashmore and another officer had stationed themselves behind Farris after he became angry.
"Are you terrorists?" Farris demanded. "Are you denying my First Amendment rights?"
Although Farris returned to his seat in the audience, he resumed yelling as Lawrence further explained the process for consideration of an ordinance regulating homeless behavior.
The veteran was finally escorted from the room by Ashmore.
"This is a fraud," yelled Farris of the meeting.
Lawrence told the audience, most opposed to the staff plan, it wouldn't be fair to hold a public hearing on the issue because it had not been advertised, so both sides would not be represented.
"We're not trying to limit people's abilities to speak, this is just not the time," he said.
After Councilor Darcy Long Curtiss asked to have a town hall on the issue, Lawrence also said that forum might not be inclusive because people with an opinion might not attend.
The council agreed that some type of venue to take public comment needed to be held on the issue. They directed Krueger to find a location with enough space to hold the meeting. The audience was told the time and place of that forum would be advertised on the city's website and through the media.
Councilor Tim McGlothlin reminded the crowd that the elected body volunteered their time to find solutions for problems.
He said the staff report followed a meeting between himself, Ashmore and Krueger in August to address numerous complaints from citizens and business owners, some frightened by harassment from the homeless.
"People are afraid to come out of their homes," he said.
McGlothlin led a work group that looked at different solutions for homelessness and, in that capacity, said he had met with mental health professionals, as well as law enforcement and drug and alcohol recovery counselors.
"There is a component of people who will not comply and prefer to live on the streets," he said. "We know there are people who are hurting — there is pain and suffering — in our community."
He appealed to the audience to help find workdable solutions. He said the homeless population had spiked 315 percent in the last two years and that was concerning.
"We know that we stand our best chance if we work together and communicate," he said. "We want to help people find jobs, find happiness."
Ashmore said the majority of the homeless population did not cause problems, that five or six individuals had behavior that fell into a category to require enforcement action. He said a lot of the homeless were also afraid of these people.
"The laws we have on the books, they just don't work for us," he said.
Krueger said the ordinances would provide an immediate remedy while staff worked with the Municipal Court Judge to determine if a program could be developed similar to the mental health court model, which would provide resources for the homeless, such as employment and housing opportunities.
Councilor Taner Elliott said the City of Ashland had taken steps to address its homeless problem as an example of what could be done.
"This already has traction in other towns as well," he said.
Councilor Linda Miller requested an exclusion zone be expanded to include Old St. Peter's Landmark on Lincoln Street. She serves on the board of directors for the nonprofit that owns the property and is a tour guide for visitors.
She said it has become difficult to keep volunteers because of intimidation by the homeless.
"I would hate to see that institution close down because we can't open the doors," she said. "Something needs to be done and I'd like to see staff go forward (with development of an ordinance)."
Long-Curtiss said she didn't want anything done until the city had heard from its citizens.
"I really don't want to be on the news saying we're violating people's civil rights," she said.
Councilor Russ Brown asked if there was equal concern for the civil rights of business owners and citizens.
"We'll come up with something that allows everyone to have input," said Lawrence.