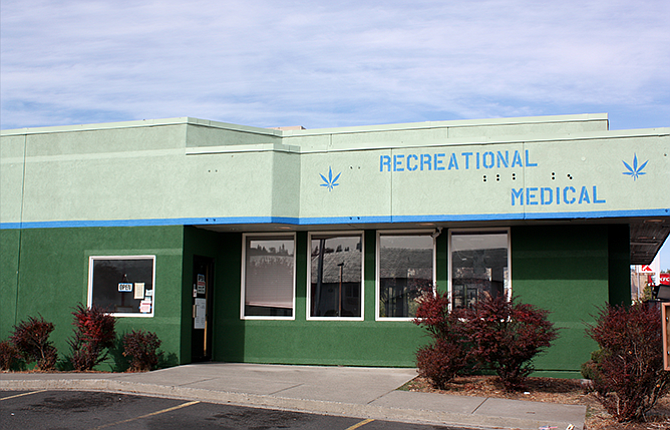 The Dalles City Council has taken action to avoid a potentially costly legal battle with a marijuana business located within 1,000 feet of another pot shop, which is not allowed under a city ordinance.
After meeting in executive session on Sept. 25, members of the city council returned to open session and voted 4-0 to pull the plug on legal moves against Columbia River Herbals LLC and its owner, Norm Brock. Columbia River Herbals, which sells both medical-grade and recreational marijuana, has two locations: a downtown store at 609 E. Second Street, and a second shop at 2630 W. Sixth Street.
"The city will not be taking any further enforcement action against Mr. Brock," said Gene Parker, city attorney for The Dalles.
"I made the recommendation to the city council not to pursue the enforcement action after reviewing legal arguments presented by Mr. Brock's attorney concerning the city's interpretation of the provisions related to the 1,000-foot buffer as applied to Mr. Brock's facility, and I believed that this recommendation was in the best interest of the city, to avoid litigation where it was not absolutely clear the city would prevail."
Councilor Linda Miller made the motion to dismiss action against the store and  Brock "with prejudice."
According to Parker, the legal phrase "with prejudice" means the city has made a final determination on the merits of the case, and is forbidden from filing another lawsuit based on the same grounds.
Mayor Steve Lawrence said he believes the council took the proper action by standing down.
"Without going into the merits of the issue, I do think the city's decision not to pursue the situation involving Norm Brock's business is the right one," Lawrence said.
On Monday, Brock said he was glad the city had finally dropped the issue, but felt the entire episode was unnecessary.
"I'm satisfied, but not happy," Brock said.
"It should never have gone as far as it did. It's been costly. When they made mistakes, they should have been willing to let it go and be done with it.
"I've always tried to work with the city. To have a city council member accuse me of 'bad behavior' — I was not overly impressed or pleased. He said it was not personal, but as far as I'm concerned, it was. I feel it hurt my business."
Brock was referring to Russ Brown, a city council member who filed a formal complaint with the city manager on April 25, contending that Brock's store "opened up in direct violation of our ordinance."
"He flagrantly violated and should not be rewarded for bad behavior," Brown said at the time.
Brock hinted that legal action against the city could be forthcoming.
"We're mulling our options at this point," he said. "Whether they agree with marijuana or not, it should not involve my business or accusations of 'bad behavior.' Those things hurt your business. It is beyond ridiculous."
The legal wrangling got started in March, when Columbia River Herbals opened its second store at the Sixth Street site of a former Arby's restaurant. At roughly the same time, High Mountain Recreational opened a marijuana shop at 2722 W. Second Street. The two businesses were roughly 615 feet apart, significantly less than the required 1,000 feet.
On April 26, in the wake of Brown's formal complaint, Parker sent a letter to Brock by certified mail, outlining the nature of the alleged violation.
According to Parker, High Mountain Recreational was judged to have opened before Brock's store, and thus was not subject to legal action.
In May, the city council considered a proposal to alter the marijuana ordinance to allow marijuana shops to be within 500 feet of each other, rather than adhering to the existing 1,000 foot-buffer.
However, the council rejected that idea in a 4-1 vote, deciding not to allow any exceptions.
Brock claimed that if there was a violation of the ordinance, it was a result of the city planning department's error, not the two business owners, because the businesses were following rules the city set up.
For example, Brock said a city planning department employee told him that his application was the first to be submitted, and that former Planning Director Richard Gassman and Senior Planner Dawn Hert confirmed there were no conflicts they were aware of regarding his planned shop on West Sixth Street. His application was approved by the city.
Due to the city's conflicting and confusing directives, Brock asked that the council 'grandfather in' both businesses, and Lawrence supported Brock's position.
Lawrence said both businesses were given permits to open their stores before the city's marijuana ordinance was officially in place.
"The question at issue only pertained to these two businesses," Lawrence added.
"Any other business that wishes to establish a marijuana retail location — since the ordinance is now in place — will not be able to locate within 1,000 feet of another retail marijuana establishment."
Brock said the distraction caused by the city's threat to take legal action against his stores kept him from investing in his business operations as much as he planned to.
"I should have made way more improvements, but I cannot spend money on things we need to when we have to spend money on attorney's fees," he explained.
"And we shouldn't have had to spend money on attorney fees, because I followed the city's process. I just think there was a lot of inappropriate behavior by council members and staff."