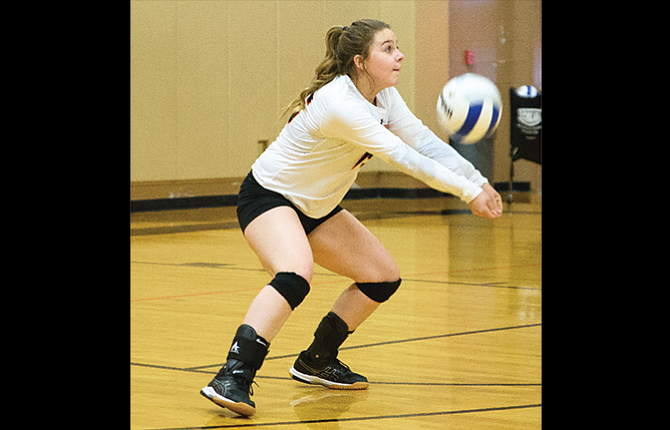 With 11 calendar days before the start of district action, Sherman head coach Amy Huffman has her volleyball team finding its groove.
The Lady Huskies moved into fourth place, a half-game behind Ione, after posting an impressive three-set road sweep over Condon-Wheeler Friday in a Big Sky conference match played at Condon High School.
"The girls showed up Friday at Condon very focused and served well," Huffman said. "It was another game where we got to see some of our non-starters play."
Sherman won all three sets by an average margin of 10 points, including a 25-7 opening-set romp to set the trend.
Ahead 1-0 in the match, the Huskies added a 25-17 third-set win, and completed the sweep with a 25-21 victory.
Last Thursday, the Huskies were riding a three-match winning streak with wins over Condon-Wheeler, Ione and Mitchell-Spray, until a four-set loss to first-place South Wasco County on Thursday.
"The girls played some great volleyball against Maupin," Huffman said. "Some of the best they have played yet."
Sherman hosts second-place Dufur in another league contest at 5 p.m. today, before capping the regular season on the road against Lyle-Wishram at 5:30 p.m. on Oct. 16.
"The girls have to show up ready to play against Dufur for our last home match," Huffman said.
District play starts on Oct. 21 in The Dalles.
Through the fall season, the Huskies have had a handful of matches and tournaments canceled, the last cancelation coming on Saturday, where the team was expected to compete in the Corbett Tournament.
But, the team and coaches are putting in the extra time during practices to stay sharp and fresh for the long haul.
"It has been hard being this far into the season and that only being our eighth game," Huffman said. "Our girls have to work harder and improve fast due to the fact that we are not getting matches in compared to all the teams around us."