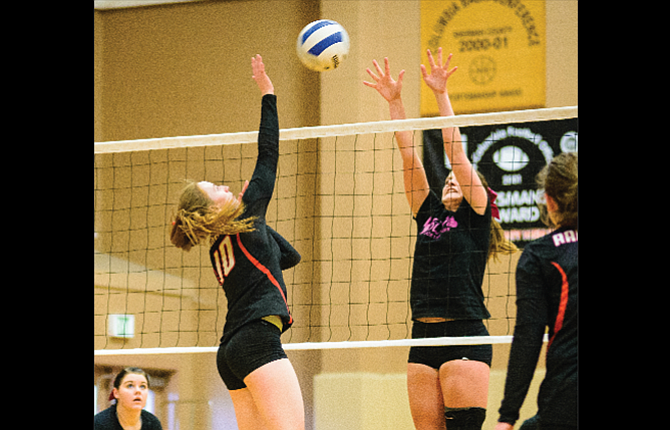 MORO – The Dufur Rangers clamped down their No. 2 spot in the Big Sky conference rankings with a 26-24, 20-25, 25-12, 25-16 four-set road victory Tuesday night in Moro.
"We had a very slow start, and the girls had to dig deep mentally and come out of it with energy and enthusiasm," said Dufur coach Kristin Whitley. "Once this was achieved, we had excellent aggressiveness at the net. Our defensive coverage was solid as well."
Dufur posted nine aces total, six coming in the fourth set, four off the hands of Sydnee Byers.
At the net, Chloe Beeson and Byers dropped nine kills apiece, Alexus Outlaw added eight, and Mikayla Kelly had seven kills, two blocks and an ace.
Byers led the Rangers with five aces and she tacked on a pair of digs, Beeson had two blocks, an ace and two digs, and Haili Wolf-DePriest chipped in three aces.
In her first year with a new philosophy, Whitley has helped the Rangers to a second-place league finish, 10 wins and a top-20 ranking, using a coaching style based on consistency and aggressiveness.
"The girls have adjusted well to this strategy; their number one goal is to set the tempo of the game first off, so that we are in control from the start," Whitley said. "This has improved their level of play from the beginning of the season, and the girls are doing such a good job communicating as a team now and using their positive momentum to control the game."
Although her team ended up on the wrong side of a league match, Sherman coach Amy Huffman can look to Tuesday's match as a step in the right direction.
A few bounces in the first set and they could have engaged in a five-set match, rather than four.
Huffman said that Samantha Lepinski and Jaelyn Justesen got some good swings and blocks in the middle and Desiree Winslow had a consistent all-around match.

"We had some great moments at last night's game, but beat ourselves with so many missed serves and unforced errors," Huffman continued. "The girls know what it takes to win and they need to be willing to work hard and remain focused during the entire match. When we communicate and support each other, we play amazing volleyball."
Dufur (10-9 overall, 5-1 league) hosts No. 5 South Wasco County at 5 p.m. Thursday, while the Lady Huskies (5-4, 3-4) hit the road to Lyle for a final non-league match at 5 p.m.
District action takes place starting at 10 a.m. on Oct. 21 at Kurtz Gym in The Dalles.