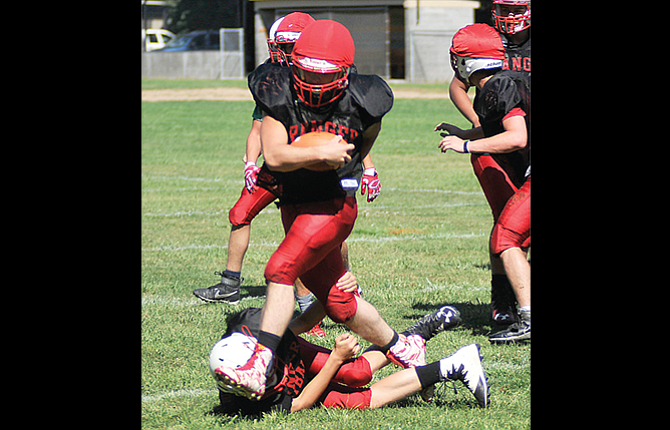 In the second half last week against Sherman, the No. 2-ranked Dufur Rangers had their power running game running fluidly for 211 second-half yards on 21 rushes in a 54-22 victory.
Now the Rangers, the state's 10th-best scoring offense, contends with an Arlington-Condon defense that ranks first in the 1A class at 11 points a game (66 total points allowed).
Arlington-Condon enters action with a solid record and on a decent roll of late, winning five consecutive games since a 34-20 loss to Echo on Aug. 31.
Dufur coach Jack Henderson is excited to take his group of athletes to the field in a top road matchup.
"We look forward to the challenge and are ready for a stiff challenge from the Honkers," Henderson said.
Against Sherman, Dufur rushed 56 times for 418 yards, as Hagen Pence paced the rush game with 201 yards on 23 carries and a career-high five touchdowns, and Ian Cleveland added 134 yards on 11 attempts and a score.
This Honker defense has posted three consecutive shutouts in wins over South Wasco County, Mitchell-Spray and Prairie City.
Arlington-Condon (5-1 overall, 1-0 league) runs odd-front formations on defense and likes to use several blitz packages to put sustained pressure on the opposing quarterbacks and force turnovers.
With the running game reaping huge rewards in the Sherman contest, Ranger quarterback Derek Frakes totaled 56 yards on 5 of 6 passes to go with two touchdowns, but Henderson plans to find the right formula to offset any defensive formation the Honkers throw in.
"They do blitz a lot and make things happen," Henderson said. "We have the Bruise Brothers (Pence and Cleveland) and that's a good thing, however we have to remain balanced and throw the ball as well."
While Arlington boasts the best scoring defense, they can also put some points on the board, as its 55.8-points-per-game average shows.
In their five-game winning streak, the Honkers have scored 63 points a clip, including 66 in a 66-0 shutout against Prairie City last week.
The Dufur defense is certainly no slouch when it comes to holding offenses down, allowing 16.6 points a game for the state's third-best scoring defense.
In their win last week, the Rangers (5-0, 2-0) held the Huskies to 33 total yards on 22 plays from scrimmage in the final 24 minutes.
Henderson said the key to stopping Thomas Evans, Trey Homer and Tyler Longacre is to play with discipline and flow to the ball.
The No. 13-ranked Honkers like to run some pro-gun, read option and fly sweep plays to take advantage of their team speed.
There have been a few injuries this season and a handful of players are playing new roles.
The mix has been fruitful for a Ranger defense that has given up three scores or less in all five games.
"(Defensive coordinator C.S. Little) is once again doing a great job with our defense," Henderson said. "Our team speed is very good, and our kids fly to the ball and make things happen. We will need to maximize our scheme effectiveness with our athleticism to be successful in November."
Fans can listen to 102.3 FM or stream it on the computer or phone by logging in to www.gorgecountry. com at 7 p.m. kickoff.